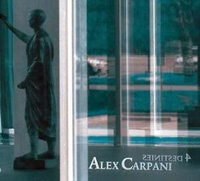 Alex Carpani
4 Destinies (F2 Music Ltd / Festival Music 5060161580426, 2014)
If you love progressive symphonic rock, there is a new major act in the current scene that you need to check out. Alex Carpani is a gifted Italian keyboardist and composer who is creating state of the art music following the tradition of the 1970s British and Italian masters.
The concept album 4 Destinies is Carpani's latest release. He uses a wide range of keyboards to develop his superb symphonic suites, including organ, piano, Moog synthesizers and mellotron. Each piece is a marvelous progressive rock mini- symphony with all the ingredients that characterize this type of music: outstanding musicianship, shifting time signatures and memorable lyrical and epic passages.
4 Destinies makes reference to the four eventual destinies that a man can find on the path of his life: four destinies that begin at the same point and go into four different directions of life.
The album features the Alex Carpani Band with Ettore Salati on guitars and lead vocals, GB Giorgi on 5-string electric bass, Alessandro Di Caprio on drums, and Joe Sal on additional vocals. 4 Destinies also features former Van Der Graaf Generator saxophonist and flutist David Jackson. The album features vocals in English and Italian.
The Alex Carpani Band was formed in the fall of 2006 to perform Alex's debut album "Waterline" live. The group has become of the finest Italian progressive rock bands.
4 Destinies is undoubtedly one of the best albums of the year. A must have progressive rock masterpiece.
Buy 4 Destinies