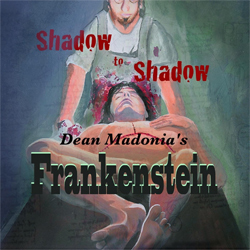 Dean Madonia
Shadow To Shadow: Dean Madonia's Frankenstein (Soft Monkey Music, 2014)
This ambitious double album appeared promising: a new rock opera based on Mary Shelley's popular Frankenstein novel, with a progressive rock edge. Dean Madonia indicates that "the Monster" is still alive after over 200 years and his rock opera warns about the risks involved when a genetic researcher prepares to make the first human clone.
Despite the progressive rock influences, most of Shadow To Shadow contains various forms of rock, but very little progressive rock. The pieces on Disc 1 have folk rock, funk, pop, ballads and hard rock influences. There is an occasional notable solo, but that's basically it. The best cut by far is a cinematic symphonic instrumental piece titled 'Chimera'.
Disc 2 follows in a similar direction except for track 10, 'Murdering Elizabeth', where the guitarist finally gets an opportunity to demonstrate his talent; and track 11, 'Into the White', which features great keyboard and electronic music work.
The lineup on Shadow To Shadow includes Dean Madonia on vocals, keyboards, guitars; Val "The Count" Lupescu on acoustic and electric guitars; Travis "Mr. T" Vance on bass and Michael Walter on drums. Guests featured: John Catchings on cello and viola; Tim Lorsch on violin; Bruce Bouton on pedal steel; Jeff Taylor on accordion; and spoken word provided by Karen Keeley.