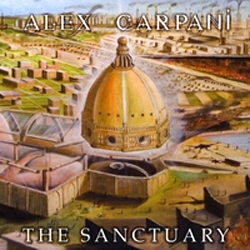 Alex Carpani – The Sanctuary (Ma.Ra.Cash Records/CypherArts MRC021, 2010)
I got a copy of this album during Alex Carpani's performance last summer at ProgDay and it turned out to be one of the finest works of symphonic progressive rock I've heard in a long time. Carpani is a keyboard maestro that deserves more attention by prog heads.
The Sanctuary is a concept album composed, arranged, orchestrated and produced by Alex Carpani. It is dedicated to an imaginary sanctuary dividing a man from the "outside" world.
Carpani uses an arsenal of keyboards to create a rich set of masterpieces with beautiful orchestrations and virtuoso performances. He uses piano, organ, synthesizers and majestic mellotron. Carpano also provides the lead and backing vocals. His English language vocals have that charming Italian accent that can also be found in PFM and Banco's English-language albums.
Stylistically, Carpani's keyboard fest and orchestrations has connections with the work of 1970s Italian keyboard maestros in Banco as well as the sounds of British groups such as ELP and progressive rock-era Genesis (specially the mellotron work). But there is something very personal and unique to Carpani's style. I regard him as one of the keyboard masters of our era, with his unique style within the symphonic progressive rock genre.
The lineup includes Alex Carpani on Hammond organ, piano, moog synthesizer, Mellotron, pads and vocals; Ettore Salati on guitars; Fabiano Spiga on bass; and Gigi Cavalli Cocchi (Mangala Vallis, Moongarden) on drums. The drums are spectacular tyhroughout the album. Cocchi also makes a wonderful use of gongs throughout the album, generating majestic atmospheres.
The Sanctuary's fascinating artwork was created by Paul Whitehead, who made covers for early Genesis, Van der Graaf Generator, Le Orme, Peter Hammill, and most recently for Days Between Stations. The digipack version of the album has a splendid booklet with lyrics and liner notes.
The Sanctuary is a masterwork by one of the leading progressive rock composers of our time.
The download is available from cdbaby.com/cd/alexcarpani6