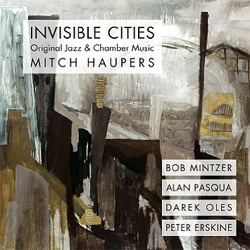 Mitch Haupers
Invisible Cities (Mitch Haupers, 2014)
Invisible Cities is the debut album by guitarist, composer, luthier and educator Mitch Haupers. The veteran musician is 55 and has been making music for years, but this is his first album as a leader.
This new recording, produced by bassist Jimmy Haslip, brings together jazz and chamber music. It's a laid back set of pieces where Haupers gives other musicians plenty of space. In fact, saxophonist Bob Mintzer plays quite a few solos. "In the world of guitar, as in all things, there's the yin and the yang," says Mitch Haupers. "I think my teaching style and my whole approach to playing is more yin. I like quietude and calmness. When it comes down to speaking my mind creatively, I tend to go with the more relaxed, calm, reflective approach."
The highlight of the album is "Four Minor Love Songs Suite." Mitch Haupers plays piano of the first part and guitar on parts II and IV. The first three parts of the suite deliver contemporary classical chamber music while part IV, titled 'Beacon Street,' shifts over to jazz.
'Beacon Street' includes a six-piece horn section made up of saxophonists Mintzer, Jay Mason and Brandon Fields, with brassmen Dan Fornero, John Daversa and Bob McChesney with a vibrant rhythm featuring pianist Russell Ferrante, electric bassist Jimmy Haslip and drummer Peter Erskine. "I have to give a lot of credit on both 'Invisible Cities' and 'Beacon Street,' the two larger ensemble pieces, as well as the whole suite, to the arranging and orchestration skills of Ayn Inserto," says Mitch Haupers. "She opened up those charts a lot and really made them work. Sometimes when you write, it comes out like a vitamin…completely compressed ideas. Then the question becomes how do you smooth out the transitions, how do you flesh out the ideas. And Ayn is brilliant at that. I learned a lot from working with her."
Another high point is track 10, 'Waltz for Bill,' featuring a stellar series of solos by Darek oles (bass), Alan Pasqua (piano) and Mitch Haupers (guitar).
The other gem on the album is the delightful guitar duet with Mike Miller titled 'P.S. Vita (Reprise), dedicated to Haupers' mother Vita. "I was searching for a way to gently end the recording and Mike had just warmed up by playing the changes from 'Invisible Cities' prior to his soloing. I thought that a duet over a reprise of these changes would be a nice postscript."
Invisible Cities is a beautifully crafted set of contemporary jazz and chamber music.
Buy Invisible Cities