Argos is a German band that has released one of the very best progressive rock albums of 2015. The band's leader and founder, multi-instrumentalist, vocalist and composer Thomas Klarmann discusses the history of the band and A Seasonal Affair with Progressive Rock Central's Angel Romero.
A.R. How was Argos formed?
Thomas: It started 2005 when I recorded and arranged some of my musical ideas at home that didn´t seem to fit in the repertoire of the other bands that i collaborated with at that time. Then I asked Robert Gozon to join my project, we recorded some more songs and put the demos on "myspace" a prominent internet platform for musicians at that time. Through myspace our drummer Ulf Jacobs contacted and joined us and the French label Musea signed us for our first album. We did the first album as a three man band. Rico Florzcak our guitarist joined us in time for our second album: Circles. This lineup has remained constant since then .

Argos was initially regarded as a studio band. When did it become a live band?
Thomas: When we released our third album "Cruel Symmetry" on PPR Records in late 2012 our Label manager Oliver Wenzler asked us to play at the Progressive Promotion Festival he organizes every year in "Das Rind" Rüsselsheim. We agreed and after 4 days of intensive rehearsals we managed to play a one hour live set. You can watch us performing our first live gig on youtube keywords: (Argos, Rind). Last year we were invited to play at summers end festival in Great Britain along with bands like Lifesigns, Curved Air and New Trolls. It was a nice experience and great fun for us to meet Argos-fans from Great Britain. This year we will perform in Heidelberg "prog the castle" 09.05. and in July at a festival in Poland.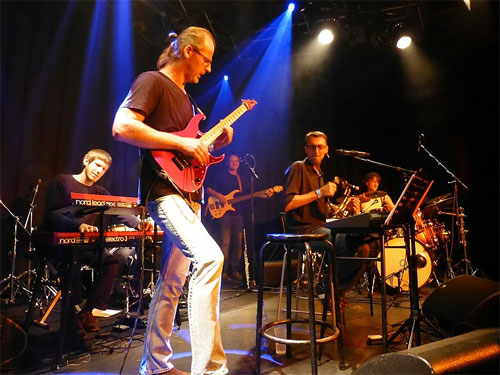 What do you consider as the essential elements of your music?
Thomas: To me its the special combination of vintage and contemporary sounds and playing styles. Mixing classic prog, jazz, folk, artpop and a bit of avant-garde we get a very diverse palette to draw from. The Argos vocals are special too. Not the standard "rock or neoprog" type of performance.
Who can you cite as your main musical influences?
Thomas: We all have different musical backgrounds but classic prog rock from the 70`s is our main common influence. Apart from Prog Artists and Bands its the late Beatles, Steely Dan, The Canterbury Scene, ECM Jazz and Artists like Joni Mitchel,David Crosby or Jeff Beck and Herbie Hancock.
Tell us about your first recordings and your musical evolution.
Thomas: Argos music evolved gradually from Robert and me doing all the instruments and vocals plus drum programming for the demos of our album into a democratic four man unit for "a seasonal affair" ,were everyone of us can brought in his individual ideas and playing style. Living 800 kms apart from each other Ulf and Rico (in Greifswald) and Robert and myself (in Mainz) is a challenge and the main reason why we need a lot of time to complete the Argos songs with everyone fully involved.
You are a German band, but on your latest album A Seasonal Affair you have a very British progressive sound. What British bands do you admire the most?
Thomas: Speaking for myself its surely the whole Canterbury scene with Dave Stewart, Richard Sinclair and Robert Wyatt as my main influences and favorite musicians. I also like Gentle Giant, Fruupp, England, Stackridge and of course The Tangent.

What's the theme behind A Seasonal Affair?
Thomas: Most of the songs are about how we as individual human beings deal with loss and other subjects we cannot control or influence in our otherwise well organized and digitally connected modern society.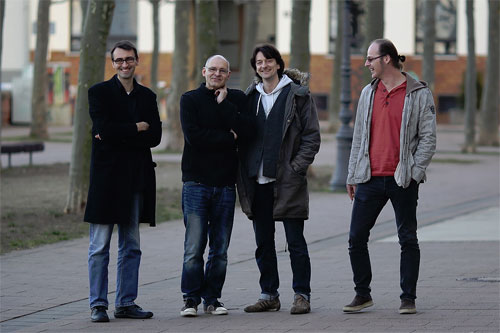 How did you connect with guests musicians Andy Tillison (The Tangent), Marek Arnold (United Progressive Fraternity) and Thila Brauss?
Thomas: Andy Tillison discovered our band trough our last album "Cruel Symmetry" . He liked the music a lot and kindly offered his talents for this new album.I heard Marek Arnold play soprano sax live and thought his lyrical style would perfectly fit for the solo on "Silent Corner". Marek is involved in many bands that also release albums trough PPR Records, so its "a family affair".
Thilo Brauss, Robert and myself play together in Superdrama and Thilo is also part of the Argos live band.

A Seasonal Affair has fascinating artwork by Bernd Webler. How did you hook up with him?
Thomas: We both studied graphic design in Mainz and Bernd now works like myself for a big German TV broadcasting station.So i knew him and his fine artistic skills for a long time. I'm really proud of what he contributed to visualize our music on "a seasonal affair".
Most of what we hear from Germany is hard rock and heavy metal. How's the current progressive rock scene in Germany?
Thomas: If there would be more people in Germany that come to watch prog bands doing original songs live I´m sure there would be much more prog bands on the German scene. For now its mostly prog-cover bands doing Pink Floyd or Genesis material . They and the more metal related bands have a much bigger live audience then bands like ourselves here in Germany.
What musical instruments do you use?
Thomas: We use acoustic and electric guitars, fretted and frettless bass guitars,acoustic drums and percussion and flute.
The keyboards are sampled vintage instruments (Native Instruments/Logic/MOTU) like: Steinway and Fender Rhodes Piano, Hammond Organ, Moog and Mellotron
We also use electronic sounds to create percussion loops and soundscapes.
If you could gather any musicians or musical groups to collaborate with whom would that be?
Thomas: personally i would like to collaborate among others with: surprise, surprise 😉 Steven Wilson, Richard Sinclair, Dave Stewart, Herbie Hancock, Magnus Ostrom (ex E.S.T.), Steve Winwood and Donald Fagen.
Do you have any upcoming projects to share with us?
Thomas: ARGOS plays live at "Prog the Castle" in Heidelberg on Saturday the 9th of May.
Discography:
Argos (2009)
Circles (2010)
Cruel Symmetry (2012)
A Seasonal Affair (2015)