I wasn't very excited about the ProgDay program this year. Too much avant-garde and heavy metal for my current taste so I skipped most concerts. I would have liked to have seen the Eccentric Orbit concert which was the first one on Day 1, but that time on a Saturday made it impossible. So I attended the final concert on Day 2 and was really looking forward to listening to Belgian band Quantum Fantay.
By the time I got to Storybook Farm, jazz-rock band Marbin was playing the last part of their concert. Although I like some of their stuff on record, there was too much saxophone improvisation for me.
I had time to check out the record bins and bought some Italian progressive rock recordings at really good prices. Italian progressive rock maintains the true spirit of symphonic progressive rock. Italian bands are consistently good and some of the finest acts coming out of Europe are based in Italy.
Quantum Fantay closed ProgDay 2015. The group is deeply inspired by British space rock band Ozric Tentacles. The live version of Quantum Fantay delivers a mix of space rock jams, world music elements and trippy electronics. The live emphasis seemed to be more on the space rock side than the electronic side.
The lineup that visited North Carolina featured original band members Pete Mush on synthesizers and programming; Gino Bartolini on drums and percussion; and Jaro on bass, didgeridoo, saxophone, and vocals. Guitarist Tom Tas is the new member of Quantum Fantay.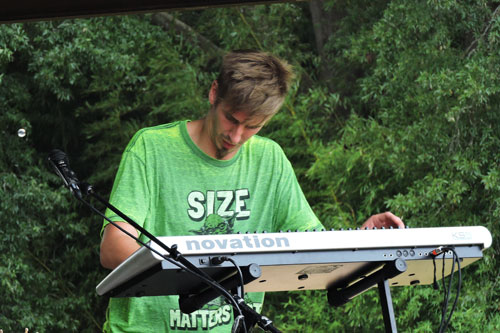 The North Carolina heat and humidity made the musicians thirsty so several festivalgoers generously purchased beer and shared various cold bottles with the appreciative musicians from Flanders.
The band presented material from its 2014 album Terragaia as well as previews of its brand new album "Dancing in Limbo" (Progressive Promotion Records).
Quantum Fantay originally started as an attic jam project between two neighbors, Pete Mush and Jaro. The duo grew into a band with the addition of Pete's former classmate, Gino Bartolin in 2002. Jaro's nephew, Charles Sla joined Quantum Fantay during live concerts.
The group's first album was "Agapanthusterra" in 2005. Guitarist joined the band first as guest and later became a full member of the band. Quantum Fantay's second album was "Ugisiunsi", released in 2007. Their increasing reputation led them to perform at prestigious festivals like NEARfest (USA), Fonnefeesten and Burg herzberg, where they recorded their first live album 'From Herzberg to Livingroom'.
Next came additional recordings, "Kaleidothrope"' (2009), "Bridges of Kukuriku" (2010); "Bridges of the Old Fishingmine" (2011); and "Terragaia" an album that features members of Anima Mundi, Gracerooms and Strograss, and by Tom Tas (Neo Prophet, 23 Acez, Offworld). Tom replaced Dario Frodo in 2014 when Dario became a full member of Belgium's heavy metal band Ostrogoth.