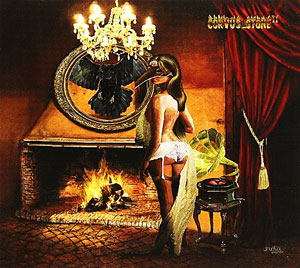 Corvus Stone
Corvus Stone II (2015)
This multinational band brings a mix of musical styles under the progressive rock umbrella. Corvus Stone II is an impressive ride across various musical influences.
The first pieces on the album reveal deep symphonic progressive rock characteristics. Phil Naro provides the beautifully crafted vocals in track 1, The Simple Life. It's followed by the exquisite cinematic keyboards in instrumental track 2, Early Morning Call.
The group demonstrates its versatility with the lengthy track 3, Boots For Hire, that blends blues rock guitar, Arabic flavors and progressive rock keyboards. The vocalist here is Stef Flaming.
Track 4 is a very short classically-influenced instrumental piece titled Sneaky Entrance in to Lisa.
Corvus celebrates the music of Deep Purple on track 5, a classic rock piece titled Purple Stone featuring Blake Carpenter and Andres Guazzelli on vocals.
Track 6, A Stoned Crow Meets The Rusty Wolff Rat begins with a symphonic intro, develops into a blues rocker and later back to prog rock with odd time signatures. It's one of the most fascinating cuts on the album.
The brief instrumental Lisa Has A Cigar features memorable keyboard work. On track 8, Mr Cha Cha, Corvus Stone treats the listener to an uptempo piece mixing classic rock guitar with Bach-inspired keyboards. Despite the titled, there is no Latin American music here.
Dark Tower (track 9) is an instrumental with flamenco influences. It's followed by Scandinavians in Mexico, an instrumental inspired the Latin rock sound of Carlos Santana.
Mystery Man (track 11) takes us back to progressive rock with a beautiful intro of acoustic guitar, keyboards and bass that progresses into engaging guitar and keyboard sections that reach a climactic epic conclusion.
Track 12 Camelus Bactrianus begins with an unexpected blend of timpani and Finnish vocals that lead into classic rock and blues.
The blues theme continues on track 13, Uncle Schunkle, in which the band injects jazz-rock fusion elements.
Phil Naro returns on track 14, Eternal Universe, a Yes-inspired song.
Track 15 is the longest piece on the album, a memorable 14-minutes long mini progressive suite titled Moaning Lisa. The superb vocals are by Sean Filkins and German Vergara, supported by delightful acoustic guitar and keyboards.
The album ends with a Finnish folk-rock song called Campfire.
The lineup on Corvus Stone II includes Colin Tench on guitars, Petri Lemmy Lindström on bass, Pasi Koivu on keyboards and Robert Wolff on drums and percussion. Guests: Sean Filkins on vocals, Phil Naro on vocals, German Vergara on vocals, Timo Rautiainen on vocals, Blake Carpenter on vocals, Victor Tassone on percussion and Andres Guazzelli on vocals.
Corvus Stone II showcases the multifaceted sound of a group of talented musicians from various countries that got together to celebrate progressive and classic rock.
Purchase Corvus Stone II