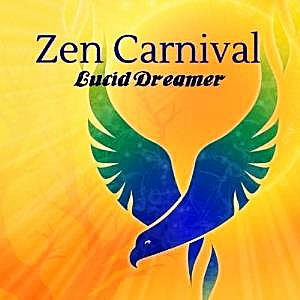 Zen Carnival
Lucid Dreamer (Zen Carnival, 2015)
This album came to us as a progressive rock album. However, most of Lucid Dreamer is melodic and alternative rock, closer to Coldplay than progressive rock. On track 3, "Born Again," Zen Carnival introduces a little bit of flamenco rock and notable keyboard work.
The best piece on the album is an instrumental titled "Medieval Suite" where the musicians get an opportunity to showcase their talent. It's a progressive rock piece with symphonic and fusion elements. You can hear traces of Gentle Giant in the rhythm changes and Greenslade in the keyboards.
The other significant composition is Lullaby where the band presents the best vocals on the album along with Rick Wakeman-style keys and fabulous steel guitar.
The lineup includes Bill Denison on guitars, pedal steel and vocals; Michael James on keyboards and grand piano; Ken Pfeifer on lead vocals and keyboards; Chris Paglia on electric and upright bass; and Carl Puglisi on drums and percussion. Lucid Dreamer also includes special guest Bridget Murphy Zawilinski on soprano vocals.
Zen Carnival was founded in Boston, Massachusetts in 1997 and released its first album Inheritance in 1999. The second recording, Bardo, was released in 2006.
Lucid Dreamer is another one of those albums where you can clearly perceive the promising progressive rock edge of a rock band. Hopefully we'll get to see more of that edge in the future.