Jazz-rock guitarist and composer Jane Getter has attracted a lot of attention with her new album On. Getter fuses, rock, jazz and other elements, delivering a fabulous progressive rock mix. Getter talks to Progressive rock Central about and her background.
Can you give our readers a brief history on how you got involved with music?
My first instrument was piano which I started at around age 7 or 8. I then switched to guitar after spying on my sister's guitar lessons. My parents finally gave in and gave me lessons. I stopped for a few years and then picked it up again in high school. It was in college that I became very serious about playing, and practiced 6 hours a day at one point. I chose to make it my career then.
What do you consider as the essential elements of your music?
I have a very eclectic taste in music, from rock to classical, world to gospel, metal to blues, funk and R&B, etc. It all comes together in my writing and playing.
Who can you cite as your main musical influences?
My influences have changed over the years: Crosby Stills and Nash, Led Zeppelin, Wes Montgomery, Miles Davis, Jeff Beck, John McLaughlin, Alan Holdsworth, John Coltrane, more recently King Crimson, Porcupine Tree, Animals As Leaders, Opeth, Periphery.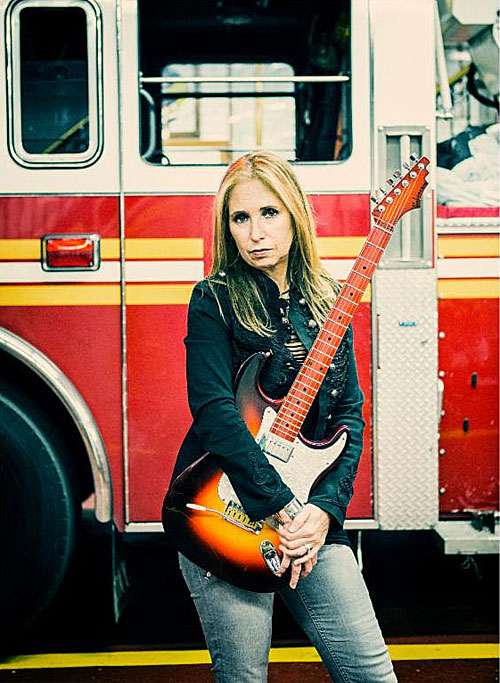 Are there any specific guitarists that inspired you to play guitar?
Bonnie Raitt, Jimi Hendrix, Jimmy Page, and then a friend of mine took me to see Joe Pass play solo and I was totally blown away and said "I want to do that". Others are Wes Montgomery, Allan Holdsworth, Jeff Beck, John McLaughlin, Robben Ford.

Tell us about your first recordings and your musical evolution.
I started out playing folk and blues on acoustic guitar. I then started playing jazz on a hollow body guitar and did that for a number of years. Then I started getting into jazz-rock fusion and got my first solid body guitar. From there it's been a gradual evolution into where I am today.
My first recording which never got released was a straight ahead jazz record (all originals) called "The Weaver". Then in 1998, my first album came out on Lipstick Records called "Jane". It's a jazz-rock and funk fusion record with a couple of smooth jazz songs. "See Jane Run" is a straight up jazz-rock fusion album. "Three" combines jazz-rock and prog rock.
What's the concept behind On, your new album?
My style has been evolving over the years and I feel ON to be my strongest work yet. My eclectic taste in music always enters into my writing and I feel this album is more focused than my previous work. The music for this album is what I am hearing and digging now.
You have brought together some of the finest jazz-rock fusion musicians. How did you connect with the current members of your band?
Adam Holzman is my husband and he's played in my band and co-produced with me since my first album "Jane". I'd been a fan of Chad Wackerman's since I heard the Allan Holdsworth records he's on and we had done some shows together in LA [Los Angeles] a few times before the recording happened. Bryan Beller is the perfect player for this music and he and Adam had done a project together previously.
Alex Skolnick and I play in another project together and he brought the perfect combination of metal, rock and jazz to this project that I wanted. I had been a fan of Corey Glover ever since I first heard him in Living Colour and I was so thrilled to have him on this record. Theo Travis and Adam have worked together in Steven Wilson's band and he was perfect for what I wanted also.
What guitar types and models are you playing now?
My main guitar is made by Peekamoose Custom Guitars, which is a small guitar shop out of New York. It's their model 1 made specifically for me – a Strat-style with humbuckers. I also play a 1971 Fender telecaster, a custom Strat from when I was with Fender about 10 years ago. The acoustics I'm using now are: Yamaha AC3R, 1972 Martin D28, 1982 Ovation nylon string.

Do you keep most of your previous guitars?
I have a few that I keep because I love but haven't been using much lately, especially my 1953 Gibson ES175.
Is there an all-time favorite guitar?
I love them all, but my Peekamoose has become my favorite now.
What guitar effects do you use?
For distortion, mostly my Fuchs amp distortion, but also a Maxon overdrive, Seymour Duncan Dirty Deed, 805 Overdrive, Lava Box, Rocktron Metal Planet Jam Delay Lama, Boss Digital Delay, Tone Concepts Distillery, Vox Wah Wah, Korg Volume Pedal, TC Electronics stereo chorus, flanger, sometimes the MXR Dynacomp compressor.
Do you play any other musical instruments?
I play a little bass, drums and keyboards.
What music are you currently listening to?
Animals As Leaders, Periphery, John McLaughlin, Steven Wilson, Opeth, Alan Holdsworth, Marvin Sapp, Oumou Sangare, Nine Inch Nails
If you could gather any musicians or musical groups to collaborate with, whom would that be?
I would love to collaborate with Herbie Hancock, Steven Wilson, Mikael Ackerfeldt, Jeff Beck.
Do you have any upcoming projects to share with us?
Right now I'm mainly focused on getting my new project Jane Getter Premonition out to the world. I still play in a few other projects like the three guitar project with Alex Skolnick and Bruce Arnold, called Skolnick, Getter, Arnold – previously called Eclectic Electric Guitar Trio. Jane Getter Premonition is my main thing at the moment.