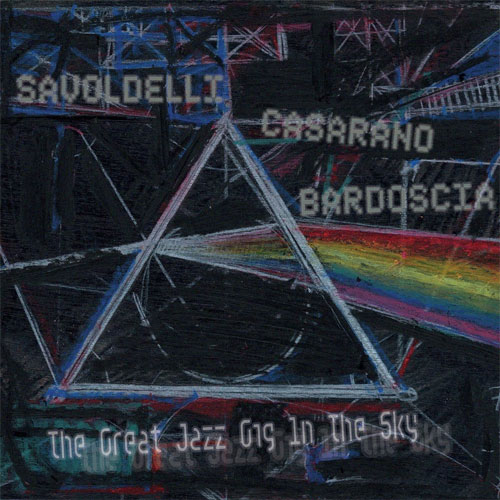 Savoldelli Casarano Bardoscia – The Great Jazz Gig in the Sky (Moonjune, 2016)
This recording is a jazz recreation of Pink Floyd's masterpiece Dark Side of the Moon. The trio behind the project is led by Italian vocalist Boris Savoldelli. He has a gritty voice that's an acquired taste. On this project Savoldelli teams up with saxophonist Raffaele Casarano and bassist Marco Bardoscia.
Savoldelli's chameleonic vocal style seems to have a lot of fans. In my case, I liked his vocal effects and found the instrumental sections with trance-like jazz beats, the minimalist chamber passages, Dewa Budjana's guitar, and electronic atmospheres mesmerizing.
The lineup on The Great Jazz Gig in the Sky includes Boris Savoldelli on vocals, vocal noises and electronics; Raffaele Casarano on saxophones and electronics; and Marco Bardoscia on double bass and electronics.
The album also features special guests Dewa Budjana on guitars; and spoken word by Maurizio Nobili.