Argentine violin virtuoso Sergio Poli recently released a jazz-rock fusion album titled Luna de Hielo. He talked to Progressive Rock Central about the new album and his musical background.
When did you start learning to play music?
I come from a family of musicians, starting from my grandfather and my father who were bassists. Basically, a classical orchestra background but also with some forays into tango and, in the case of my grandfather, jazz. So practically naturally I found myself taking violin lessons at 7. I think I didn't choose it; it was rather a suggestion by my father (I already had an older brother who played the cello). But what I do remember is that it was love at first sight. That as soon as I took my first steps, I knew that it would be the instrument that would accompany me all my life.
How many violins do you play?
I have a very old violin, from the early nineteenth century, which is what I use to sound "acoustic", and I usually use two more, one with a Barcus Berry brand bridge (with microphone) installed, and an electric 5-string manufactured in Argentina by Urbanstrings. I also use a bow by Italy-based Argentine luthier Carlos Roberts and one made out of carbon.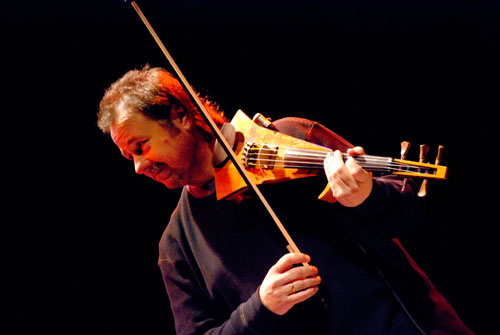 What effects do you use?
Compressor, overdrive, wah wah, chorus, phase, octaver, delay, reverb, loop station. I hope I don't forget one, haha!

Your latest album is titled Luna de Hielo (Moon Ice). What's the story behind the title?
Just like I'm keeping things loose to use when composing (it could be a melodic gesture, a rhythm, a succession of chords), say, like a notepad of ideas that I reach for when I need them, sometimes I do the same with ideas for titles of songs. In some cases the musical pieces are born with the title already defined, in others it's not.
There is an old tale in the book Misteriosa Buenos Aires by Argentine writer Manuel Mujica Lainez, "La escalera de mármol", (The marble staircase) where the character is the alleged son of Marie Antoinette and Louis XVI, who didn't die in 1795, and instead the legend says he came to Argentina's shores. In that story there is an image that struck me very hard, the author says something like the king's son went to the marble staircase and "the dauphine's dogs howl at the ice moon". That's all; I really liked that image of an icy moon in a clear sky.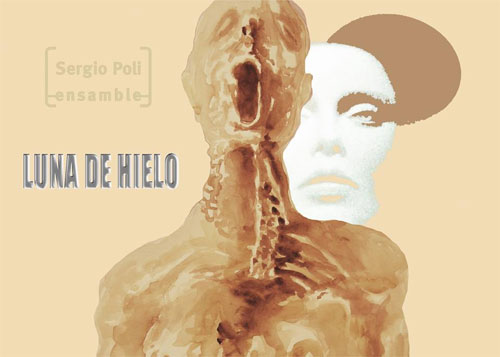 Which musicians did you work with to carry out the project?
Basically the ensemble with which we have been playing for several years: Pablo Murgier Pazdera on keyboards, Maxi Abal on guitars, Jonatan Schenone on bass, Daniel Viera on drums and Potolo Abrego on percussion.
If anyone is interested in buying the album, where can they purchase it?
It is available in digital format on iTunes, Amazon, and several other online shopping platforms, and also on Spotify. As far as the physical disk, you can get it at some record stores in Argentina.
Argentina has produced very high level fusion musicians. How is the scene now?
If by fusion we understand a wide net, there are many composers and groups carrying out absolutely new projects, some closer to folk rhythms, such as Aca Seca Trio or Cuarto Elemento; some more linked to tango, like the Diego Schissi quintet; or something closer to jazz or the River Plate feel, like what Juan Pollo Raffo is doing. And this is just a quick list; the outlook is encouraging.
If you could bring together musicians or your ideal groups, who would call?
If we talk about fusion, let's go to the obvious, those groups that marked directions in the 70s, Weather Report, Mahavishnu Orchestra, Return to Forever. Not to mention the father of contemporary violin named Jean-Luc Ponty.
What music are you listening to now?
I am very disorganized with my listening. These days I'm listening a lot to Radiohead's new album, or a band that I love which is Primus. But as I said, I go back and forth all the time to what I listen to, and I can listen to both the tango scene as well as Italian opera. Do not forget it was my first love, and I worked 30 years in the Orchestra of the Teatro Argentino de La Plata.

What do you like to do during your free time?
Read and listen to music. Traveling with my family.
What country or countries would you like to visit?
I played twice in Spain but I'd like to go with more time to explore a little more; a country that has fascinated me. And I don't know Germany, England, France or Italy, to name a few.
If someone traveled to La Plata, what sites you recommend to go sightseeing, to eat or listen to music?
There is substantial cultural activity in La Plata and it is a city full of cultural centers and bars where music is made.
"Ciudad Vieja" is a traditional place with over ten years making good music. Fine cuisine, and above all, very good sound. In Ciudad Vieja is where we recorded the CD live Ice Moon.
"La Mulata, bar y arte" is another option.
There is a bar called "Rey Lagarto" (Lizard King) in which every Thursday they develop the "Ciclomovil Jazz" in La Plata. Another place with an exceptional scene.
And there is an underground rock joint called "Pura Vida", which is now going through some building code problems with the city. It is a place that accommodates all expressions more or less linked to rock. Hopefully soon they'll again operate at full capacity.

What other projects do you have?
I have the Sergio Poli Quinteto de Cuerdas (Sergio Poli String Quintet), which I define as "popular music in academic format" because with a classical format we perform a wide repertoire that ranges from tango to rock, along with Egberto Gismonti, Michael Jackson, The Beatles, etc.
Discography:
Los Salieris de Django (2002) with Cordal Swing.
Grappelliana (2005) with Cordal Swing.
Señales de Humo (2007)
Y en eso estamos (2009)
Canícula Metrópolis (2012)
Luna de Hielo (2016)