Emerson Lake & Palmer The Anthology (BMG, 2016)
One of the greatest progressive rock bands of all time, Emerson Lake & Palmer is back in the spotlight with new editions of its recordings. BMG Music has signed an agreement with the band to release Emerson Lake & Palmer's remastered recordings. In addition, the label has released this 3-CD collection, titled The Anthology.
The compendium includes musical pieces from Emerson Lake & Palmer's entire career. Disc 1 focuses on the trio's first two albums: Emerson Lake & Palmer (1970) and Tarkus (1971). With their first two recordings, Emerson Lake & Palmer demonstrated that they were truly one of rock's first super bands, incorporating musicians from some of the UK's most iconic acts: King Crimson, The Nice and Atomic Rooster.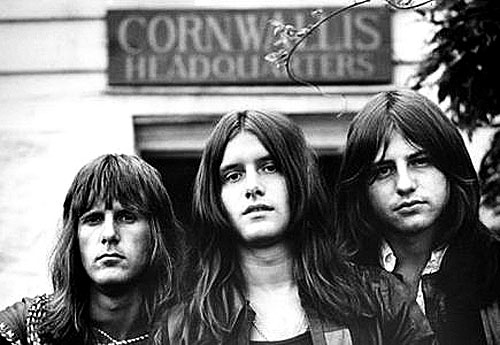 The material from Emerson Lake & Palmer and Tarkus highlights the mix of instrumental virtuosity by the late Keith Emerson, a keyboard wizard and innovator; and the spectacular drumming of Carl Palmer; along with Greg Lake's vocal and songwriting skills.
Emerson Lake & Palmer were deeply influenced by classical music and jazz and combined it masterfully with rock. On Disc 1 you'll find two of Emerson Lake & Palmer's most memorable songs, "Lucky Man" and "Take a Pebble."
Disc 2 focuses on the 1971 live album Pictures at an Exhibition; two iconic studio albums, Trilogy (1972) and Brain Salad Surgery (1973); and one track from one of the first triple live rock albums released in the early 1970s, "Welcome Back my Friends to the Show that Never Ends" (!973).
Pictures at an Exhibition features spectacular improvisations. For this anthology, however, the tracks selected are the most accessible and structured. Trilogy was one of the best albums released in 1972 and you'll get to enjoy gems like "From the Beginning" that mix acoustic sensibility with exquisite guitar and synth solos. The other selections form this album are masterful keyboard-fueled instrumentals rooted in classical music. There is also the humorous "The Sheriff." Keith Emerson liked to include an occasional ragtime tune, using an old piano.
The pieces from Brain Salad Surgery on The Anthology are once more epic instrumentals featuring loads of cutting edge keyboards and creative drumming. As in other albums, Emerson Lake & Palmer included unforgettable classic rock songs. In this case it's "Still…You Turn Me On."
The last piece on Disc 2 is the dazzling "Toccata" from "Welcome Back my Friends to the Show that Never Ends."
Up until the end of Disc 2, Emerson Lake & Palmer was a solidly progressive rock band. Disc 3 shows the transition from prog rock to AOR and melodic pop/rock.
The first selections on Disc 3 are tracks from Works, Volume I and II (1977). These recordings were once more deeply inspired by classical music, including a symphony orchestra, featuring a mix of full band performances and solo works. One of the most excellent performances by Emerson Lake & Palmer was their rendition of "Fanfare for the Common Man." The trio turned it into a progressive rock masterpiece. It was also one of the most fun pieces to listen to live because Keith Emerson inserted improvisations and well known tunes.
There are two tracks from "Works Live" an album that originally came out as In Concert (1979). One of them is the melancholic "C'est la Vie". The other piece is the band's knockout version of Henry Mancini's "Peter Gunn."
The album "Love Beach" shocked many fans. Like other progressive rock bands, Emerson Lake & Palmer had endured the vicious criticism of the British and American pop media. Additionally, there was strong pressure from record labels to deliver shorter FM-friendly songs, so the trio released "Love Beach," an album that moved away from progressive rock. Nevertheless, the group didn't forget its symphonic rock roots and included an instrumental version of Rodrigo's "Canario" featured in this collection.
Disc 3 contains a version of "The Pirates" extracted from "Live at Nassau Coliseum."
"Black Moon" (1992) continued in the pop direction. The first track selected from this album is Greg Lake's ballad "Affairs of the Heart." The arrangements here are definitely sappier than earlier ballads. The other track chosen from this album is a symphonic rock version of Prokofiev's "Romeo and Juliet" with Palmer monotonously pounding the drums.
There is only track from "In the Hot Seat" (1994) and that's a good thing because the piece, "Hand of Truth," features the unvaried heavy drums of the era.
Disc 3 contains one track from "Live At the Royal Albert Hall." It's the live version of an AOR song from Black Moon. If you are a progressive rock fan, I recommend "Live At the Royal Albert Hall" because it has spectacular keyboard performances by Emerson with interesting variations and a mix of classic and modern keyboards.
The last track is one I've never before. It's a live version of the rock and roll song "Tiger In a Spotlight" from the album "Then and Now."
The Anthology comes beautifully packaged in a hard cover book that contains significant photos, an extensive biography and interviews with the musicians. All this at a great price so if you are curious about one of the best rock bands from the 1970s, this compilation is a great way to get started.
Buy The Anthology