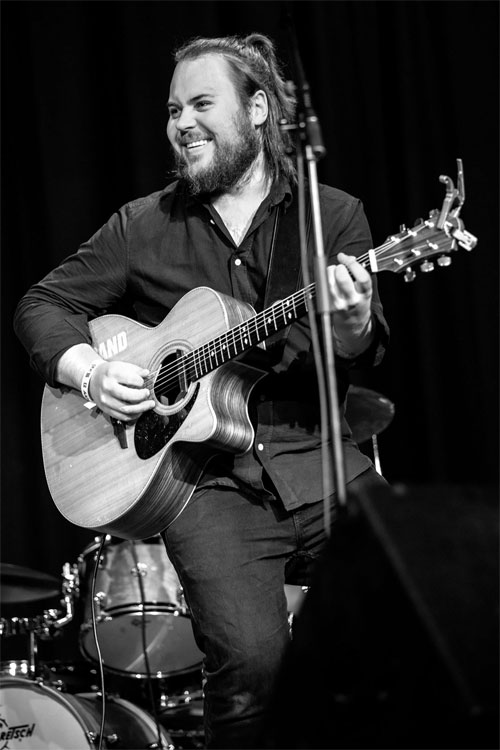 NJProghouse will present Rikard Sjöblom Band with special guest Necromonkey on October 15, 2016 at at Roxy and Dukes Roadhouse in Dunellen, New Jersey.
Rikard Sjöblom is the multi-instrumentalist and vocalist of the now-legendary progressive rock band Beardfish. Sjöblom recently released a solo album titled The Unbendable Sleep (2016). Unlike his entirely instrumental 2006 debut album Cyklonmannen, The Unbendable Sleep showcases Sjöblom's extraordinary vocal range, complex-yet-catchy keyboard melodies, and guitar work.
In addition to his solo work, Sjöblom is the most recent addition to English progressive titans Big Big Train, having performed keyboards, guitars, accordion, and backing vocals on the band's 2016 album Folklore.
The lineup will include Rikard Sjöblom on guitar, keyboards, and vocals; Petter Diamant on drums; and Rasmus Diamant on bass.
Necromonkey is the project of founding (and former) member of the much-admired Swedish progressive rock band Änglagård, drummer and multi-instrumentalist Mattias Olsson, and multi-instrumentalist David Lundberg of the eclectic Swedish progressive band Gösta Berlings Saga. The discography includes A Glimpse Of Possible Endings, Show Me Where It Hertz, and Live At Pianos, NYC.
2:00 p.m.
Roxy and Dukes Roadhouse
745 Bound Brook Rd
Dunellen, NJ 08812
Phone: (732) 529-4464
Tickets: brownpapertickets.com/event/2602608