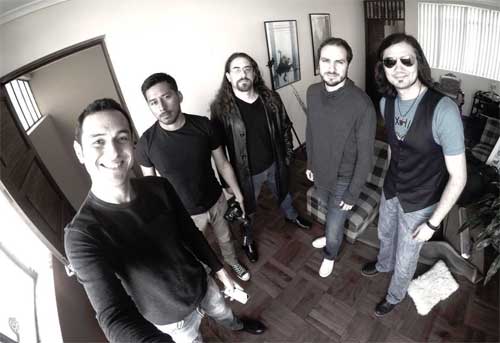 If ever there was a country most conducive to prog rock, it must be Peru. The molten heart of South American embraces Amazonian rainforest, frozen Andean peaks, mist-shrouded ancient monuments and the incredible folk-prog powerhouse that is Flor De Loto. To sample just one of their extended audio adventures is to fly to all these places and beyond.
The band comprises lead guitarist Alonso Herrera; bassist Alejandro Jarrin; Junior Pacora on wind instruments, charango (Andean stringed instrument) and backing vocals; Alvaro Escobar on drums and Pierre Farfán on lead and rhythm guitar.
"Alonso and I started to play together back in 1998," says Alejandro, "we just hang out at a drummer friend of mine´s house and jam for hours. We released our first album in 2005,we have eight albums now. We have a lot of influences. A lot of progressive rock bands from the 70s and 80´s, heavy metal, progressive metal, Latin American folk, Jazz, world music, etc."
"The hallmark of the band is the fusion…" adds Alonso, "…we can have moments oriented more towards metal, hard rock or progressive but always the differential element is the influence of Latin American folklore."
Says Pierre: "…it is the progressive rock influence that allows us to fuse the metal and Andean music. The expertise in their representatives, their complex structures and capricious cadences, easily seduces [those} who seek music with extensive content. It is a transgressor that has something to offer everyone."
Composition is very much a group responsibility. "Usually what happens when one of us shows a new song to the rest of the band, we all propose arrangements and sometimes, the song ends being different [from] it´s original version," says Alejandro.
"We put all our influences and knowledge to the service of the songs," says Alonso, " and we make these no longer the work of a single composer, to become part of the whole band. We call this process 'florlotization'. At this stage what you do is connect with the other members of the band; turning the whole into a single musician."
This 'oneness' is impressively evident in the band's recordings and live shows. Even on their wildest flights, the guys display an easy togetherness that never seems to falter.
So what next for Flor De Loto?
"After an intense and emotional step towards the Crescendo festival in France," says Alonso, "we have to make dates in Lima to present our new album, Tree of Life , then in November we will travel to festival Crescendo in Cayenne, French Guyana. 2017 will continue with the 'Tree of Life Tour' and we have planned concerts in Mexico and the US."
Catch them if you can. You won't regret it.