Finnish band Dai Kaht recently released a self-titled album, Dai Kaht, where they combine various progressive rock subgenres, including Zeuhl. Atte Kemppainen discusses the new recording with Progressive Rock Central.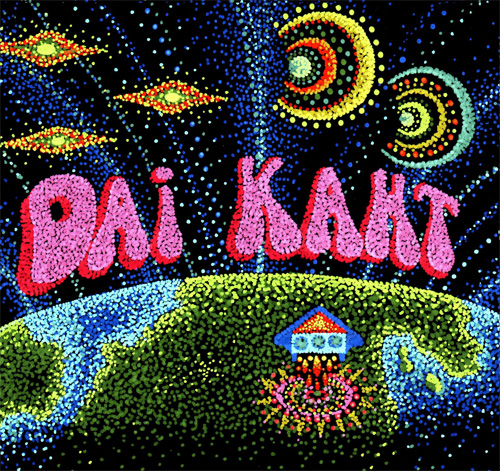 How and when was Dai Kaht formed?
I would say it all finally came together in 2013 when our drummer Osmo Saarinen joined our ranks. Myself having no musical training meant it was rather difficult to find the right connections in Kajaani, especially with my outlandish ideas of epic progressive rock.
I had been playing bass for a number of years at this point and, through a couple of jam sessions, found some fitting people to form a sort of prototype band. You could say my music was largely Pink Floyd influenced at this point, but this was about to change radically.
One day a friend linked me a prog medley performed by Tatsuya Yoshida's "Ruins". I was kinda familiar with Ruins because of my interest in avant-garde music, but this medley happened to have a clip of "De Futura".
I looked into this song and there it was Magma!
Getting past the relentless and extremely heavy "De Futura" (which, as an introductory piece, doesn't capture the essence of Magma very well, in my opinion), I got into the funky rhythms and lightning-fast bass lines of the "Attahk" album. Then came along the revolutionary "Mëkanïk Dëstruktïẁ Kömmandöh". This is where i felt it got deep.
At first, I found the long pieces challenging and rather cumbersome. I remember picking up my bass and playing along M.D.K just to try and understand the intense energy these ritual-like songs were emitting. Finally, when listening to the "Theusz Hamtaahk Trilogy" in chronological order, I found the essence in "Ẁurdah Ïtah". It was like a breath of life; there was an incredible positive energy surging through my veins! The Trilogy was complete and i was ready for Magma to reveal its secrets!
Magma pretty much changed my whole perception of musical expression. I had gained something that would stay with me for the rest of my life! In this ecstasy, Dai Kaht was born.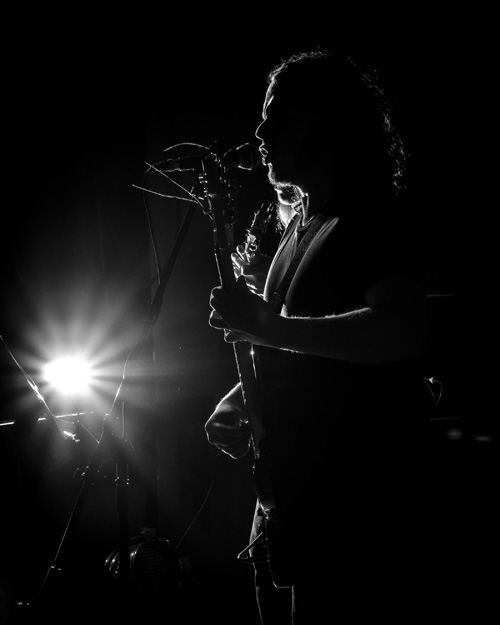 What does Dai Kaht mean?
Dai Kaht roughly translates as "Great Planet", a story about the survival of humanity in the age of celestial colonization. The setting of our first album is the space journey towards humanity's new home planet.
The basic dynamics of the story are woven around the three main characters: "Gnyynlaggör" "Addurrenn" and "Kadett Mozamï". These characters can be seen as basic archetypes found in almost every story. "Gnyynlaggör", the chaotic and self centered brute; "Addurrenn", the lawful righteous saint; and "Kadett Mozamï", the neutral avatar for the "reader" (listener).
The story takes place on the spaceship "Doover Üouh", which translates to "Father 5".
I feel i shouldn't describe the story in too much detail at this point, because there is a lot to cover, but i can safely say that the main point of the story is the human instinct to survive.
I have considered writing chapters of the Dai Kaht story and publishing them online.
What do you consider as the essential elements of your music?
Organic sound, strong melodies, tight rhythm section, non traditional song structures, expressive operatic vocals and shamanistic chanting.
The Dai Kaht story was originally created only for inspirational purposes in order for me to create music out of this world, but in reality, we combine a lot of stuff from different earthbound musical genres.
The overall ideal is honest self expression and total commitment (especially when performing live).
Who can you cite as your main musical influences?
Genre-wise: Prog Rock, Zeuhl, Jazz fusion, Traditional, Classical… The main aesthetic I strive for is that of 70s prog rock. Somehow, the sounds of that era feel nice and organic, with just the right balance of electric and acoustic.
As far as "Prog Bands" go, you have the classic stuff like: King Crimson, Yes, Emerson Lake & Palmer, Camel, Gentle Giant and Pink Floyd.
On the realm of "Zeuhl", there are the vastly important acts like: Magma, Zao, Dün, Offering, Weidorje and Koenjihyakkei.
I also draw a lot of inspiration from traditional music such as: Arabic Oud, Indonesian Gamelan, Tuvan throat singing, Shamanic music, Military March music… Basically, all I find interesting or just fascinatingly peculiar.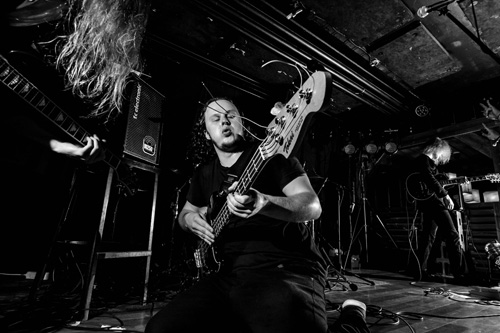 Just like Magma, you created your own language. How did you come up with a new language and why?
In the very beginning I intended to make instrumental music, but at some point I started chanting and scat singing along. Even without specific lyrics, the addition of the human voice seemed to breathe life into the compositions.
Christian Vander's "Kobaian language", of course, served as huge influence. The reason why i didn't simply sing in "Kobaian" was because I didn't know how to use it properly. In a way, I felt that by bending these sounds I was tainting something sacred and beautiful.
So the solution for me was to make something of my own, so i started combining words from different languages. The idea was to have the words invoke certain feelings just by hearing them. Whether the feeling was love, hate, lust or just common nausea, the sounds had to express that. This language became known as the "Kolöniel", the so called common tongue of the age of celestial colonization.
I find it little difficult to talk about the language issue because it makes me feel slightly arrogant. However, I sincerely feel that I created it out of respect and admiration for Magma and Christian Vander.
What's the current Dai Kaht lineup?
In 2014 our original guitarist Lauri Antikainen moved to another city to pursue musical studies so he was replaced by Ville Sirviö. I had collaborated with Ville in a King Crimson cover band "Project Crimson King" as the singer, so we were definitely speaking the same musical language.
In the beginning, I wanted Dai Kaht to have a couple of more singers, a keyboard player and all sort of stuff, but with Lauri, the so-called "rock band"-format really started working. I think this choice made us a little more distinctive among Zeuhl bands, plus the practical benefits of having a compact group are nice.
Here's the lineup we are looking at these days:
Atte Kemppainen: vocals, bass
Osmo Saarinen: drums, vocals
Ville Sirviö: lead guitar
Tommi Ruotsalainen: rhythm guitar
How are you promoting your music?
Apart from selling our albums on our gigs, we are on Facebook and Youtube.
Our debut album is also available at Spotify, iTunes, Google Play and many more music streaming services. And if we're lucky, word gets around…
How's the current progressive rock scene in Finland?
I might not be the best person to ask this because I don't follow the scene too closely.
There are a couple of bands that basically support the prog rock scene in Finland.
Ultimately, I would like to hear honest and daring music without losing the quality of the compositions.
If you could gather any musicians or musical groups to collaborate with, whom would that be?
Well i play bass in a cumbia/afro rock cover band called Rahat tai Henki and I would love to sing with Project Crimson King again someday.
Do you have any upcoming projects to share with us?
Yes, hopefully we can soon start working on the second Dai Kaht album!