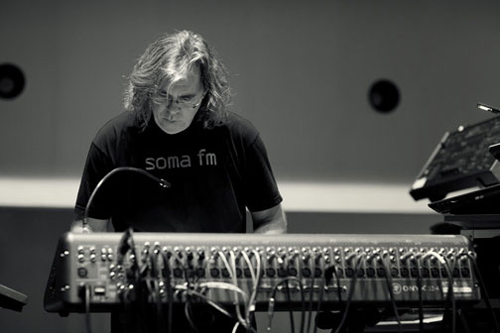 Composer, producer, synthesist and multi-instrumentalist, Steve Roach was born February 16, 1955 in La Mesa, near San Diego, in California. He is fascinated by the desert landscapes and wide open spaces in the Southwest of the United States, as well as the outback deserts of Australia. Steve's style has evolved from purely electronic sounds to the combination of synthetic sounds with some of the most primitive musical instruments.
Steve bought his first synthesizer in 1978. Although his first influences were German electronic acts like Tangerine Dream, Can and Klaus Schulze, Steve soon went beyond and developed his own style.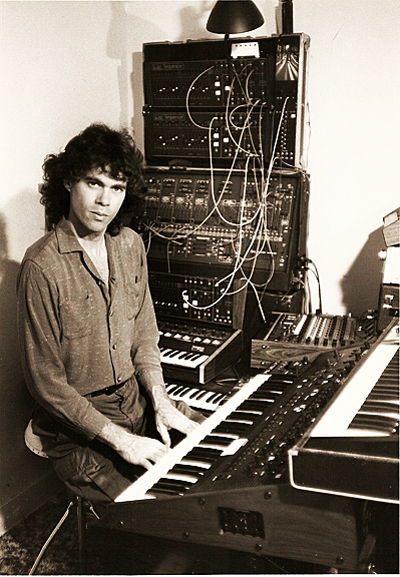 Los Angeles' hectic way of life led him to isolate himself in a musical sanctuary. Initially, Steve composed intense sequencer-based music. Later, he started to compose more tranquil and atmospheric music as a response to the rhythmic and sequenced world that characterized his earlier music.
After Empetus, Steve's compositions mirrored his impressions of southwestern landscapes and world music. His trips to Australia had a profound effect on his music. The desert's attraction led Steve to move to Tucson, Arizona in the southwestern United States.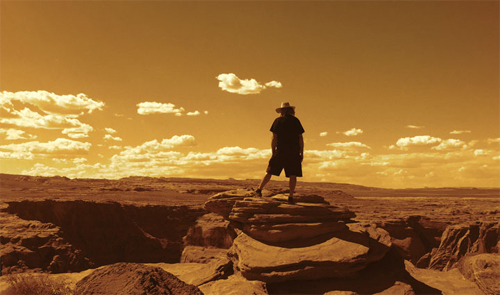 "I seek musical instruments that allow me to create sounds in an attractive and intuitive way. It's something intriguing. That's the difference between a keyboardist and a synthesis," says Steve.
Steve Roach records and produces his music in his own studio called the Time Room. It's a room full of marvelous electronic music devices that Roach uses to extract a multitude of spellbinding sounds.
Steve Roach is restless in his search for new sounds that connect with an ancient source of truth in this ever changing world. Roach has earned his position in the international first tier of major progressive music artists over the last decades through his ceaseless productivity, constant innovation, open minded collaborations with numerous artists and the psychological depth of his music.
Recognized worldwide as one of the leading innovators of contemporary electronic music, he is a very prolific musicians, who has released dozens of albums since 1981, including the ground-breaking double CD Dreamtime Return; the critically acclaimed tribal-trance extravaganza Artifacts; the award winning Earth Island, the second collaboration with Mexican multi-instrumentalist Jorge Reyes and Spanish guitarist and producer Suso Sáiz; the independently produced The Dream Circle; his collaboration with Belgian musician Vidna Obmana, Well of Souls; and Kiva, a mind-bending masterpiece featuring hallucinogenic shamanic rites, synthesizer landscapes and primeval instruments, combining the talents of Roach, Michael Stearns and Ron Sunsinger.
"At the melting point in the ocean of desert, this awesome expanse of a 180-degree horizon slowly works on the perception, revealing yet again the Other desert of inner regions that I crave to be in," says Steve Roach.
Selected Discography:
Now (Fortuna 1982)
Traveler (Domino 1983, Fortuna 1987)
Structures from Silence (Fortuna 1984)
Quiet Music 1 (Fortuna 1986)
Quiet Music 2 (Fortuna 1986)
Quiet Music 3 (Fortuna 1986)
Empetus (Fortuna 1986)
Western Spaces (with Kevin Braheny,Thom Brennan; Fortuna 1990)
Quiet Music (Fortuna 1988)
The Leaving Time (with Michael Shrieve; Novus/RCA 1988)
Dreamtime Return (Fortuna 1988)
Stormwarning: Live in Concert (Soundquest 1989, Lektronic Soundscapes 1992)
Desert Solitaire (with Kevin Braheny, Michael Stearns; Fortuna 1989)
Australia: Sound of the Earth, with David Hudson, Sarah Hopkins (Fortuna 1990)
Strata, with Robert Rich (Hearts of Space 1990)
Now / Traveller (Fortuna 1992)
World's Edge (Fortuna 1992)
Soma, with Robert Rich (Hearts of Space 1992)
Suspended Memories: Forgotten Gods, with Jorge Reyes, Suso Sáiz (Hearts of Space 1993)
The Lost Pieces (Rubicon 1993, Relic/Projekt 1995)
Origins (Fortuna 1993)
Solitaire: Ritual Ground, with Elmar Shulte (Silent 1993)
Suspended Memories: Earth Island, with Jorge Reyes, Suso Sáiz (Fathom 1994)
Artifacts (Fortuna 1994)
The Dream Circle (Soundquest 1994)
Well of Souls, with Vidna Obmana (Projekt 1995)
Kiva, with Michael Stearns, Ron Sunsinger (Fathom 1995)
The Dreamer Descends (Amplexus 1995)
The Magnificent Void (Fathom 1996)
On This Planet (Hearts of Space, 1997)
Slow Heat (Timeroom Editions, 1998)
Light Fantastic (Hearts of Space, 1999)
Atmospheric Conditions (Timeroom Editions, 1999)
The Dream Circle (Timeroom Editions, 1999)
Truth & Beauty: The Lost Pieces 2 (Timeroom Editions, 1999)
Midnight Moon (Projekt, 2000)
Early Man (Projekt, 2001)
Time of the Earth (2001)
Core (Timeroom Editions, 2001)
Streams & Currents (2001)
Darkest Before Dawn (2002)
Mystic Chords & Sacred Spaces (Projekt, 2003)
Texture Maps: The Lost Pieces 3 (Timeroom Editions, 2003)
Life Sequence (2003)
Fever Dreams (2004)
Holding the Space: Fever Dreams II (Timeroom Editions, 2004)
Places Beyond: The Lost Pieces 4 (Timeroom Editions, 2004)
Possible Planet (2005)
New Life Dreaming (2005)
Immersion: One (Projekt, 2006)
Proof Positive (2006)
Kairos: The Meeting of Time and Destiny (2006)
Immersion: Two (Projekt, 2006)
Fever Dreams III (2007)
Immersion : Three (2007)
A Deeper Silence (2008)
Landmass (Timeroom Editions, 2008)
Dynamic Stillness (2009)
Destination Beyond (2009)
Afterlight (2009)
Immersion: Four (Timeroom Editions, 2009)
Sigh of Ages (2010)
Immersion Five – Circadian Rhythms (2011)
Groove Immersion (2012)
Back to Life (2012)
Soul Tones (2012)
Future Flows (2013)[8]
Spiral Meditations (2013)
Bloodmoon Rising (2014)
The Delicate Beyond (2014)
The Delicate Forever (2014)
The Desert Collection – Volume 1 (2014)
Invisible (2015)
Skeleton Keys (Projekt, 2015)
The Skeleton Collection 2005 – 2015 (Timeroom Editions, 2015)
Etheric Imprints (Projekt, 2015)
Bloodmoon Rising – The Complete 5 hour collection (Timeroom Editions, 2015)
Vortex Immersion Zone (Timeroom Editions, 2015)
This Place to Be (2016)
Shadow of Time (Projekt Records, 2016)
Spiral Revelation (Projekt Records, 2016)
Fade to Gray (2016)
Painting in the Dark (2016)
The Passing (Timeroom Editions, 2017)
Nostalgia for the Future (Timeroom Editions, 2017)
Long Thoughts (Projekt Records, 2017)