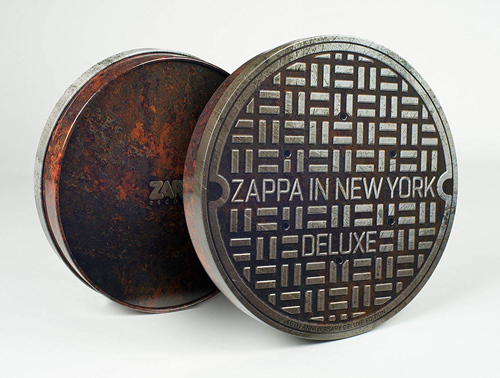 In celebration of its 40th anniversary, Frank Zappa's enduring 1978 album Zappa In New York Deluxe, was released today as a suite of expanded anniversary editions.
Supervised by the Zappa Family Trust and produced by Ahmet Zappa and Vaultmeister Joe Travers, the versions include a deluxe 5 CD boxed set, 3 LP on 180-gram audiophile grade vinyl, and digitally. The 5-disc collection, which is enclosed in a limited-edition metal tin shaped like a New York City street manhole cover and complete with a replica ticket from one of the shows, includes the main album in its original mix, newly remastered by Bob Ludwig in 2018 and available for the first time since its debut.
The four additional discs are packed with significant Vault nuggets and more than three hours of unreleased live performances from the NYC Palladium concerts, representing every composition played during the concerts and the best alternate performances of every tune Zappa chose for the original album, all newly mixed in 2018.
To achieve the highest-level sound quality, the audio team went back to the original two-inch 24-track multi-track master tapes and transferred every reel at 96kHz 24-bit wavs.
"We are excited to bring you this new Deluxe version of Zappa in New York: an opportunity to re-examine and celebrate the source material of a great album while exploring the events of Frank's life in late December 1976, Collections like these really show of the work ethic of a musical genius," says the Zappa Family Trust in the album notes.
Zappa In New York includes expanded packaging which features previously unseen live photos by Gail Zappa together with extensive liner notes by band members Ruth Underwood and Ray White (who were part of Zappa's band for these shows) as well as a perceptive essay by Joe Travers with Australian writer Jen Jewel Brown. Underwood also contributes a solo piano version of "The Black Page" that has been newly recorded for this special edition.
"'The Black Page' has proven to be one of Frank Zappa's most intriguing and enduring compositions. It is performed in many kinds of venues all over the world. It is taught and studied in schools. Perhaps most exciting is that it is adaptable and lends itself to a variety of orchestrations and re-workings, as Frank Zappa himself demonstrated. I am proud that after forty years, mine is finally among them. It is my love letter to Frank and Gail," Underwood writes in the liner notes.
Purchase Zappa In New York Deluxe