The Far Meadow – Foreign Land (Bad Elephant Music, 2019)
I really enjoyed the Far Meadow's Given the Impossible, especially "Seamless Shirt", with Marguerita singing the lyrics to Simon & Garfunkel's classic, "Scarborough Fair". That album was a magnificent surprise for someone who had never even heard of the band. When I heard they were working on the follow up I knew I had to hear and review it.
I am pleasantly surprised again by Foreign Land, which stands on its own with innovative sounds thanks to Eliot Minn, filling every corner of this record with legendary keyboard play. The keyboard work absolutely, separates this band from many of their peers globally. The fine tune of the delivery and the inspired choices made, are simply stellar.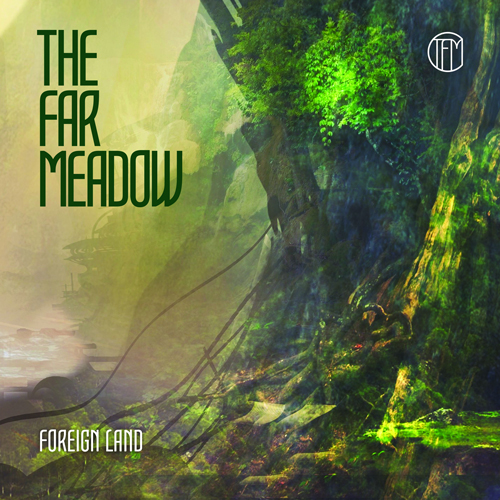 With the loss of Keith Emerson, fewer bands seem inspired to use the keyboard as a central instrument of their production. The Far Meadow, with Minn, stand out, holding the line. Place my early vote now for Eliot Minn, "keyboard performance of the year" in progressive rock.
You hear Minn's work early and often on the opening track of Foreign Land. "Travelogue" opens with soft keys, but later powerful keyboard innovations will bring back memories of Keith Emerson's highlights. Later, the organ work he has designed will take you back to early Gabriel – era Genesis. It simply must be heard to be believed. And then that piano…oh my. So, brief recap, synthesizers, organ, and piano. A song to make every keyboard prog fan happy. One of the best songs of the year, so far. But wait…there is more.
Foreign Land is an album for prog lovers who enjoy epic long track albums. Only five tracks with enough space to take in the world and its many flavors. The kind of album you have been waiting years to hear. Extended tracks that allow every band member to shine supreme.
The second major weapon this band has is the exquisitely wonderful voice of Marguerita Alexandrou. I loved her voice on Given the Impossible, but she is used more sparingly on Foreign Land, but in places where only the sophistication of her voice was vital to the sound. She drives the music to a higher level with each note she sings. Her elegant voice adds such magnificence to the overall sound the band delivers.
"Sulis Rise", is a good example of the strength of these two key members of this band. Alexandrou's voice highlights the story, bringing beams of the light she is describing. Then Minn delivers Genesis – level keys that take you right back to memories of the early '70s.
I have neglected the other members of the band far too long. Denis Warren's lead and rhythm guitars have their excellent solo moments throughout the first two and final three tracks. Keith Buckman's bass guitar is ever present adding background depth to the sound. Paul Bringloe's drums are well placed and help keep a great beat.
Then, there is that classic opening of "Mud"! That pipe organ sound just absolutely caught me by surprise. It sounded so fantastic I wish it had continued throughout the entire song. The lyrics at times took me back to Peter Gabriel's opening story for the live version of "Supper's Ready".
"The Fugitive", is another great story set to those awesome keyboards and some of the best lead guitar work on the album. The buzzing lead guitar and bouncing bass help buoy the mid-section of the song.
"Foreign Land" is one hell of an album closer. Spellbinding lead guitar, followed by Alexandrou's voice, then deep bass, and keyboards supporting. Alexandrou sounds very similar to Kate Bush in her early days, melded with Barbara Streisand on this and most of the album – excellent!
Then Minn gives us those deep keys and Warren the heavy guitars you may remember from early IQ and Genesis. Stunning.
Foreign Land is a perfect follow up album. The Far Meadow is definitely on my watch list now. Wish I could get over to see them at Summer's End. Get this album and go back and complete the catalog. If you miss the music, we used to hear on the radio daily, back in the 1970's, and that we used to take for granted, please don't take the Far Meadow for granted. There are too few of these stellar bands left on this planet.
The Far Meadow are:
Marguerita Alexandrou – lead and backing vocals
Paul Bringloe – drums and percussion
Keith Buckman – bass guitar
Eliot Minn – keyboards
Denis Warren – lead and rhythm guitars
All titles written by The Far Meadow with Paul Mallatratt (1, 4 & 5), Nok (1, 4 & 5) and Lawrence Pollinski (4).
Mixed by Joe Gibb
Mastered by David Elliott
Art & design by Brian Mitchell
The Far Meadow will be making their debut appearance at Summer's End in Chepstow in October 2019, with more dates to be announced throughout the year.
Track List
Travelogue
Sulis Rise
Mud
The Fugitive
Foreign Land