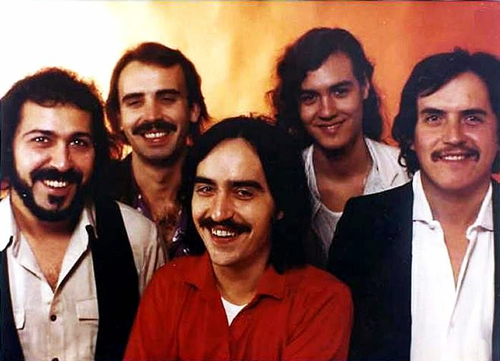 The seeds of Guadalquivir emerged from the idea of ​​Seville guitarists Andrés Olaegui and Luis Cobo "Manglis." The two musicians coincided while serving together in the Spanish military as conscripts in Cerro Muriano (Córdoba). While at basic camp in Cerro Muriano, they listened to Miles Davis, the Mahavishnu Orchestra and other cutting edge jazz fusion acts. In their spare time they started to exchange their ideas, experimenting with American blues and emergent jazz-rock.
Later, the two friends were transferred to the 14th Artillery Regiment based in Seville, assigned to the unit's military band. Although they had known each other previously, a sincere friendship was born and since then the two musicians became inseparable friends. They came up with the idea of forming a powerful jazz-rock band with Andalusian roots.
In Seville, Andres and Luis formed a band called Manantial together with Willie and Tony de Trujillo, two American musicians who were great instrumentalists, had a studio and very good gear. These brothers had parents from Seville but were born and grew up in New York. Manantial also featured Puerto Rican David Rodríguez.
Manantial performed only two concerts and the most significant was a live performance on TVE's show Popgrama, directed by Gonzalo García Pelayo, who was reporting about the Seville music scene in 1974.
After completing their military service, Manglis and Andrés Olaegui decided to relocate to Madrid with Manantial to try their luck, and after a month without achieving the objectives set for the group, Willie and Tony returned to Seville, and Manglis and Olaegui, decided to stay in Madrid to keep trying.
At that time, they frequented the Balboa Jazz Club, where they met and became friends with three highly influential musicians: flamenco jazz saxophonist Jorge Pardo, singer and drummer Pedro Ruy-Blas and percussionist José Antonio Galicia, who played at the club every day, and delved into what was the world of jazz in the capital of Spain.
One night in January 1978, José Valera, who was the first manager of the band Triana, talked to Luis Cobo "Manglis" at Club Raíces, in Madrid, where Manglis was playing. José proposed that Luis set up a group to participate in a festival with Andalusian rock bands that he was organizing with Triana as headliner. It was the opportunity Manglis and Andres had been waiting for. They created the long-awaited dream band with original compositions. The two guitarists recruited Pedro Ontiveros (sax and flute), Larry Martín (drums) and Jaime Casado (bass).
"I had just returned from playing in Ibiza and recently arrived from Munich where I had been invited to collaborate with German group Embryo and that's how Guadalquivir was born," said Manglis. "A month later we debuted in this festival before 7,000 people and from there everything was as fast as gunpowder."
In February 1978, after twenty days of marathon ten-hour rehearsals, Guadalquivir debuted before 7,000 people at the Festival of Andalusian groups at the Móstoles Sports Center near Madrid, along with Triana, Iman – Caifato Independiente and Storm.
That same year, Spanish rock star Miguel Rios organized a large tour that was called La Noche Roja (The Red Night), with Triana as a headliner and featuring Guadalquivir as well. The concerts attracted over 100,000 concertgoers and featured a state of the art PA system and laser show.
Guadalquivir signed with EMI Records and released its self-titled debut album "Guadalquivir" in 1978. The color of the vinyl was green and became known by collectors as the green album. Guadalquivir became an essential act in Andalusian rock. They appeared at numerous festivals.
In 1980 the band recorded its second LP, "Camino del Concierto." (EMI, 1980). After finishing the tour to promote the second album, in 1981, Manglis left the group due to disagreements with some members of the band, and embarked on a solo career. He founded the band Manglis with which he recorded two albums; while at the same time Triana recruited him as guitarist, in 1981.
Guadalquivir, released a third LP Después del Silencio (After the Silence) in 1983) on the Caskabel label. By then, two of the founders, Manglis and Pedro Ontiveros had left. After various concerts and a tour of Poland, the group disbanded in 1984.
The compilation Guadalquivir, Todas sus Grabaciones en EMI included the two EMI recordings.
Nearly thirty years after Guadalquivir was founded, Manglis reorganized the band again with Andrés Olaegui and Pedro Ontiveros and reappeared at various festivals and tributes to Andalusian rock during 2006-2008.
Discography:
Guadalquivir (EMI, 1978)
Camino del Concierto (EMI, 1980)
Después del Silencio (Caskabel, 1983)
Guadalquivir, Todas sus Grabaciones en EMI (Rama Lama, 1999)