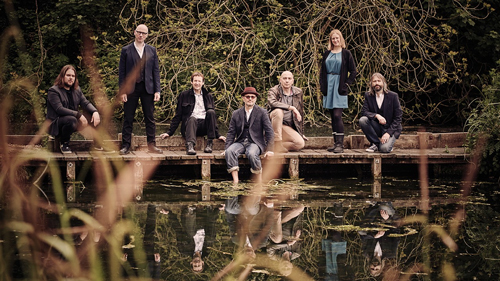 Big Big Train is a British progressive rock band formed in Bournemouth in 1990. Until 2009, Big Big Train was active primarily as a studio project led by multi-instrumentalists Greg Spawton and Andy Poole.
In recent years, Big Big Train has built a substantial and passionate following for their music. Noted for their story-telling songs and progressive rock influences, their 2017 album, Grimspound, reached number one in the UK Official Rock Album Chart. After selling out a three gig residency at London's Cadogan Hall in 2017, the band headlined the Night of the Prog festival at Loreley, Germany in 2018.
Big Big Train released the "Swan Hunter" single on July 13th, 2018. The single set includes a remix of the studio album version and a live performance of "Swan Hunter," together with two previously unreleased tracks. Swan Hunter is an elegy for the shipbuilding communities of England's north-east.
Vocalist David Longdon said: "Imagine being a child who grew up within this community, seeing these huge vessels grow daily until their launch. Imagine the relentless sound of machinery and construction workers. Your father most likely would have worked there and probably his father before him. It must have been almost impossible back then to imagine a time when this way of life would come to an end. This is what you knew and it defined you."
Andy Poole left the band in 2018.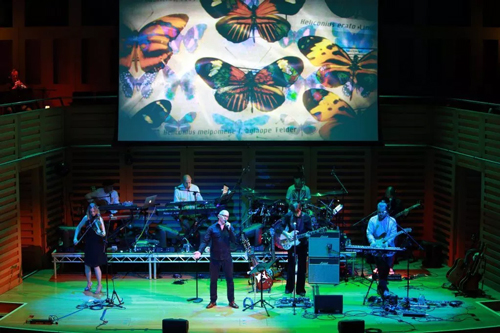 Inspired by the 17th and 18th century custom of the Grand Tour, where young men and women traveled to broaden the mind, Big Big Train made an album of songs set in distant lands and beyond.
Grand Tour features nine new tracks which take listeners on an epic journey over land and sea and through time and space.
The 2019 line-up includes band founder Greg Spawton on bass, guitars and keyboards; Nick D'Virgilio on drums; Dave Gregory on guitars; Rachel Hall on violin and vocals; David Longdon on vocals, flute, keyboards and guitars; Danny Manners on keyboards and bass; and Rikard Sjöblom on keyboards and guitars. Robin Armstrong (guitars and keyboards) joins the band for live performances.
Discography:
From The River To The Sea (Least Peculiar Music, 1991)
The Infant Hercules (Least Peculiar Music, 1993)
Goodbye To The Age Of Steam (Giant Electric Pea, 1994)
English Boy Wonders (Giant Electric Pea, 1997)
Bard (Treefrog, 2002)
Gathering Speed (Treefrog, 2004)
The Difference Machine (English Electric Recordings, 2007)
The Underfall Yard (English Electric Recordings, 2009)
Far Skies Deep Time, EP (English Electric Recordings, 2010)
English Electric Part One (English Electric Recordings/Giant Electric Pea, 2012)
English Electric Part Two (English Electric Recordings/Giant Electric Pea, 2013)
Make Some Noise, EP (English Electric Recordings, 2013)
Wassail, EP (English Electric Recordings, 2015)
Folklore (English Electric Recordings/Giant Electric Pea, 2016)
A Stone's Throw From The Line, live (English Electric Recordings, 2016)
The Second Brightest Star (English Electric Recordings, 2017)
Grimspound (English Electric Recordings/Giant Electric Pea, 2017)
Merchants Of Light, live (English Electric Recordings, 2018)
Grand Tour (English Electric Recordings, 2019)