The Forty Days – The Colour of Change
Are all of the great new bands from Italy these days? It seems that way. The Forty days is one of my latest finds on CDBaby.com. The Forty Days are from Pisa, Italy, yeah, the city with the leaning tower; and although they can play excellent progressive rock, they can also play solid psychedelic rock as well.
The Forty Days got started in August 2014, as a 70's rock cover band. Band members have also played in Pink Floyd tribute bands, and the influence can be heard throughout their debut album, The Colour of Change.
The band is made up ofGiancarlo Padula, on lead vocals and keyboards; Dario Vignale, on guitars and backing vocals; Massimo Valloni, on bass; and Giorgio Morreale, on drums.
The album opens with, "Looking for Change", and the Pink Floyd similarities I mentioned before fill the soundscape. This one opens like a great mix of "Wishing You Were Here" and "Welcome to the Machine", with some "Dogs of War", added for good measure. Then screams from Giancarlo Padula, on lead vocals, adding to the wonderful keyboards he played from the start. The deep bass and lead guitar from Massimo Valloni and Dario Vignale fill the empty spaces well. Then those deep Floydian machine guitar grinds we remember from so many plays of Animals and others.
Giancarlo Padula, has a voice that reminds me a little of Simone Rossetti of Italy's famous, The Watch. A little Gabrielesque, and that is wonderful to here with all this PF Animals sound, rocking around you. Peter Gabriel sitting in with Animals, WYWH, era Pink Floyd. Yes, that makes you want to hear more right? Me too.
"Uneasy Dream" is a wonderful Tony banks keyboard inspired instrumental. Again, those wonderful PF lead and bass guitar sounds makes this another classic mix of two great sounds you wish had mixed back in the 70s. Yes, Genesis meets Pink Floyd. That's nice.
"The Garden", opens with beautiful soft guitar, like LZ's "Going to California", before Giancarlo Padula softly describes his perfect version of the Garden of Eden. Wonderful guitar running through soft keys, with excellent rhythm from the drums. Not the epic storyline from "The Garden" of Unitopia fame, but rather a relaxing stroll through the same wild cultivated place that only really can be envisioned in dreams. The lead guitar solos from Dario Vignale would make David Gilmour smile, like I did.
"Homeless", opens with soft acoustic guitars, befitting the subject matter. Powerful drums from Giorgio Morreale. Some of his best on the album. More great lead electric soloing from Dario Vignale. Padula's singing and keyboards really make their mark felt on this track. The keys towards the middle take you right back to A Trick of Tail.
"John's Pool", opens with those wonderful keys you remember from Tony Banks' past with Genesis, then a wonderful PF – like lead guitar from Dario Vignale. More Trick of the Tail like keys as Padula lays out the story, "I'm driving in my car, on my way to…" The power guitar playing takes you right back to some of the Led Zeppelin you remember so well.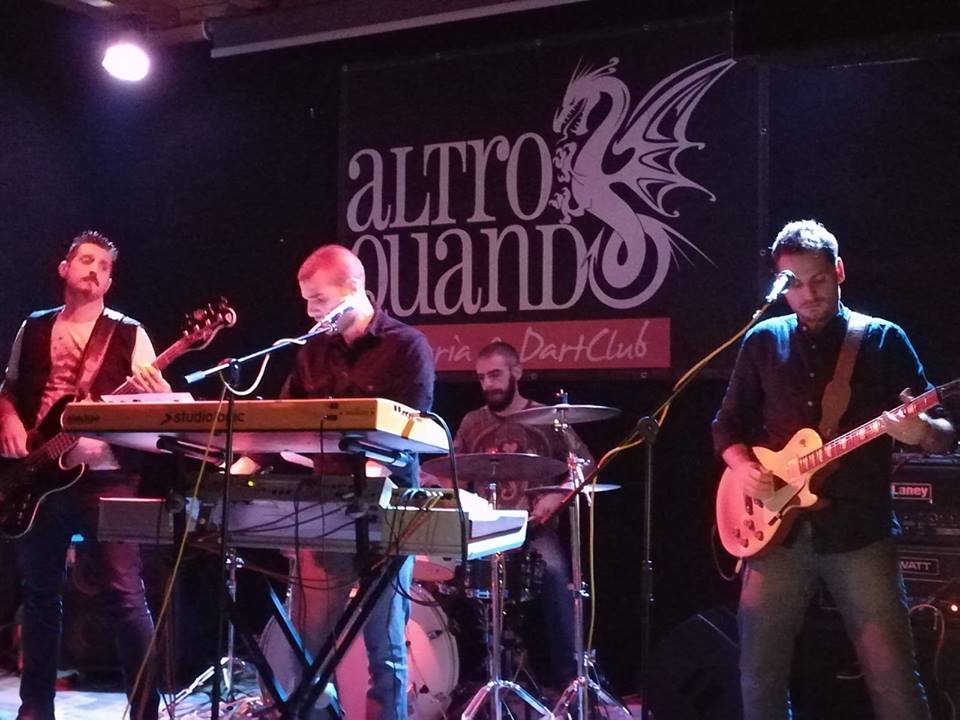 "Restart", opens with quiet singing from Padula, before he takes off on a Banks' inspired Lamb – like keyboard assault. Listen closely and you might hear memories of side two of The Lamb Lies Down on Broadway, in Padula's keyboards. The acoustic guitar work from Vignale is extraordinary. The band keeps everything so interesting and varied that you never hear too much of a good thing…even if, at times you want that guitar or keyboard solo to last all day.
"Four Years in a While", is an excellent long closer track full of innovative keyboards and more creative guitar licks than we really ever expected. Padula's vocals demonstrate his ability to reach out and force you to remember each song and make them a part of your memory.
This is an album I cannot urge you enough to try. This band is primed after years of working the trenches to sell out venues. The music is overwhelmingly ready for prime time. I cannot believe this band is not playing more festivals than they have already. Maybe if enough people hear this album they will. Must listening. Please get in on the ground floor before everyone else knows The Forty Days.
Track List
Looking for Change – 5:45
Uneasy Dream – 3:32
The Garden – 6:52
Homeless – 9:16
John's Pool – 5:49
Restart – 7:27
Four Years in a While – 8:21
The Forty Days – The Colour of Change, was released on Lizard Records, back in October 28, 2017, but better late, than never.
The Colour of Change – The Forty Days – Teaser #1
The Colour of Change – The Forty Days – Teaser #2
The Forty Days – "The Garden"