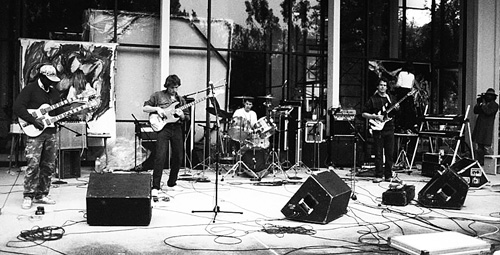 Djam Karet was founded in 1984 by guitarists Gayle Ellett and Mike Henderson, bassist Henry J. Osborne, and drummer Chuck Oken, Jr. They chose as the band's name an Indonesian word (pronounced 'jam care-RAY) that translates loosely as "elastic time".
Early Djam Karet was a sort of "jam band" whose live, totally improvised performances on the southern California/Los Angeles area college circuit featured a free-form mixture of guitar-dominated instrumental rock and textural Eastern drone music, as on their 1985 release No Commercial Potential.
Djam Karet's mode of working and repertoire gradually expanded beyond improvisation to include compositional elements, field recordings, and studio work. In 1987 the band released The Ritual Continues. Two years later, they released Reflections From The Firepool.
In 1991, Djam Karet released two separate CDs at the same time: Burning The Hard City and Suspension & Displacement. Three years later in 1994, Djam Karet released the CD Collaborator, with guests musicians: Jeff Greinke, Kit Watkins, Marc Anderson, Steve Roach, Carl Weingarten, and many others.
As the 20th Century drew to a close, Djam Karet signed with Cuneiform Records, and entered a period of unprecedented creative productivity that only accelerated as the 21st century dawned. It began working on new releases for Cuneiform, initiated a program to repackage and reissue its back catalog on Cuneiform, and began playing live on the festival circuit. Live shows were performed at Day Zero for 1999's ProgDay (San Francisco); at NEARfest 2001, progressive rock's premier US showcase; ProgWest 2001 (Claremont) and at 2002's ProgDay (North Carolina). Throughout the years they have also contributed music to 10 compilation releases, both in the United States and in Europe. Many of those pieces are available nowhere else.
Cuneiform's first Djam Karet CD came out in 1997, titled The Devouring. In 1998, Djam Karet performed on the West and East Coasts, recordings a live album for Cuneiform titled Live At Orion, released in 1999.
The band began to do more work in the studio, resulting in the 2001 release of New Dark Age (Cuneiform) and also the Limited Edition CD release Ascension.
Around the same time as New Dark Age's release, and complementary to its work with Cuneiform, Djam Karet launched a series of self-released CD-Rs, reissues and limited edition CDs for its fans. Within two years, the band had self-released numerous CD projects, including recordings made at New York City's The Knitting Factory, an on-air performance recorded at KCRW-FM, and other archival performances. Out of this creative resurgence arose A Night For Baku, which featured new band member Aaron Kenyon on bass. The title derives from Japanese folklore: the Baku are mythical inhabitants of the dream world, valiant warriors who devour nightmares as the spoils of battle. The CD features Djam Karet using more keyboards and electronics, and collaborating on one track with electronic musician Steve Roach, who worked previously with the band on Collaborator.
This new line up as a quintet created Recollection Harvest, two albums on one CD, divided into two chapters. The first-half is filled with their most melodic and jazzy music released so far, with a strong focus on composition and tight arrangements, mellotrons and soulful guitar melodies. The second-half, titled Indian Summer, features a collection of compositions colored with beautiful acoustic guitars and analog synths, and showcases their more atmospheric side.
In 2009 the band was flown to the Bordeaux area of France to headline the annual Crescendo Festival. To achieve a fuller and more massive live sound, the group acquired new member Mike Murray on guitar, allowing Gayle Ellett to focus more exclusively on keyboards. When they returned to the United States they decided to record The Heavy Soul Sessions in 2010, to better document their current live sound. All of the music was performed live-in-studio without any overdubs and no compressors or limiters were used during the recording process.
In 2011 they formed a new record label called Firepool Records, which has released various albums; Herd Of Instinct (self-titled), Hillmen – The Whiskey Mountain Sessions, and Henderson/Oken – Dream Theory In The IE.
Discography:
Happy Cancer: McMusic for the McMasses (1982)
No Commercial Potential (1985)
The Ritual Continues (1987)
Kafka's Breakfast (1988)
Reflections from the Firepool (1989)
Burning The Hard City (1991 )
Suspension & Displacement (1991)
Collaborator (1994)
The Devouring (1997)
Still no Commercial Potential (Limited Edition) (1998)
Live At Orion (1999)
New Dark Age (2001)
Ascension New Dark Age Vol. 2 (2001)
Afghan (Live At The Knitting Factory) (2002)
A Night for Baku (2003)
Live At NEARfest 2001 (2004)
…And Still Getting The Ladies (2004)
Recollection Harvest (2005)
25th Anniversary Beginner's Guide (2009)
The Heavy Soul Sessions (2010)
Ukab Maerd: The Waiting Room (2010)
The Trip (HC Productions, 2013)
Regenerator 3017 (2014)
Swamp Of Dreams (HC Productions, 2015)
Sonic Celluloid (HC Productions, 2017)
The Crows Of Dust Fall At Night (HC Productions, 2019)
Beyond The Long Twilight (HC Productions, 2019)
A Sky Full Of Stars For A Roof (HC Productions, 2019)
Related articles: Interview with Gayle Ellett of Djam Karet