Glasys – Defective Humanity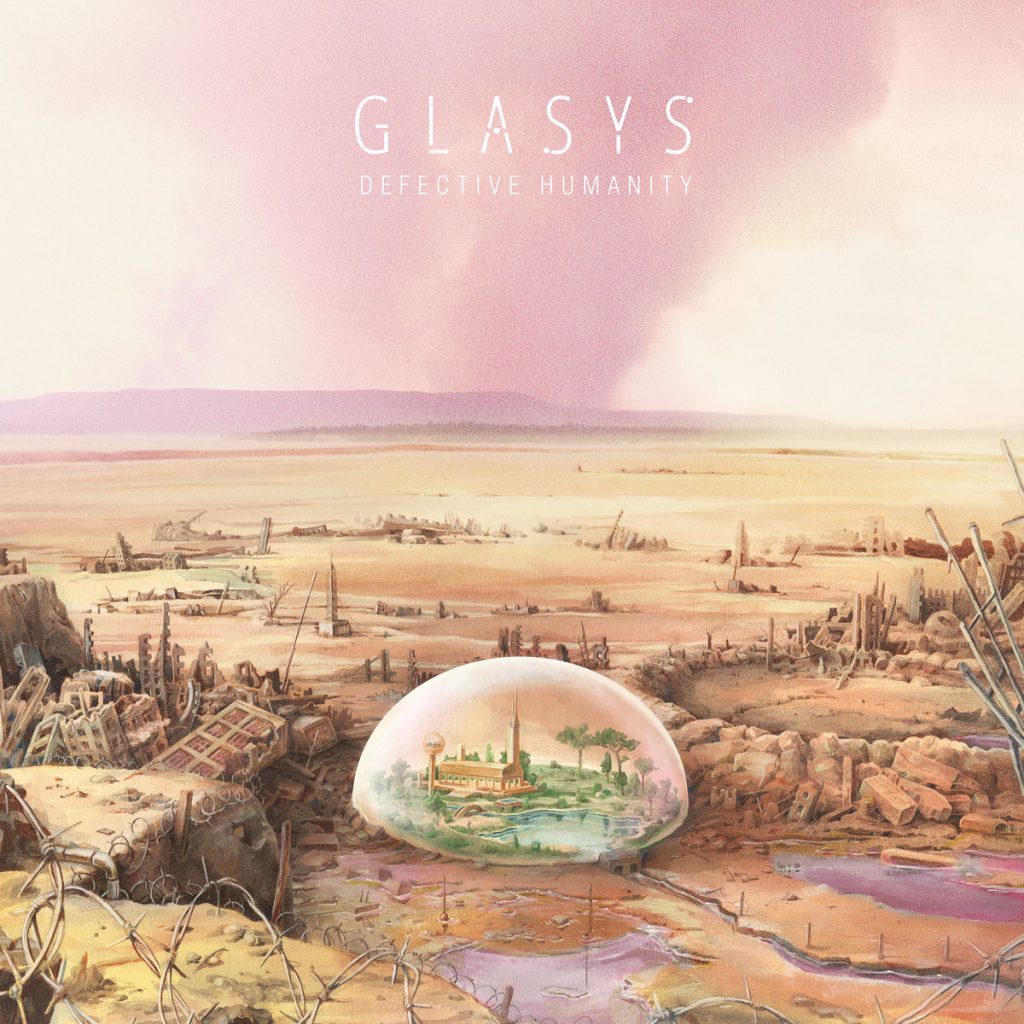 2019, will be remembered, by me, as the year Pacific Northwest progressive rock artists emerged and became recognized by the world. I have covered progressive artists all over the world but have been so happy to finally cover some local bands who are making tremendous progressive rock music. Today I will comment on another wonderful artist, Glasys, from Portland, Oregon.
One thing to keep in mind about Glasys and the bands from the Northwest I have covered, is that they are accomplishing all of their success on the merits of the music they make.
I am from Ohio; Cleveland, to be exact; it is famous for its rock radio station, WMMS, (which I grew up listening to). WMMS was vital to securing the Rock and Roll Hall of Fame for Cleveland, over the many competing cities in the running. Their love and support of music and the bands that made Cleveland a regular stop on their tours, helped win the day for Cleveland. Bands had incredible radio support back in the 1970s.
Here in the Pacific Northwest, we have no real progressive rock radio stations; at least not like they have back east, and overseas. These Northwest bands are playing music that they believe in, and are finding listeners and fans on their own, through the music they create, constant touring and constantly innovating, as well as their own social media presence. That is to say, based on their own hard work.
So, Glasys is a perfect example of that drive to create music that can capture an audience at home and abroad. Gil Assayas, is the leader and main artist for Glasys. Gil plays all music, lyrics, production, keyboards, synths and vocals.
On Defective Humanity, Gil has the support of none other than the famous Todd Rundgren, on vocals and playing the guitar solo on the track "People". Amit Erez, plays guitar on tracks 2, 3, 4, 5, 7, 8; Micah Hummel, plays acoustic drums on tracks 4, 5, 7; Milo Fultz, plays bass guitar on track 4; and Joe Mengis, plays percussion on tracks 1 and 3.
Gilm Assayas relocated to the US three years ago. He has been endorsed by major gear manufacturers such as Nord Keyboards, 64 Audio, Sequential and Spectrasonics. GLASYS released his debut EP, The Pressure, in 2016. Defective Humanity, was released August 2, 2019, after it was successfully crowd-funded on Kickstarter.
Defective Humanity, is an ethereal dreamscape full of innovative keyboards and synthesizers. Gil Assayas' has created an album here, which will assuredly make my top albums of the year. It is that unique and full of innovation and promise.
Defective Humanity, opens with "Slow Things Down". It is a brilliantly innovative keyboard and synthesizer track that will take you back to some of the greats of the 70s. Gils' vocals remind me of Todd Rundgren's mixed with a little of Jeff Lynne, and maybe Steve Hackett, at times. The keyboards and synthesizers on this track are simply fantastic.
"Malady", is another synthesizer dream scape. Like a magical trip on a Wonka ship it will fill your ears and imagination with color. It starts out with a runup, which reminded me of some songs from the English band Keane, but Assayas' calls beyond to the sound of ELO and the big top or carnival, with like keys guaranteed to blow your mind. It is wonderful. I did not want this album to end. I put this track on replay, just to enjoy the imaginative ride again. When I listened to the lyrics I heard what could be an anthem for those that would love to see an end to the Trump era.
"Nebula b" is a big bold deep synthesizer rhythm set to a quasi-reggae beat provided by Joe Mengis. Mostly instrumental, with some vocals added by Assayas, to point the way to the mind-bending space rhythm. I hear some early Larry Fast influence as well.
"Unwinder", opens with what almost sounds like mono piano. Then he follows with, to a true Genesis fan, what sounds like keyboards off Foxtrot or Nursery Cryme. Only these keys are glossy like movie soundtrack sounds not classic rock. Another wonderful romp with the keys you never want to end.
"People", is full of Todd Rundgren's vocals, wit and a long guitar solo from the maestro. It was good to hear his voice and inspiration again. This poppy synth and keys, joy machine is another wonderful ride through the mind of a music genius who never allowed his music to stay in one place.
"Daughter of the Ocean", includes more of Assayas' innovative keyboards following the path of his vocals and lyrical direction.
"I'll Never Change Your Mind", almost sounds like an ELP keyboard symphony, like "Fanfare for the Common Man" at its opening, only much faster. Then, Assayas' sings and helps drive the pace of the rhythm.
"Leon's Dream", is just what you might expect. Softly the piano plays as slow string like synthesizer riffs and rhythms drift through your ears and the soundscape. A little like some of the dreamy sequences I remember from Genesis' Trick of the Tail, yet with completely different synth tones. Just the feeling. Tranquil and spacey…other worldly.
This entire album was like one, wonderful dream ride through a Willy Wonka – like landscape, full of joy and fun, set to wonderful keyboard and synthesizer work, the likes of which, we haven't heard since maestros like Wakeman and Emerson made their majestic rock symphonies.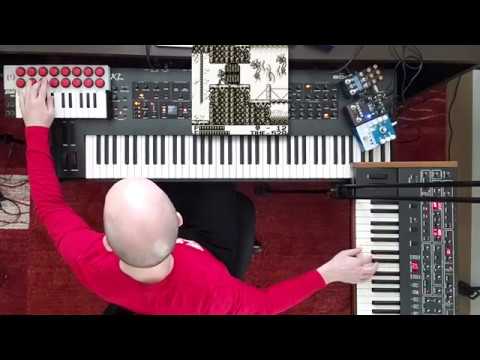 This should be required listening and collecting for anyone who loves keyboard and synthesizer music. It is as if Glasys has captured the spirit of Larry Fast's brilliant music of the 70s and brought it forward to 2019, with more human feeling and tone. Please get this album…and put on some headphones and experience it.
Acoustic drums recorded at Dead Aunt Thelma's Studio and engineered by Sacha Müller. Tracks 1, 2, 3, 5, 6 mixed by Tony Lash. Tracks 4 and 7 mixed by Sacha Müller. Track 8 mixed by GLASYS and Sacha Müller. Album mastered by Kris Crummett. Cover art was created by Ted Mineo.
Track List
Slow Things Down – 5:00
Malady – 5:11
Nebula b – 3:52
Unwinder – 2:59
People – 3:31
Daughter of the Ocean – 4:22
I'll Never Change Your Mind – 3:24
Leon's Dream – 2:46
"People" video with Todd Rundgren singing
https://www.youtube.com/watch?v=lmBYD7MRM4s
"Slow Things Down" video
Glasys "Tiny Desk Concert
https://www.youtube.com/watch?v=OSeYAhzWvrQ
Todd Rundgren appears courtesy of Cleopatra Records.
Facebook: www.facebook.com/GLASYSmusic
YouTube: www.youtube.com/c/GLASYS
Instagram: www.instagram.com/GLASYSmusic
Twitter: www.twitter.com/GLASYSmusic
Bandcamp: GLASYS.bandcamp.com
Spotify: https://spoti.fi/2XJsHHv