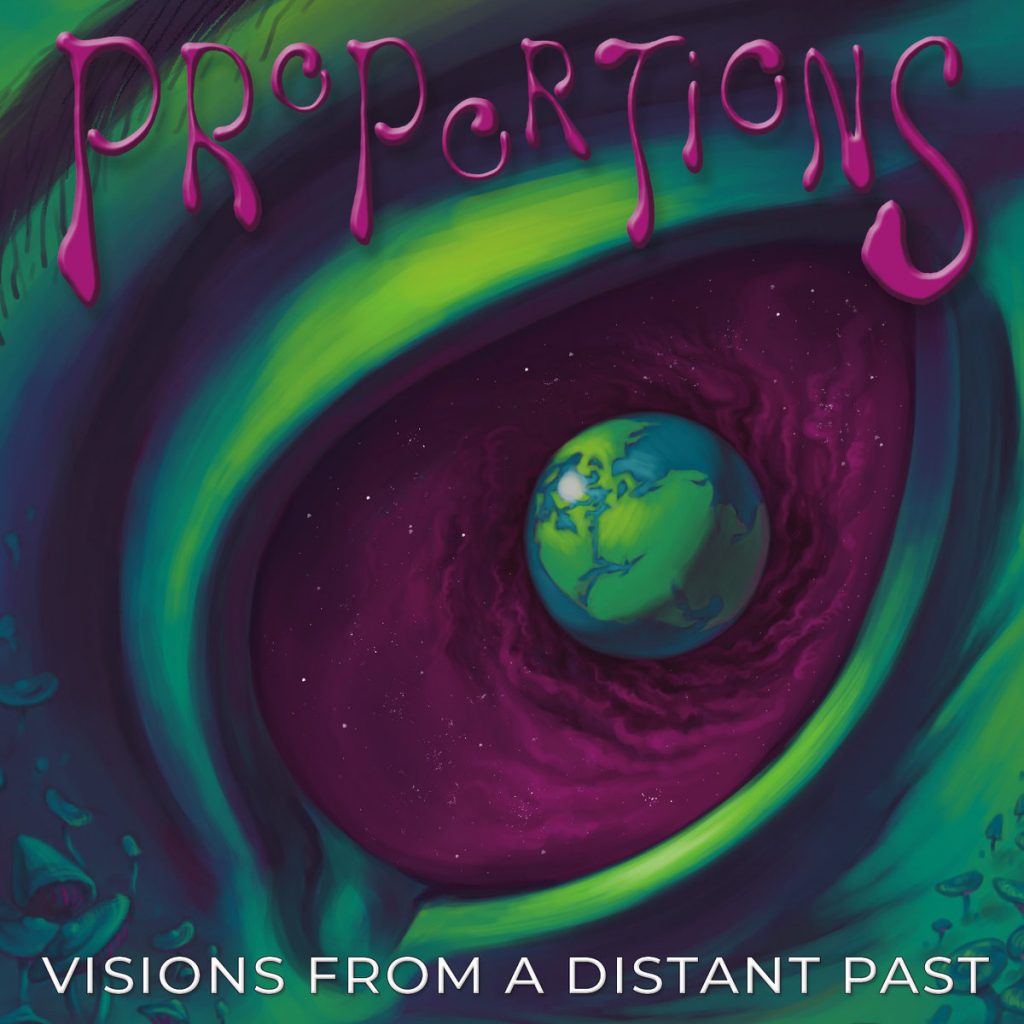 PRoPoRTIoNS is a progressive rock band, with jazz fusion influences. The band members come from different parts of the world and their music sounds, at times, like it is actually beyond the realms of this world.
I found the band's second album, Vision from a Distant Past, available for listening on CDBaby.com. The album was released on September 1, 2019. Their debut album, Reboot, was released last year. Their music is a wonderful blend of Pink Floyd, Alan Parsons, and Larry Fast, with some definite jazz influences. The music is mostly instrumental, with keyboards and guitar playing the most prominent roles.
The band is made up of: Lennart Ståhle, (from Sweden), on guitars, flute and keyboards; Tomas Stark, (from Sweden), on keyboards, electric and acoustic guitar; Denis Boucher, (from Canada), on drums and percussion; and Andy Kubicki, (from the USA), on bass, keyboards and orchestration.
On Vision from a Distant Past, PRoPoRTIoNS uses special musical guests:
Jeremy Cubert, on Chapman Stick, on "Double Barrel", and synthesizer on "Telemetry Drizzle"; John Eyre, on vocals for "Seagull's Call"; Pierre Bordeleau, on vocals for "Open Door"; Stefan Kubicki, on electric guitar, on the tracks, "Floorcare" and "Colors of Light"; Richard Sheehy, on electric guitar, on "Temporal Induction"; and Dayron Luis San Juan Muguercia, on congas on "Floorcare" and "Pangaea".
Every song on this album is absolutely innovative and entertaining to listen to from beginning to end.
"Temporal Induction" sounds like a Larry Fast computerized song until it changes completely into a Pink Floyd – like instrumental. It goes from completely outer space to inner space in minutes. Richard Sheehy, on electric guitar, takes over midway through the song to help give the track its David Gilmour – like edge. One of the best tracks on the album, and one of the best keyboard-oriented tracks I've heard this year. Absolutely mind-blowing and dynamic.
"Double Barrel" opens with fast moving computer-like keyboards. Jeremy Cubert, on Chapman Stick keeps a wonderful beat and rhythm. Some of the sounds reminds me of Steve Hackett's carnival – like influences. The keyboards are wonderful throughout.
"Seagull's Call" is my favorite song on the album. Kind of an ole English tale, by the seaside, with gull sounds and waves of the ocean. The acoustic guitar work and John Eyre's vocals were perfect. The flute work is "Tullriffic"! The deep acoustic guitar is so warm and enchanting.
"Sticks in the Head" opens with soft flute and sorted percussion. Along with the deep piano, they create a deep, trancelike, Middle Eastern rhythm that begins to draws you in. Hypnotizing and at the same time wonderfully exotic and unique. A banquet for the ears.
"Floorcare", slides in with orchestration, keyboards and synths, followed by Stefan Kubicki, on electric guitar. There is this Eastern Asian feeling to the opening, before the synthesizers take over and plunge you deep into an electronic realm of consciousness. The organ work towards the ending adds additional dimension to a very dynamic song. Kubicki's guitar towards the end brings back many memories of Steve Hackett's best. They add flute near the end with bells and chimes to top the cake.
"Colors of Light", opens with some Hackett-like acoustic guitar and stunning piano. Percussion and drums add to the soundscape and power the song to another level. The guitar work is innovative and different than anything you may have heard this year. The "fireworks" display at the end is awesome!
"Open Door", is full of deep sounding keys and great guitar and percussion. Pierre Bordeleau on vocals describes a world full of opportunity and achievement, if we only realize that there is an open door. "The open door, makes us free forever". The drums and guitar solos are dramatic and inspiring.
"Telemetry Drizzle", opens with cool percussion and drums. The climbing and cascading guitar work is memorable. This is the most jazz-influenced keyboard show on the album.
"Grift", is a keyboard and drum workout. Then some excellent electric guitar soloing is added to take the song up a notch. Searing cool synths join in to take me back to the feel of "Hot Buttered Popcorn", if anyone, besides me, even remembers that fun song.
"Splendid Illusion", is full of splendid piano and synth effects.
"Pangaea", is another beautiful piano, synth, and guitar concerto. The congas and birdsong add so much magic. As do the thunder, rain and atmospherics.
"Temporal Finale" is an absolutely wild space adventure. Arjen Lucassen would love this…I think. Unfortunately, it ends too soon.
Despite being a mostly instrumental album, every song is engaging and full of entertaining rhythm and music. Many of the tracks are danceable. When was the last time you read that in a progressive rock review? This band is absolutely original and playing what I think might be at the next level of progressive rock. The synthesizer work throughout this album and all of the music takes progressive rock in a new, and I think interesting direction. Please give PRoPoRTIoNS' Vision from a Distant Past, a try.
Track List
Temporal Induction – 4:18
Double Barrel – 3:06
Seagull's call – 6:34
Sticks in the Head – 5:16
Floorcare – 6:04
Colors of Light – 7:02
Open Door – 4:31
Telemetry Drizzle – 3:58
Grift – 3:10
Splendid Illusion – 8:04
Pangaea – 4:44
Temporal Finale – 1:21
All music was written by PRoPoRTIoNS, except for "Splendid Illusion", by Craig Clark.
Vision from a Distant Past was recorded at Board Potato Studio, USA; Studio Tan, Sweden; Old Road Studio, Sweden; and Studio ON|Reflexion, Canada.

Vision from a Distant Past was mixed by Andy Kubicki at Board Potato Studio, and mastered by Denis Boucher at Studio ON|Reflexion.
The album cover art was created by Alexis Kubicki. azkubicki.com
https://propsreboot.bandcamp.com/album/visions-from-a-distant-past