One of the most anticipated music releases of this year was to be Tool's new album. The anticipation was so global, that once Fear Inoculum, was released, on August 30th, 2019, with special packaging for the CD, it sold out before the end of the day. As of the writing of this review, in mid-October, there are no updated release plans for any CD version. Which is a real shame. This is one of my favorite albums of the year and I do like to have the hard copy of my favorites. I was forced to buy my version on I-Tunes, because, for a while, you could not download the album on the band's website. Here is hoping they will release it on CD, for the holiday shopping season. After all, why wouldn't you want the world to have your CD if they want it and will pay to get it?
I must begin this review with the disclaimer that I have never heard a Tool album or any of their music before. So, as you can imagine Fear Inoculum, is a wonderful surprise addition to my music catalog.
I think Fear Inoculum, is a great place to start, for those who share my initial exposure to the band. Tool has released four albums prior to this. However, it has been 13 years since their last album 10,000 Days, which was released in 2006. The rest of their discography includes: Lateralus, in 2001; Ænima, in 1996; and their debut Undertow, in 1993.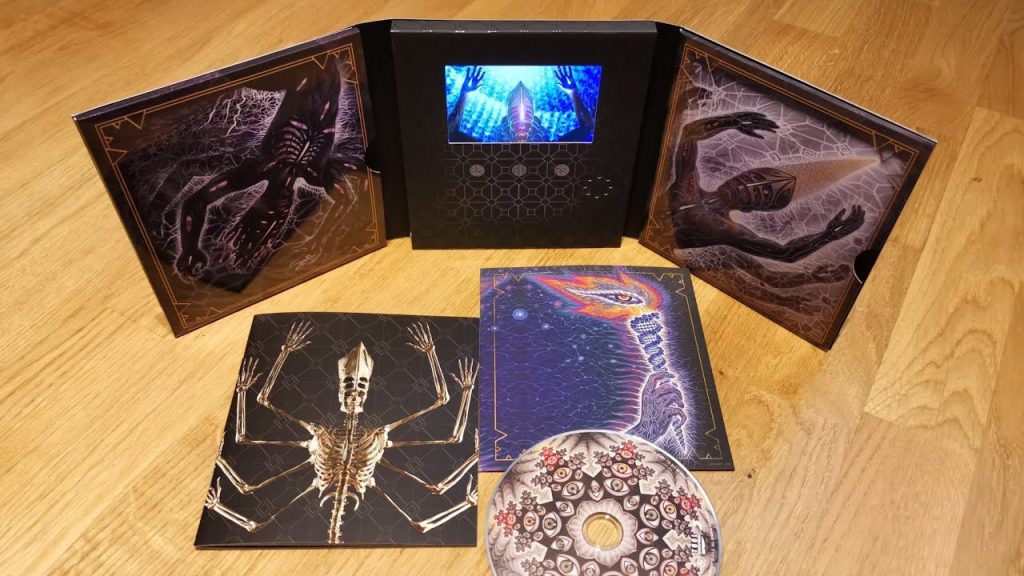 For those of you new to Tool, the band is made up of: Danny Carey, on drums and synthesizer; Justin Chancellor, on bass guitar; Adam Jones, on lead guitar; and Maynard James Keenan, on vocals.
Lustmord, created all of the waves and water sound effects.
Fear Inoculum, opens with its title track, "Fear Inoculum", which is unique in itself. Many bands place the title, or epic closer as the last song. But this title track is perfectly placed to give the listener an introduction to the concept and album theme, which will play out through the songs. The concept is fear, and trying to overcome your fear to the point that you can inoculate yourself from it. Or as my mentor and hero FDR used to say, "There is nothing to fear but fear itself".
The title track opens with bell like chimes, followed by very deep and ominous bass chords, as gentle drumming and percussion are added to the soundscape. The perfect, slow progression of added bass, then lead guitar and keyboards sets the table for what will come next. Keenan's first vocals, "Immunity. Long overdue. Contagion, I exhale you. Naïve. I opened up to you. Venom in mania".
This lyrical intro is perfect. Sometimes we are innocent to the contagion of fear. We let it get a foothold, until later we believe, as Keenan sings, "The deceiver says, he says. You belong to me. You don't wanna breathe the light of the others. Fear the light. Fear the breath. Fear the others for eternity". Yes, that is exactly how fear works. But thankfully this song is rejecting fear. Not only rejecting, providing an impetus for inoculating yourself from fear, for eternity.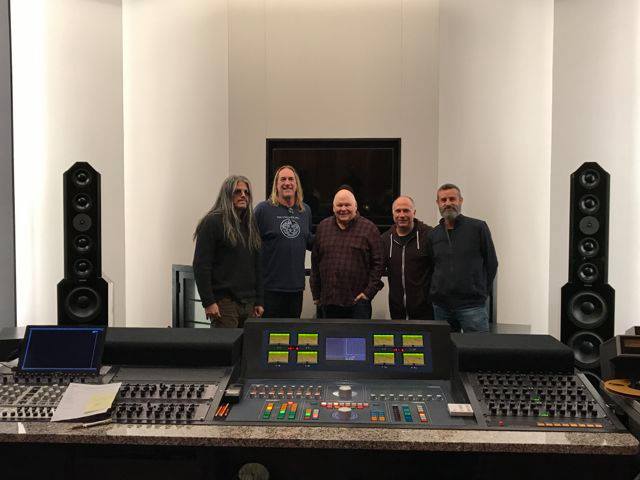 Meanwhile some of the best music of the year is being laid down to provide the perfect conditions for both building fear and expelling the same. Later, Keenan sings, "Bless this immunity". And closes the song with "Deceiver. Chased away. A long time. Coming!" The best, and one of the longest songs on the album, besides my favorite, "Invincible". Complete with an instrumental extravaganza ending for bands to envy for years. This drum assault will live on in your memories and ears.
Everything about this song celebrates the 13 year wait for its airing. The band has put together the perfect blending of Motorhead, Dream Theater, Queensryche, ACDC, Deep Purple, Led Zeppelin, Van Halen and Metallica in one song, first, and then an album. Bands will be trying to match this power for years…maybe 13 more…ha, ha. Please watch the live video of this song to really get the band's ultimate interpretation and power playing of this song, complete with a light show that will also stun and amaze.
"Pneuma", is another minute and a half longer than the opener. It is as just as good. Slow grinding electric guitar with intricate percussion, before more guitars, bass, and then that wonderful long bowed bass. Just a thumping madness when the drums begin their precision punch. Everyone drum pound, a gut punch. Like a heart punch to wake you or your soul up from its slumber. All the instruments firing like a well-oiled, hard-bodied, muscle car revving its engine in top form. Pneuma, the word means, "the vital spirit, soul, or creative force of a person". Keenan sings, We, are spirit bound to this flesh. We go round, one foot nailed down. But bound to reach out and beyond this flesh". Become Pneuma". Yes, please. Like an echo of Pink Floyd's Time, "You are young and life is long and there is time to kill today. And then one day you find ten years have got behind you. No one told you when to run, you missed the starting gun". So yes, reach for your potential.
Keenan sings, as if summoned by Roger Waters, "We are will and wonder. Bound to recall, remember. We are born of one breath, one word. We are all one spark, sun becoming. Child, wake up. Child, release the light!" What a effervescent anthem, if ever there was one!
"Litanie Contre la Peur", is one of the shortest songs on the album at 2:16. Either a keyboard or synthesized guitar's, endless chord. It is amazing in its ability to stir your thoughts. Like some of the wonderful work in between songs on Dark Side of the Moon. 'Litany against fear' is its English translation. Potentially a reference to Frank Herbert's book Dune, and the scene where Paul Atreides tempts the pain box.
"Invincible", is my favorite song on the album. But not because it is the third longest. It's the lyrics on this one. Oh, and yes…the drums. The lyrics took me back to two of my favorite songs from the past. The first is Peter Gabriel's warrior in "San Jacinto". Just like Gabriel, Tool describes their warrior so well. You imagine you are him, or you are there looking long into that field or forest. Keenan sings, "Long in tooth and soul. Longing for another win. Lurch into the fray. Weapon out and belly in. Warrior struggling. To remain consequential. Bellow aloud. Bold and proud. Of where I've been. But here I am!"
The atomic thump of the drums throughout and near the end of this song are an anthem or symphony in themselves, especially when supported by plucking deep bass guitar. The guitars are great too. One of the most primal anthems I've ever heard…since Gabriel's breath taker.
The other song which this one reminds me of is the band O.S.I.'s famous song "Hero". In fact, at times, Keenan's voice reminds me of Kevin Moore. Is "Invincible" a story of a warrior of the jungle, past, or from "Desert Storm"…you decide? It's your dream.
"Legion Inoculant", is another short interlude before your breath is taken away again by an epic. At 3:12, it opens like a UFO landing made with keyboards. Then cool keys and synthesizers help further sooth. Very trippy, indeed. Spacey voices. One cool short space trip. Taking me back to the Dark Side of the Moon.
"Culling Voices", is a 10:07 minute anthem, that opens with those beautiful 'light across the water at dawn' keyboards. Then some of the best opening lead electric guitar chords on the album. They could have let this continue throughout the song.
The concept of silencing or eliminated voices or people. Keenan sings, Psychopathy. Misleading me over and over and over. Judge, condemn, and banish any and every one. Without evidence. Only the whispers from within". He continues, "Psychopathy. Misleading me over and over and over. Don't you dare point that at me!"
Like a throwback to the Floyd's Wishing You Were Here, you can almost hear Roger Waters in the spaces between the words and notes, sing, "We're just two lost souls, swimming in a fish bowl, year after year. Running over the same old ground. And how we found. The same old fears", or even a return to the carnage of Brain Damage. An excellent song full of power and majesty when the lead electric guitar, bass and those smashing drums let go of their grist.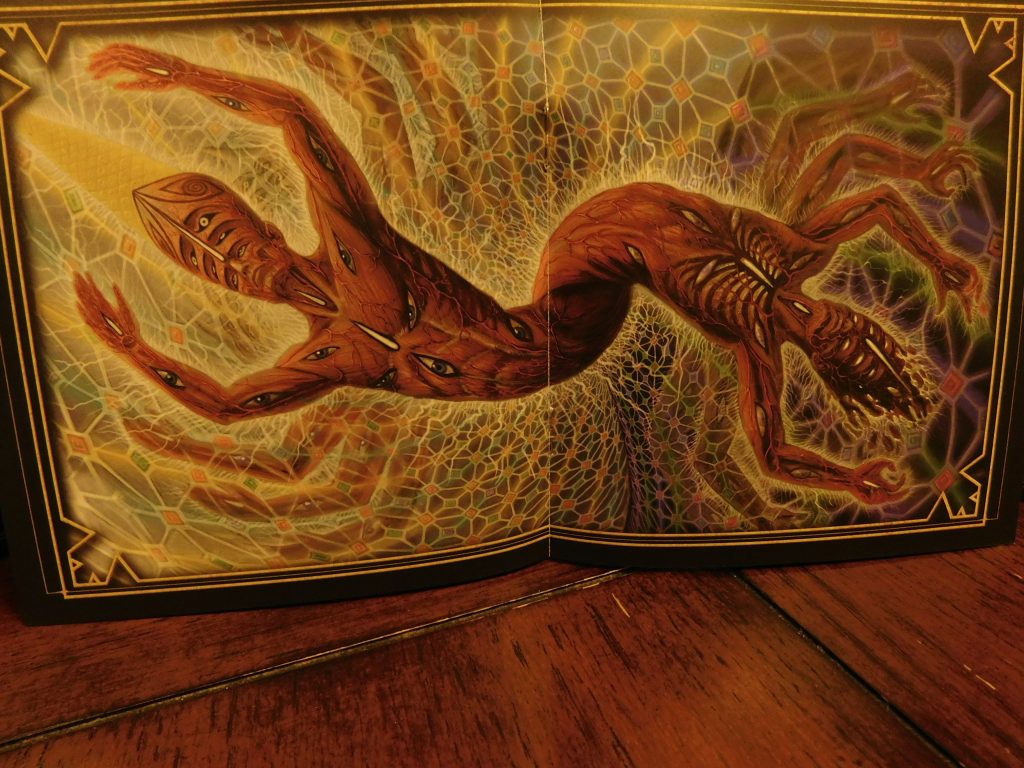 "Descending", opens with earthquake, lava moving on the land or ground rumbling effects. Then the ocean and waves. Slowly played bass, like Roger Waters taking over the album. Keenan sings, "Free fall through our midnight. This epilogue of our own fable. Heedless in our slumber. Floating nescient we free fall through this boundlessness this madness, of our own making. Falling isn't flying. Floating isn't infinite. Come, our end, suddenly. All hail our lethargy. Concede suddenly". "Sound our dire reveille. Rouse all from our apathy. Lest we, cease to be. Stir us from our wanton slumber. Mitigate our ruin. Call us all to arms and order!"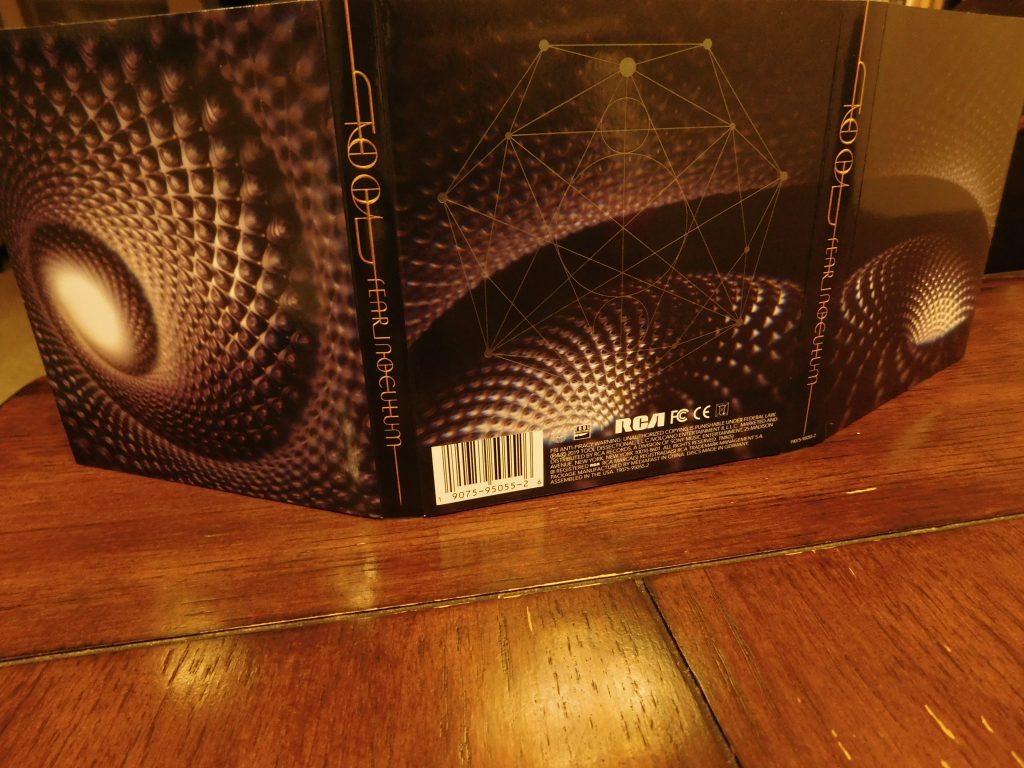 Yes, like "Us and Them", an anthem to wake 'em up and break the apathy. Care for something, if not for yourself and the future. The grinding lead electric guitar that follows is some of the best on the album. This far into the album, I think I have found my favorite new drummer. Danny Carey, on drums and yes synthesizer, what a wonderful and unique match. Usually the bassist or vocalist plays synthesizers. The drums are like John Bonham, great throughout this album.
Then Carey gets downright Rush "2112 Overture/The Camera Eye", only sounding deeper, with the synths. Then he is back to banging the drums like he is trying to escape from a cage. The blistering lead electric guitar from Adam Jones, sounds of bowed Jimmy Page as the waves return, and suddenly you're back at the end of Rush's "Natural Science"…wow!
"Chocolate Chip Trip", is another short side trip of 4:50. It takes you back to the Court of the Crimson King, and those beautiful water chimes and gongs. Followed closely by some Larry Fast-like, computer programming on synths. Very cool break between epics. Like that excellent intermission you always wished for, in-between movies, at theaters of the 1970s.
"7empest", is the over 15-minute epic closer on the album. "Mockingbeat" follows, but it is merely a wave goodbye. "7empest" opens with some unbelievably wonderful guitar fret meandering from Adam Jones, with more percussion rhythms blending together to create a rhythm that could either hypnotize or put you to sleep. But then Carey is back with the kicking drums. On this one Keenan makes some growling sounds, like full on Jim Morrison, then for the rest of the song, he sounds like Mötley Crüe's Vince Neil, on the song, "Dr. Feelgood", (the only song I ever liked from that band). In fact, this song almost sounds like a 2019 version of "Dr. Feelgood's" rhythm and beat, only louder.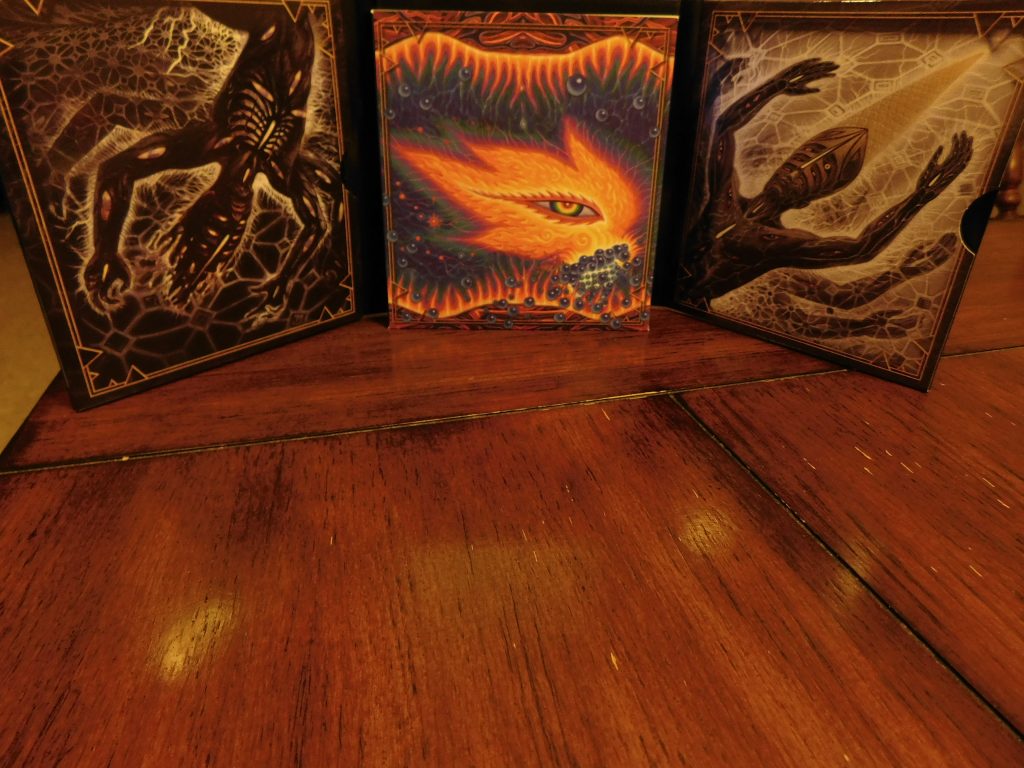 Only this time the subject nature has changed. Instead of a drug kingpin, we have elevated the reach to the highest office in the land. Keenan sings, "Heat lighting flash, but don't blink. Misleading. Tranquility ruse. You're gonna happen again. That's what I think. Follow the evidence. Look it dead in the eye. You are darkness. Trying to lull us in, before the havoc begins. Into a dubious state of serenity. Acting all surprised when you're caught in the lie. We know better. It's not unlike you. It's not unlike you. We know your nature".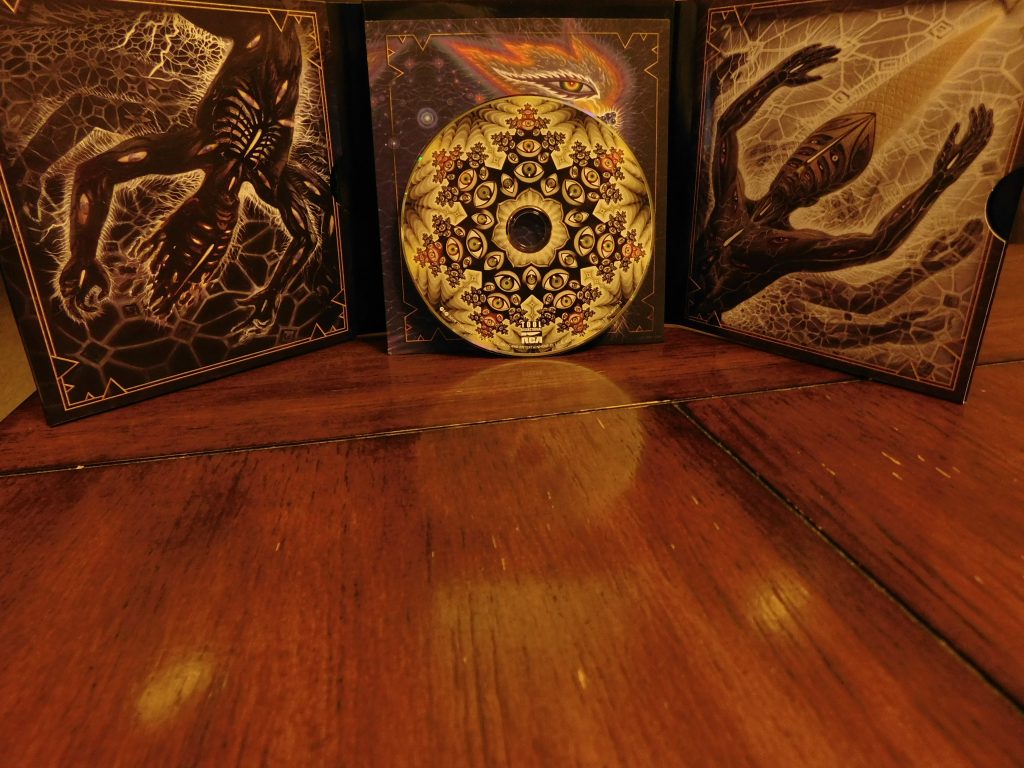 Study those lyrics carefully: "Misleading. Tranquility ruse. Follow the evidence. Trying to lull us in, before the havoc begins. Into a dubious state of serenity. Acting all surprised when you're caught in the lie". If you have been living in America you would be blind not to know who they are talking about. Yes, "We know better". Then, finally the smoking gun, "A tempest must be true to its nature. A tempest must be just that". They nailed it…perfectly.
"Mockingbeat", is a nice wave good bye to one of the best albums of this decade. Chirping and percussion. Like "Revolution 9" off the White Album.
Fear Inoculum, will sit comfortably on the shelf next to any of the greatest albums of all time that you wish to compare. For me Fear Inoculum, is this generation's Dark Side of the Moon, Wishing You Were Here, and Animals all wrapped up into one. It has memories of every major stellar group you can name. And I've already named quiet a few in this review.Like those great albums mentioned, Fear Inoculum asks us to measure where we are now, and dares us to dream for more. It asks, like Pink Floyd on Dark Side, look at what you are doing to yourself, caught up in the machine. "You are young and life is long and there is time to kill today. And then one day you find ten years have got behind you. No one told you when to run, you missed the starting gun".
Please get this album or listen to it, if only to appreciate what a band can do when they take their time and really try to create something lasting, like every major band from the 1960s and 70s did. This band is already famous, now they are shooting for legend.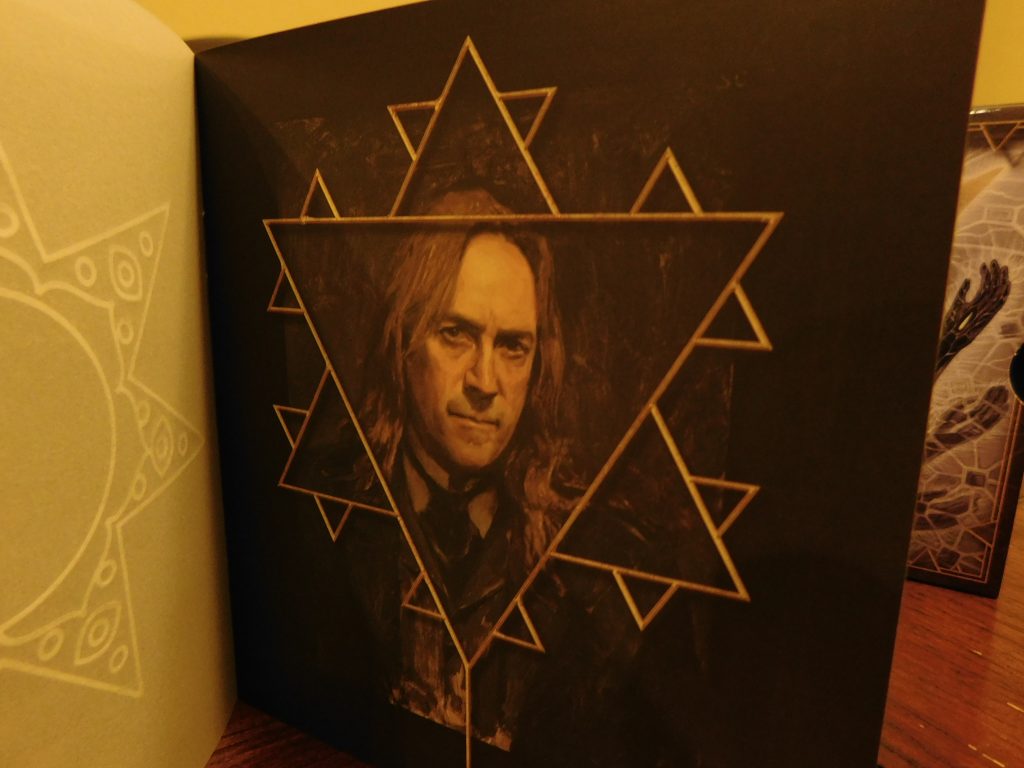 Fear Inoculum was mixed and engineered by "Evil" Joe Barresi. Bob Ludwig, did the album mastering. Tool created the overall production. Engineering assistance was contributed by: Jun Murakawa, Morgan Stratton, Kevin Mills, Garret Lubow, Wesley Seidman, Scott Moore, and Greg Foeller. Guitar techs include: Dan Druff, Tim Dawson, Scott Dachroaden, Pete Lewis, and Sacha Dunable. Drum techs include: Bruce Jacoby, Jon Nikcolson, Joe Slaby, and Junior Kittlitz. Additional tracking: Mat Mitchel, Tim Dawson, and Andrew Means.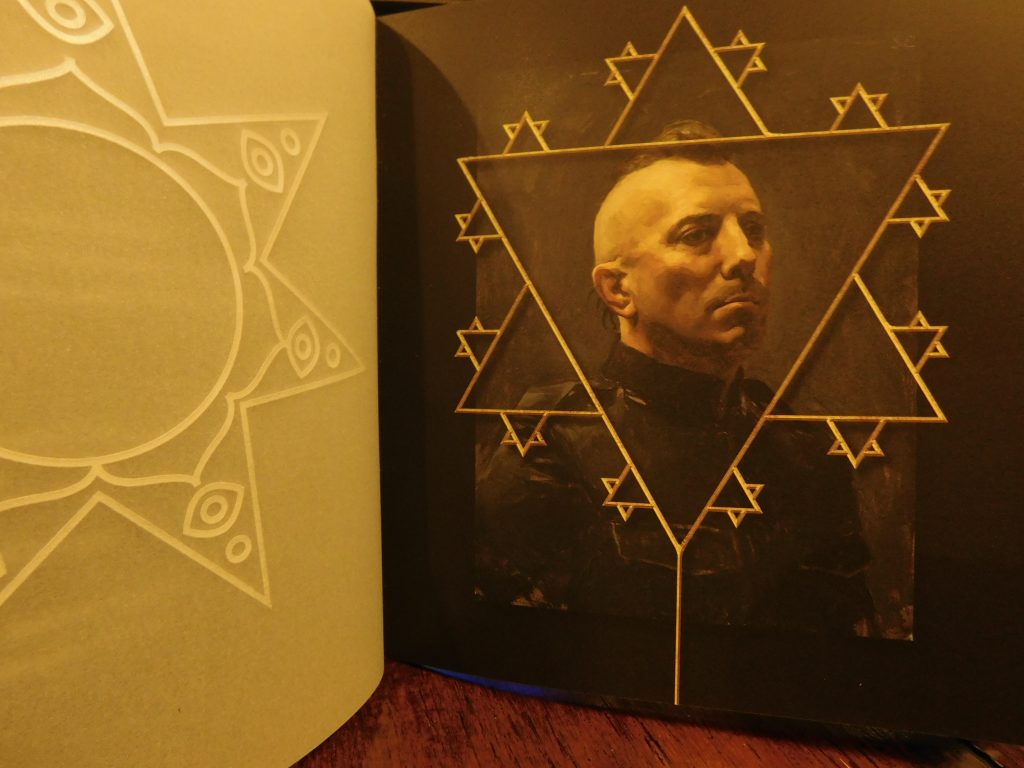 The artwork and video for Fear Inoculum was directed by Adam Jones. Alex Grey did the cover art, booklet art, video concept and video direction. Mackie Osborne created the design and layout. Joyce Su added additional art, visual effects, and design. Matthew Santoro produced CGI, video design, and acted as VFX director. Ryan Tottle & Dominic Hailstone created visual effects. Sean Cheetham created the Tool portraits. Photography was produced by: Kristin Burns, Alex Landeen, Travis Shinn, Lee Young, and Ann Chien.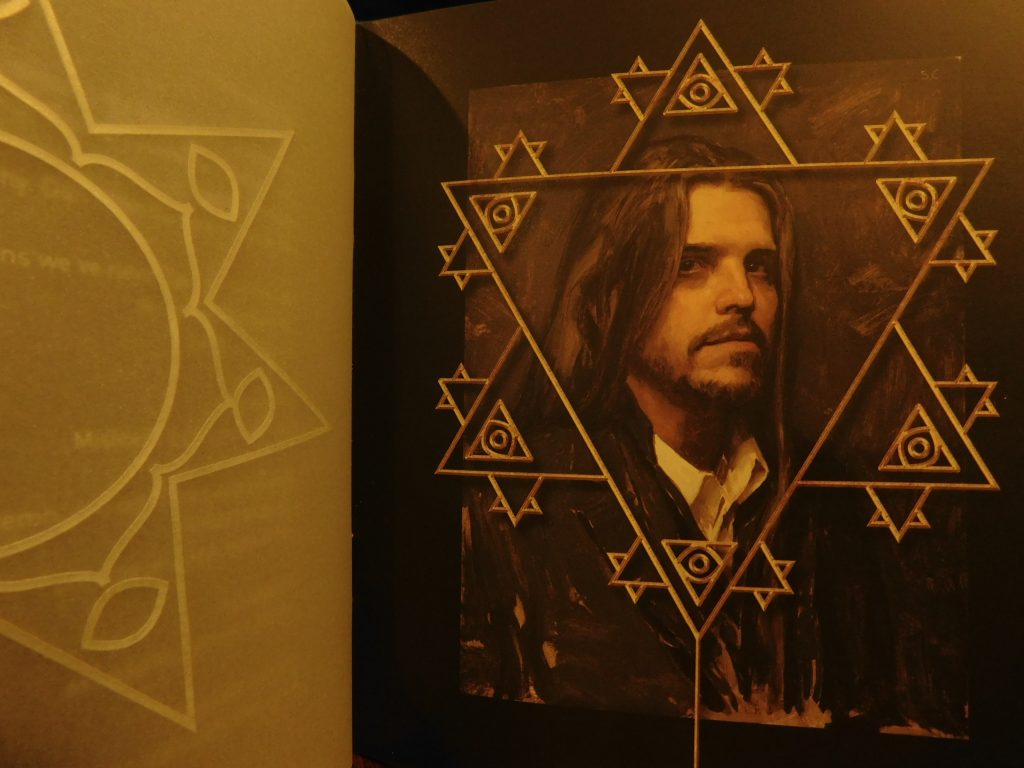 Track List
Fear Inoculum – 10:22
Pneuma – 11:55
Litanie Contre la Peur – 2:16
Invincible – 12:46
Legion Inoculant – 3:12
Culling Voices – 10:07
Descending – 13:38
Chocolate Chip Trip – 4:50
7empest – 15:46
Mockingbeat – 2:06