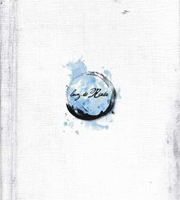 Luz de Riada
Cuentos y Fábulas (2011)
One of the leading bands in the Mexican progressive rock scene is Luz de Riada. They mix highly technical avant-garde rock with jazz, folk music and freeform improvisation. Their album Cuentos y Fábulas (Stories and Fables) is divided into two types of pieces. Cuentos (stories or tales) are structured compositions that feature guest musicians and a poet while the fábulas are short freeform sonic segments.
The imaginary stories in Cuentos y Fábulas describe modern life, mythical creatures and emotions expressed through the band's hybrid sound. Luz de Riada's sound is characterized by a potent King Crimsonesque rhythm section with various saxophones, guitar and stick performing solos and carrying out elaborate musical conversations. Although most of the pieces are instrumental, the album includes two pieces with unconventional lyrics and a spoken word poem.
Luz de Riada was formed in June 2010 when four self-taught musicians got together to develop and narrate musical stories. They choose the name Luz de Riada, which means flood of light to identify the generation of sound imagery. The current line-up includes Ramsés Luna on flute, sax, Wx5; Hugo Santos on grand stick, bass; Hugo Hernández on drums; and Alejandro Vergara on guitars.
Guests on the album include Wilfrido Terrazas on flute; Alejandro Otaola on guitar; Hugo Alfredo on surdo; Iván Tirado on surdo; Floriano Martin on vocals; Carlos Alegre on violin; Iván Bringas on guitar; Ernesto Mendoza on theremin; and Rodrigo Frenk on accordion.
Cuentos y Fábulas comes with innovative packaging, which includes several layers and a booklet with lyrics, photos, illustrations, a description of the music and credits.
Cuentos y Fábulas presents the uncategorizable sounds of some of Mexico's most adventurous experimentalists.
Buy the album from http://www.luzderiada.com