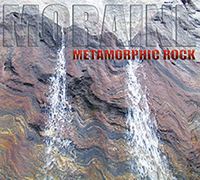 Moraine
Metamorphic Rock (Moonjune Records MJR040, 2011)
Metamorphic Rock captures the live performance of the progressive rock jam band Moraine at the 2010 North East Art Rock Festival (NEARfest) in Bethlehem (Pennsylvania). As the title of the album indicates, Moraine plays an ever changing form of rock music infused with elements of progressive rock, avant-garde jazz and improvisation. The sound of the band is unique thanks to a combination of fiery electric guitar, baritone saxophone solos, soaring electric violin and the intense sounds of the NS/Stick, an 8 string extended-range tapping bass designed by Emmett Chapman.
In addition to the vibrant rock and freeform jazz improvisation elements, Moraine also introduces world music elements such as captivating East Asian and Arabic melodies as well as reggae beats.
The band featured on the album includes Dennis Rea on electric guitar; Alicia DeJoie on electric violin, James DeJoie on saxophone, flute, and effects; Kevin Millard on bass; and Stephen Cavit on drums.
Metamorphic Rock presents the live performance of an outstanding group of creative avant-garde musicians who can easily navigate the waters of high energy progressive rock, jazz fusion and exploratory improvised music.