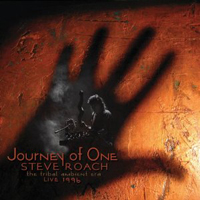 Steve Roach
Journey of One – The Tribal Ambient Era – Live 1996 (Projekt PRO00266, 2011)
Journey of One is a two CD set which provides a very accurate impression of the dreamtime electronic music synthesist Steve Roach was making in the 1990s. This was the period when Roach traveled throughout the globe, collaborating with various international artists, including Robert Rich, Jorge Reyes, Suso Saiz, Vidna Obmana, Michael Stearns and Ron Sunsinger.
At the time, Roach's music incorporated the impressions of the vast landscapes of Australia and southern Arizona and other exotic parts of the world. On Journey of One, Steve Roach combines his signature ambient music with Australian aboriginal tribal sounds through the use of the didjeridu (also known as yidaki and didjeridoo) which he learned how to play from Australian masters. Other acoustic instruments include clay water pots, butterfly cocoons, seed pod shakers, Australian clapsticks, and ocarinas.
This two CD live set also mixes slow tempo morphing electronic music with the sounds of nature. Steve Roach usually carried a portable recorder to capture interesting sounds. I remember seeing Steve in Lanzarote (Canary Islands, Spain) early in the morning, recording the surf. On Journey of One he skillfully weaves in the natural sounds of birds and insects into his electronic music.
Journey of One parts 1 and 2 were recorded in an intimate setting in Sacramento, California in 1996. Steve Roach decided to release it exactly as it was performed, without studio edits.
"All of my music is audiobiographical in many ways," says Roach. "It comes from life, from higher arcing desires and dreams joined by the events and moments found in the day-to-day experience of being alive. Through it all, Journey of One is a living record of my time on the creative path that started many years ago. These releases are sign posts at points along the way, the journey of one man rapt in sound."
Journey of One is a mesmerizing journey of ambient tribal music by one of the great electronic music explorers of our time.