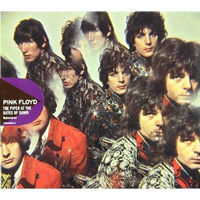 Pink Floyd
The Piper at the Gates of Dawn (Capitol/EMI, 2011)
The first album by legendary progressive rock band Pink Floyd
, The Piper at the Gates of Dawn, is now available digitally remastered. The album can be purchased individually or as part of a box set.
The Piper at the Gates of Dawn was originally released in 1967 and shows Pink Floyd in its pre-progressive rock period. Pink Floyd's members at the time were Syd Barrett, who was the main songwriter, on guitar and vocals; Roger Waters on bass; Rick Wright on keyboards; and Nick Mason on drums.
In 1967, Pink Floyd was fully immersed in psychedelia. Barrett's unconventional lyrics sent the listener to a world of fantasy, childlike rhymes and surreal creations. Barrett's songs were the product of a musician experimenting with music and mind altering drugs.
Barrett also experimented with his electric guitar, using a series of effects that made Pink Floyd's sound much more exploratory than other British bands of the time.
The album's title, The Piper At The Gates Of Dawn, came from the seventh chapter of Kenneth Grahame's The Wind In The Willows. The Piper At The Gates Of Dawn was recorded in Abbey Road's Studio 3 and produced by EMI resident producer, Norman Smith, while the Beatles were in the studio next door working on Sgt. Pepper's Lonely Hearts Club Band.
The Piper at The Gates Of Dawn is an album by a novice Pink Floyd with dreamlike lyrics and music experimentation by one of the leading songwriters in the rock underground of the late 1960s.