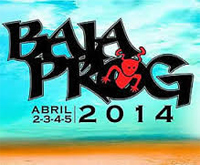 For this Baja Prog 2014, I grouped with two of my longtime music friends Arnaldo Rodriguez and Federico Mata. We coordinated pretty well to make the trip by visiting our friend Charlie Miller who lives in Los Angeles and has an impressive music collection.
We left Costa Rica on Thursday, March 27th, arriving in Los Angeles after midday. We went straight to Charlie's home and then to do some grocery shopping and buy other stuff we didn't bring from Costa Rica.
In addition to listening to music at Charlie's home, we went sightseeing throughout Los Angeles and saw exhibition of vintage cars, later went to the Getty Museum, and afterwards to Antelope Valley High School, that's in the town where Frank Zappa spent his youth. We also went to the Chinese Theatre where you find the stars from the worlds of music, theater and film; and later we climbed on board the Queen Mary where we admired the beauty of the vessel.
We drove to Mexicali on Tuesday, April 1 to get to the Baja Festival Prog 2014 Welcome party. Along the way we did some sightseeing around San Diego and Coronado Island.
Wednesday, April 2
Afternoon Concerts: Moraine and Haken
Moraine is a very good group with a mixture of rock and jazz and an impressive skill. A very worthwhile group from MoonJune Records. I listened to Haken but they didn't surprise me much, although their music was pleasant.
Night Concerts: Museo Rosenbach and Neal Morse
Museo Rosenbach made an exquisite presentation of their masterpiece "Zarathustra" starting with pieces from the second side, then the main theme of the eponymous album; 20 glorious minutes with the excellent voice of Stefano "Lupo" Galiffi. They had a very solid and balanced sound. Real ecstasy. Later they presented several songs from their latest album Barbarica, but not completely as I recall. Good songs but not as progressive symphonic as Zarathustra, rather more guitar oriented.
Neal Morse made his presentation and I could tell that his band was very good. All songs were related to God and Morse's conversion to Christianity. He was accompanied on drums by Mike Portnoy of Dream Theater. At least we didn't join hands and sing Hallelujah…
Thursday, April 3rd
Afternoon Concerts: Frak , GNU Quartet and Il Castello di Atlante .
Frak played very well and the music is nice, they are Mexican from the Tijuana are and they even made some satirical comments between songs that were pre-recorded, some were outstanding, while others were grotesque … Their keyboardist was painted blue with a long nose like Pinocchio.
GNU Quartet performed their music very well, a string quartet with excellent songs. Their violinist supported New Trolls last year.
People liked Il Castello di Atlante a lot because his music is very communicative and friendly. Their singer is very versatile and stepped down several times from the stage and one of those times he got the audience to sing a chorus with him … it was very satisfying to hear them live.
Night Concerts: Moon Safari and Premiata Forneria Marconi (PFM)
I really liked Moon Safari. It was a good addition to this edition of the Baja Prog. Their music is well constructed and very communicative. At the end they did an a capella encore, although I can't remember the title.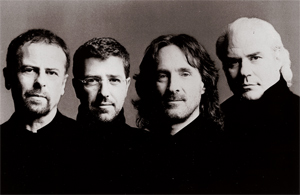 As always, Premiata Forneria Marconi provided a really good show and I was surprised at the length of the concert, nearly 2 hours 40 minutes. They started playing songs from their first album with a review of their entire music career which is over 40 years old. They played their classics played in a crisp form with a very balanced and managed sound.
Earlier that day we had connected with an Italian with a PFM badge. It was none other than their sound engineer. He helped us meet with the musicians after the concert ended. We walked to the sound board and he introduced us to Iaia, the Italian promoter from D&D who treated us excellently and took us backstage where the musicians were. There we waited another 30 minutes and had a nice conversation with Iaia. She was interested in PFM performing in Costa Rica and she mentioned the possibility of doing it between September and November as they have a tour scheduled between Brazil and Mexico (cannot remember if they will also tour the USA).
The musicians finally came out, visibly tired. They treated us exceptionally well and I told them that it was the third time I had seen them perform and other details of the previous concerts. Both Mussida as Djivas recalled those moments, apparently unique, associated with the fact that I am not the only one seeking their autographs.
Friday, April 4
Afternoon Concerts: Felix Martin, CAST + GNU Quartet, IO Earth
Honestly I did not listen too much of Felix Martin because we were invited by a Costa Rican based in Mexicali to breakfast and to visit the city and its outskirts so we arrived late to his presentation. What I heard was pretty improvised and interesting.
Later we watched CAST + GNU Quartet which is always a delight to hear this great group. Alfonso Vidales' son now accompanies the band as vocalist (he doesn't have an excellent voice but put effort into his presentation).
I liked the other group, IO Earth and especially the young female singer who was very nice. It is a young and exciting group.
Night Concerts: Saga, Gianni Leone + Osanna & David Jackson
Regarding the first group, Saga, I had heard them many years ago and, honestly, I never liked them. As a group I can say that they are very solid but musically they didn't attract my attention and I still do not like them much.
Osanna closed the evening with special guest David Jackson and halfway through the concert concert Gianni Leone joined. They started with songs from their first album L'Uomo and developed an amalgam of songs, mixing pieces from L'Uomo and Palepoli together as if they were a single composition. It was impressive that they played Prelude, Tema, Variazioni e Canzoni which is part of the soundtrack of the film Milano Calibro 9, accompanied by parts of the movie behind the group. I had never seen it before, not even in pieces. David Jackson was there from the beginning, always a great showman with two saxophones or the like at once. When Gianni Leone entered it was with a piece from YS (il Balletto di Bronzo), with a great organ solo played on a small Hammond organ. In reality, Osanna's entire presentation was exceptional.
Saturday, April 5
Afternoon Concerts: Elora and Spock's Beard
Elora is a group of talented young artist and I liked them quite a lot. The singer entered the stage covered as a medieval monk. She later uncovered and surprised many with her beauty. A great group with a good future.
Spock's Beard caught my attention although I'm not a big fan of them. What I heard was very solid. The keyboardist climbed on two keyboards being almost in the air .
Night Concerts: Shylock and Fish
I loved Shylock and the development of their instrumentals is excellent, very French for those who want to venture into this musical group. All the pieces are named with a number and only one or two had particular name.
Fish as festival closing act was passable as much of his songs are more rock than progressive, although he performed a couple of classics from his Marillion era.