This is my 2nd year back as a (mostly) spectator at ProgDay and once again I am reminded of what a special event this really is. Other festivals may have bigger names on the stage, and more people in the audience, but there is something unique about ProgDay that really has to be experienced to understand.
I have been to and / or participated in, 15 out of 18 ProgDays and 2012 was another fantastic time. I realize that since I am still partially involved in the organization this may come across as biased, but damn if I don't still love this thing and think it is an awesome experience.
The main people involved the organization these days; Michael, Debi, Helaine, Geoff, Jay, Deb, Chris, and others have continued to pull off a top notch event that is stronger than ever. For what it is worth here are my impressions of the 2012 event.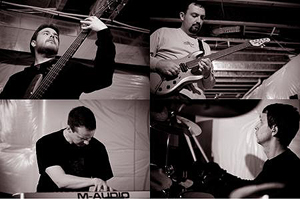 I was flying solo this year as my wife could not make it. I arrived at Raleigh-Durham International (RDU) airport about 4:00 PM on Friday night and after a stop at Total Wine in Durham to pick up some brew for the weekend I arrived at the Comfort Inn around 5PM. Almost immediately I started running into familiar faces, cracked open a beer and started the weekend.
The usual group that I hang out with has a tradition of going to Kanki's Japanese Steak House on Friday night so we headed over there about 7:00 PM. I had thought about going to the pre-show, but after a great dinner it was almost 9:00 PM so a bunch of us just went back to the hotel to watch the Michigan State / Boise State Football game and then listen to some music. I think I got to bed somewhere between 1 and 2:00 AM that night.
Saturday morning it was hot and very humid. I headed out to the farm with my cooler and chair, got things set up under our group's canopy, sat down in my trusty Detroit Lions chair…and it broke (hope that is not an omen for the season). Luckily my friend T.J. had packed an extra chair so I had someplace to sit for the rest of the weekend.
Ephemeral Sun came on a little after 10:30 and I was able to catch about 20 minutes of their set before I had to head up to work my first shift at the front gate. What I saw was really enjoyable and I was able to hear the rest of their show from back at the gate.
After my gate shift I grabbed some lunch at the Greek Caterers and have to say that I was really impressed. I got the pork chop plate and it was excellent.
Karcius came on stage next and I got to see their whole set. I really enjoyed these guys and think that their most recent album is the best of their career. The new vocalist has a great voice and they featured a lot of material from the new album. The band also threw in some of their older all instrumental material and closed with a really killer version of Pink Floyd's "Dogs".
After playing the first 3rd of the piece fairly straight forward the launched into an extended jam at the end that transcended the song into more than just your typical cover. I really enjoyed these guys a lot and hope I get the chance to see them again.
I was back up at the front gate when the Italian band Accordo Dei Contrari hit the stage, but what I was hearing from a quarter mile away was very impressive. Deb Sears came and relieved me a bit early (thanks Deb!) so I was able to catch the end of their set. Man, these guys were great and the last part of their set that I caught really smoked.
Birdsongs Of The Mesozoic came on last and put on another high quality set. These guys were great musicians, but had a tough act to follow after the high energy performance that Accordo had put on before them. In hindsight I think the lineup might have worked better with Accordo closing the day and Birdsongs going on number 3, just because the energy level was a bit higher, but Birdsongs put on a very nice set and were obviously having a great time.
After the show was over we went back to the hotel and a bunch of us met across the street at Applebee's for dinner and to watch the Michigan / Alabama game. We got back to the hotel before the game was over, but since it was such a blowout I decided to go down by the pool where more familiar faces were hanging out drinking a few. I stayed out by the pool until somewhere around 2:00 AM and finally went in and hit the sack.
According to the weather forecasts Sunday was supposed to be cooler with a chance of thunderstorms, but when I walked out of the hotel room about 10:00 AM it seemed as warm if not warmer than the day before. There was some cloud cover though which helped a bit.
Dreadnaught came on at 10:30 and I was immediately blown away by them. I moved up closer to the stage to get the full effect and really enjoyed their performance. These guys have been around for more than a decade, but I am just discovering them now. They played quite a bit of new material and I suspect this should be an album on everyone's radar in the coming months. The Pork Chop that I got on Saturday from the food vendor was so good I decided to do another one on Sunday. Great stuff!
Next up was Dr. Nerve, a band I was prepared to check out with an open mind. I once again had front gate duty, so only got to see about the first 30 minutes of their set. These guys are incredible musicians. Some of what they did I liked, some did not do as much for me. They are certainly engaging live performers. Only seeing the first 30 minutes it is kind of hard for me to judge this one, but they seemed to go over really well with the audience.
A lot has already been mentioned about the storm that was rolling around the area while Dr. Nerve was on stage. While I was up at the gate I had one car pull up asking if the festival was cancelled. I asked them why would it be cancelled, and they said because it was storming like hell just 5 minutes down the road. Aside from a slight sprinkle the festival never had a drop. A bullet was dodged on that one for sure.
My front gate shift over, I was back on the field for Consider The Source. I have one of these guys' albums and figured I was going to like them. They came out and blew a lot of people away. Instrumentally these guys are killer and anyone who likes mondo shredding really would this band. It was extremely hot by this part of the afternoon so I stayed back under the canopy up until their last song when I went up closer. These guys are young and going places I predict.
There was a pretty long break between acts at this point as it appeared that Jim Rezek's massive keyboard rig was taking a while to get set up. I believe the band had to cut a few songs from their set unfortunately due to a late start (not sure on this, but is what I heard).
Iluvatar has been one of my favorite bands for years and were doing only their 2nd show (I think) with their new lead singer. I thought he did a very nice job and although his voice is a bit different from Glen's, it works well with the material.
Like Dreadnaught, Iluvatar did a bunch of new material and this will be another album on my radar screen in the coming months.
A few other people have remarked that Iluvatar seemed really loud and I noticed that too. In fact they seemed to be the loudest band's I have ever heard at ProgDay. I don't even remember Freak Kitchen being that loud last year. I think they probably could have heard the band all the way back to Carrboro.
I did notice that the sound crew (Roger Brady and co.) appeared to have a new P.A. that was definitely an upgrade from past years. I don't know that much about the specifics of P.A. systems, but there were at least one or two more speakers on each side of the stage than in past years.
After the last notes rang out, I helped a bit with cleanup and then we headed to our old favorite Barbecue joint for dinner only to find it had closed and gone out of business. We regrouped and eventually went to Bailey's after making several wrong turns along the way. While in the restaurant it started to downpour outside, by the time we got back to the hotel it had not let up at all pretty much nixing the usual pool party.
I went down to the lobby of the hotel and people had already started gathering there passing around coolers of beer left over from the weekend. The rain never let up so the party stayed indoors. Many great micro-brews were consumed and I finally went to bed about 4:30AM.
I had made the smart decision to schedule a late afternoon flight, so I did not have to get up until almost check out time on Monday. I hit a barbecue joint for lunch that was recommended by a guy at the hotel (can't get good Barbecue up in Michigan so I have to try to hit it in North Carolina) and then headed to the airport.
Ended up back in Michigan around 8:30PM, very tired, but very happy. It was great to see a lot of old friends and make some new ones. One thing I noticed was an increase in the number of younger people at this show. We sold quite a few student tickets while I was working the gate which is a market ProgDay has been trying to tap into for years. I think a combination of an increase in local promotion and some of the bands (Consider The Source drew a few for sure) made the difference. Hopefully this is a trend that will continue.