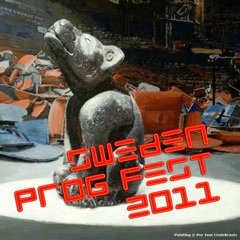 Progressive rock festival Sweden Prog Fest 2011 took place yesterday, November 26th, 2011 at Bryggarsalen in Stockholm. The event featured five of Sweden's finest progressive rock acts: Agents of Mercy, Coste's Cosmos, Gösta Berlings Saga, Brighteye Brison, and The Kingdom.
Agents of Mercy is the progressive rock/hard rock project of guitarist Roine Stolt (The Flower Kings, Transatlantic, Kaipa), singer Nad Sylvan (Unifaun), virtuoso keyboardist Lalle Larsson (Weaveworld, Karmakanic), bassist Jonas Reingold (The Flower Kings, Karmakanic) and drummer Walle Wahlgren.
Coste's Cosmos is one of the new projects of guitarist Coste Apetrea, who started his career in 1972 with legendary progressive group Samla Mammas Manna and later played with the Jukka Tolonen Band.
Brighteye Brison is a band influenced by the classics on the 1970s. The current line-up includes
Linus Kase, Per Hallman, Kristofer Eng, Johan Öijen and Erik Hammarström.
More information at swedenprog.se