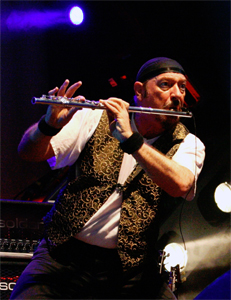 Ian Anderson, known throughout the world as the flute and voice behind the legendary folk-rooted progressive rock band Jethro Tull, will perform at the Durham Performing Arts Center, DPAC, North Carolina, on September 29, 2012.
In April, Anderson will release Thick as a Brick 2, a newly-recorded sequel to Jethro Tull's seminal 1972 album Thick as a Brick, followed by a solo tour that will feature him performing both the original album and its new sequel back-to-back live in their entirety.
Jethro Tull's progressive rock era peaked with 1972's Thick As A Brick, a 45-minute continuous piece of music charting the difficulties of a child growing up and confronting a frightening and unfair world. The album was a worldwide success, including a Number 1 spot on the Billboard chart.
Forty years later, Ian's new sequel has very deliberately echoed the feel of the 1972 album by using many of the same instruments, including a lot of acoustic guitar and Hammond organ, and to a large extent recording the continuous 53-minute piece of music with the band all playing live together. In Ian's words: "The theme of this anniversary 'part two' album is to examine the possible different paths that the precocious young schoolboy, Gerald Bostock, might have taken later in life."
Tickets are available at:
Online at DPACnc.com
DPAC Ticket Center: 919.680.2787, 123 Vivian Street, Durham, NC
Ticketmaster.com / Ticketmaster Charge by phone at 800.745.3000
Ticketmaster outlets including Crabtree Valley Mall