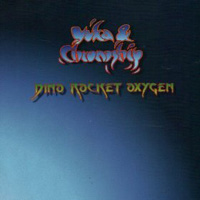 Yuka & Chronoship
Dino Rocket Oxygen (Musea, 2013)
Yuka & Chronoship is an exciting progressive rock band from Japan led by the superb keyboardist, vocalist and composer Yuka Funakoshi. Her group features three skilled musicians who provide vibrant rhythmic support as well as outstanding guitar work: Takashi Miyazawa on guitar and vocals, Shun Taguchi on bass and vocals, and Ikko Tanaka on drums.
The title of their second album, Dino Rocket Oxygen makes reference to three different musical suites that appear in the album: Dinosaurs suite, R is for Rocket suite and Oxygen suite.
Dinosaurs suite begins with 'Which Came First, The Dinosaur Or The Egg ?, featuring majestic symphonic keyboards and dazzling interplay between the piano and guitars. The second part of the suite, 'Dance With Dinosaurs,' goes in a dynamic jazz-rock with excellent synth solos, tremendous drumming and bass support and first-rate guitar licks that belong to the Alan Holdsworth school of fusion guitar. The conclusion to the Dinoaurs suite, 'Ruler Of The Earth,' returns to exquisite piano-led symphonic rock and more epic rock guitar.
The R is for Rocket suite begins with 'Cutting Gravity' which is a dramatic buildup of mellotron, piano and a rocking section. The guitar sometimes ventures too much into hard rock riffing for my taste, but thankfully Yuka's tasteful symphonic keyboards dominate the piece. 'Skygazer' is a joyful new age-leaning instrumental. It's followed by a short acoustic guitar gem by Takashi Miyazawa. 'Blue Astronaut Helicopter' is a charming upbeat track that incorporates more electronics and guitar loops, as well as enjoyable techno. The suite ends with 'Beyond The Fence,' a dreamy composition with Yuka on piano and mesmerizing vocals.
The final suite, Oxygen, opens with 'O' an energetic cut that contains dazzling keyboard lines and interaction with the guitars. The music calms down on the slow tempo 'O2,' where Yuka's piano occasionally drifts into Ryuichi Sakamoto-inspired territory, blending perfectly with the dreamy synths. Yuka demonstrates her wide-range of keyboard expertise with majestic organ passages. The final piece, 'O3' kicks off with a fascinating blend of piano and mellotron and Takashi Miyazawa's guitar playing in post-rock style. Yuka sings using processed vocals with an enchanting essence that reminds me of the great Japanese progressive rock bands of the 1980s. It's one of the best cuts on the album.
The album cover was designed by the legendary Roger Dean.
Yuka & Chronoship was founded in 2009. The debut album was titled Water Reincarnation and it was dedicated to the natural cycle of water that has affected positively and negatively their homeland.
Yuka Funakoshi and her band Chronoship are outstanding Japanese musicians who deserve more international recognition by the progressive rock community. Dino Rocket Oxygen is definitely one of the best progressive rock releases of 2013.
Buy the Dino Rocket Oxygen CD or MP3s in North America
Buy Dino Rocket Oxygen in Europe