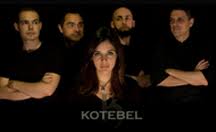 Madrid-based progressive rock band Kotebel won the Instrumental album category at the 12th Independent Music Awards with their recording titled Concerto for Piano and Electric Ensemble.
Kotebel has released 5 albums since 2000, including the critically acclaimed 'Omphalos.' "The main body of the Concerto for Piano and Electric Ensemble album is formed by the four movements that comprise the 'Concerto for Piano'," says keyboardist and founding member Carlos Plaza Vegas. "It is pure music; no reference to extra-musical elements. However, the other four pieces on the album are based on conceptual elements."
Kotebel was formed in 2000 as a wide-ranging project, engaged in the mainstream of progressive "art" music. Kotebel's music is an elaborate, yet accessible mix of avant-garde symphonic rock, with a diverse range of influences from classical music to jazz to world music.
Kotebel's current line-up includes Carlos Franco Vivas on drums and percussion; César Garcia Forero on guitars; Jaime Pascual Summers on bass; Adriana Nathalie Plaza Engelke on keyboards; and Carlos G. Plaza Vegas on keyboards.
Read about other winners at www.TheIndependentMusicAwards.com