Progday 2013 is taking place this weekend at its customary location in Storybook Farm, in Chapel Hill (North Carolina). Even though I live near the festival location, the morning schedule doesn't work for me so I missed the first band's concert. Although the program shows Mavara as playing today, Sunday, August 31st, there were scheduling changes and the group actually played yesterday, August 30th morning.
Mavara is a group of Iranian rock musicians who have relocated to the United States where they have been granted political asylum. They are now based in the New Hampshire area. I asked a couple of festivalgoers for their impression of Mavara's performance. Jason and Cat from the Washington DC area described them as: "pretty good; intense. Heavy neo-progressive." Another member of the audience, Toby, from Cary (North Carolina) said they were "good, entertaining." The band's American manager also described the band's music as neoprog.
Mavara has three albums. Ultimate Sound (2007), Forgotten Inside (2009), and Season Of Salvation (2012). The current incarnation of the band includes keyboard player and band founder Farhood Ghadiri; Ashkan Hamedi on vocals; Arash Radan on electric guitar, Anis Oviesi on piano and keyboards, Sina Khodaiefar on bass; and American drummer James Welch.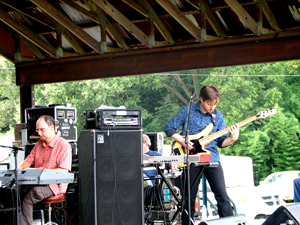 I've had time to listen to Mavara's Forgotten Inside and most of it sounds like melodic rock with only the last two songs venturing into 1980s-style progressive rock, which some call neoprog. As far as the latest album, Season Of Salvation, the group continues in a melodic rock direction with harder guitars at times. 'Mystery of the Universe' is perhaps the only piece that truly ventures in the prog rock realm.
The second act on Saturday was renowned Canadian band Miriodor; which is normally described as a Rock In Opposition act. I was impressed by their balance of jazz, progressive rock and avant-garde classical and specially the interaction between Pascal Globensky's keyboards and Bernard Falaise's guitars. Festivalgoers Jason and Cat had difficulty describing Miriodor's sound. Cat said it was "expressive."
Miriodor played material from their new 2013 album titled Cobra Fakir, as well as fan favorites. Although Cobra Fakir doesn't come out until September, Cuneiform Records had copies available at the festival. The new album features Bernard Falaise on guitars, stringed instruments; Pascal Globensky on keyboards, piano; Rémi Leclerc on drums, percussion, sampler.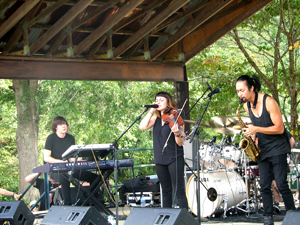 Chris Lamka, who many will know from his progressive rock store called Of Sound Mind, was there with a wallet-busting selection of albums. His web site is not active anymore, but he still sells recordings from his home. He had some hard to get imports, including the Italian version of Le Porte del Domani by one of the finest progressive rock acts of the moment, La Maschera di Cera. The album is truly excellent. I listened to it on the way home. La Maschera di Cera has captured the essence of the 1970s classic Italian bands, especially Le Orme. If you are a fan of Italian progressive rock, you need to get this album.
Next came one of the leading Zeuhl bands in North America, Corima. The audience was in for a wild ride. Zeuhl is the French progressive genre that was led by Magma, Weidorje and others. Corima has certainly captured the spirit of Zeuhl music. Their music has great intensity, based around a vibrant rhythm section and the very passionate improvisations and interactions between the saxophone, violin and piano/keyboards. Occasionally, the band drifted into tranquil moments of beauty with beautiful violin and piano neoclassical passages.
The band was started when two musicians from the border area of Ciudad Juarez/El Paso, Francisco Casanova (piano) and Sergio Sánchez (drums) relocated to Los Angeles and hooked up with bassist Ryan Kamiyamazaki and saxophonist Patrick Shiroishi. Violinist Andrea Calderón later joined the band. The group's self-titled debut full length album came out in late 2007. Quetzalcoatl was released in 2012.
Before their concerts, I had the opportunity to talk to keyboardist and sax player Frank Wyatt. He's one of the brains behind legendary group Happy the Man and the more recent reincarnation Oblivion Sun. Frank mentioned that he had suffered serious health issues and was happy to be at Progday ready to perform. I asked him if there was a chance of a Happy the Man reunion. He said that it was unlikely because keyboardist Kit Watkins is very disconnected from the music scene, sold most of his keyboards and is involved in organic farming [editor's note: Watkins has not released any new material since 2006].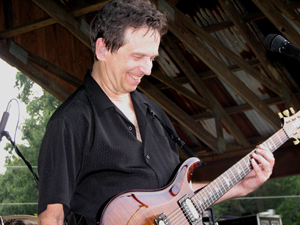 Frank Wyatt also confirmed that Oblivion Sun's members all have day jobs and unfortunately can't dedicate all their time to music. Nevertheless, Frank said that they are making an effort to release more recordings and are working on a new album. Frank also indicated that he is open to collaborating on other artist's recordings, even if it's long distance collaboration.
I made a pretty interesting discovery while visiting the Oblivion Sun table. They had Happy the Man and Oblivion Sun CDs for sale, but there was also an album titled Pedal Giant Animals by Wyatt and Whitaker. I asked someone about the music style and was informed that it was a short-lived band created after Happy the Man, similar to Happy the Man and Oblivion Sun. I bought the album and indeed, it's great stuff. If you like Happy the Man, you need this album in your collection.
Frank Wyatt and Stanley Whitaker are two of the greatest progressive rock musicians that have come out of the United States and there was a lot of anticipation about the Oblivion Sun. The group played pieces from the brand new Oblivion Sun album titled The High Places, as well as a few familiar and cherished classics from the Happy the Man era.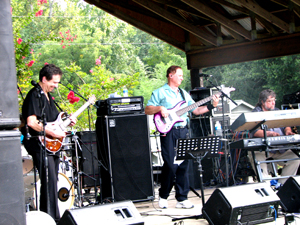 Oblivion Sun demonstrated that they are a world class symphonic progressive rock band. Most of what they played was state of the art prog rock, although there were a couple of pieces where the band drifted into generic harder rock and blues rock. Naturally, the progressive rock material was much stronger and captivating, and more appreciated by the audience.
In addition to Frank Wyatt and Stanley Whitaker, Oblivion Sun features two outstanding musicians, who provide formidable support. Bill Brasso is one of those fabulous drummers who deliver a rich palette of creative drumming. David Hughes is a skilled bassist who delivers superb bass lines and also provides engaging vocals that interact perfectly with Whitaker's vocals.
At one point in the concert Stanley Whitaker confirmed that he had been seriously ill and has survived cancer. He also mentioned Frank Wyatt's health problems. The musicians were very thankful to be on stage again. The audience in turn was truly honored to have the opportunity to see these great musicians back on stage. It was a genuinely memorable concert.