I went back in the afternoon to ProgDay at Storybook Farm on Sunday, August 31st. That's why I overlooked the first two bands, Thank You Scientist (USA) and Out of the Beardspace (USA). Steven Feigenbaum of Cuneiform Records informed me that I had missed one of the highlights of the festival, Thank You Scientist.
Thank You Scientist is a seven-piece band from New Jersey that crosses multiple musical boundaries, from progressive rock to jazz, fusion, classical, hard rock, psychedelia, etc. Band members include Sal Marrano on vocals; Ellis Jasenovic on tenor & soprano sax; Greg Colacino on bass; Andrew Digrius on trumpet, flugelhorn; Russ Lynch on violin, viola; Tom Monda on guitar; and Odin Alvarez (Drums).
Thank You Scientist has an EP titled The Perils of Time Travel (2011) and a full length album, Maps of Non-Existent Places (2012).
Out of the Beardspace is a 6-piece experimental rock band formed in 2010, originally from South Jersey. In the summer of 2011 they moved into a house in Cherry Hill, and in the summer of 2012 they relocated to a mountain farm in Linden (Virginia) to grow their own food and practice sustainable living.
The group has released two EPs, Out Of The Beardspace I and Out Of The Beardspace II, and a full length album titled Out Of The Beardspace III. Band members include Ethan Feinstein on drums, percussion; Sam Gutman on keyboards, vocals, bass; Zach Lopresti on guitar, vocals, drums, percussion; Matt O'neil on bass, percussion, keyboards; Jeremy Savo on vocals, guitar; Kevin Savo on vocals, bass, percussion, guitar, drums.
I was able to watch the performance by Herd of Instinct, one of the most exciting new bands in the American progressive rock scene. The group from the Dallas-Fort Worth area plays a mix of vibrant King Crimsonian progressive music with elements of psychedelic jam rock, electronica, avant-garde experimentation and world music.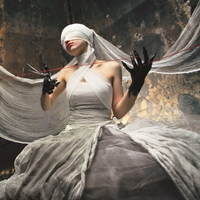 Band members include Mark Cook on Warr guitar, electronics; Mike Davison on guitar, guitar synth; Mike McGary on keyboards; and Jason Spradlin on drums, electronics. These guys need to be commended because they drove 17-18 hours from Texas to the Piedmont area of North Carolina. This was also their first festival appearance and they put a great show.
Herd of Instinct has two critically acclaimed albums, Herd of Instinct (2011) and the recent Conjure (2013).
The last band on stage was the fabulous fusion outfit simakDialog from Indonesia. This group of skilled musicians has gained worldwide recognition thanks to their superb releases on the MoonJune label. Their lineup is really interesting, with a keyboardist, electric guitarist and bass player and then three percussionists who play Indonesian barrel drums (kendang) and other instruments.
simakDialog's sound was excellent, clean and very tight. Their virtuosic jazz fusion style has elements of progressive rock and mesmerizing Indonesian music. Band members include Riza Arshad on keyboards; Tohpati on guitar; Rudy Zulkarnaen on bass; Endang Ramdan on lead kendang, percussion; Erlan Suwardana on kendang, percussion; Cucu Kurnia on percussion.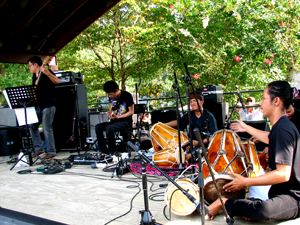 The band's albums are easy to find in the West thanks to MoonJune Records. The discography includes Lukisan (1995), Baur (1999), Trance/Mission (2002), Patahan (2006), Demi Masa (2009), and the brand new The 6th Story (2013).
ProgDay organizers are considering the possibility of becoming a non-profit organization. That would make it easier to raise funds.
I saw numerous out of state license plates: Massachusetts, Vermont, Maryland, New Jersey, Virginia, Georgia, etc. Festivalgoer Tony from Cary (North Carolina) said that he never misses one. "I drive an hour and it's a great way to spend the weekend."
For Jason and Cat from the Washington DC area, "It's a fun festival. A nice place to relax. It's a very relaxed atmosphere. You can also bring kids."
If you plan to attend the next ProgDay, it's best if you bring a canopy to protect you from the sun. Even though there is a small roofed picnic-shelter area, it's on the left side of the stage and you will enjoy the concerts better with a canopy. Also bring some lawn chairs and water or other beverages for hydration. Although Saturday's weather was somewhat pleasant, it got pretty hot and steamy for a while on Sunday.
Catered food and beverages are available for sale in the picnic area. If you have the time before or after the concerts, you should check out the restaurants in Chapel Hill and Durham. Nearby Durham has gained quite a good reputation as a foodie town with great restaurants and a vibrant food truck scene.
Read about the first of day of ProgDay 2013: Memorable Saturday at Progday 2013