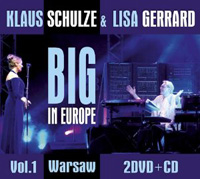 Big In Europe Volume 1 – Warsaw is the title of the first volume of live performances by legendary German electronic music pioneer Klaus Schulze and iconic Dead Can Dance vocalist Lisa Gerrard. In 1983, Klaus Schulze was one of the few West German musicians who was allowed to go on a celebrated tour in Poland, essentially due to the instrumental nature of his music. Schulze was later asked to return and play at the 70th anniversary of the Soviet Assault on Poland on September 17, 2009 in Warsaw in the courtyard of the Royal Palace.
Together with Lisa Gerrard, Klaus Schulze delivered an intensive performance in impressive scenery. The Big In Europe Volume 1 – Warsaw set includes 2 DVDs and a CD. The second DVD contains, a full length documentary and encore performances. The booklet also contains extensive new liner notes.
This concert in Warsaw is the first of 3 releases that will include the whole tour in Europe 2009, with performances in Berlin, Amsterdam, Brussels and Paris.
Buy Big In Europe Volume 1 – Warsaw in North America
Buy Big In Europe Volume 1 – Warsaw in Europe