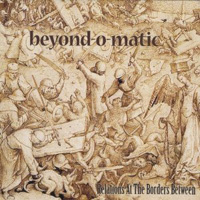 Beyond-O-Matic
Relations At The Borders Between (Trail Records, 2013)
American band Beyond-O-Matic is one of the most attractive acts in the current progressive rock scene with its seductive mix of space rock, dreamy electronics and mesmerizing psychedelia. The band's new album Relations At The Borders Between, follows 2002's Time To Get Up. It's been 11 years and Beyond-O-Matic has aged well.
Beyond-O-Matic is led by multi-instrumentalist, vocalist, recycler and composer Peter Fuhry (strangely tuned guitars, electric harp, melodica, vocals). Fuhry put together the album in San Francisco along with the sound effects and keyboards of Kurt 'Stenzo' Stenzel, and the cymbals and drums of Anthony Koutsos. They were joind by Edward Dahl on one piece, playing guitar with multiple effects. All the tracks were composed and recorded on May 3 and 4 in instrumental form. A few weeks later Fuhry wrote and added the lyrics.
Overdubs were added between May 2012 and 2013. Fuhry added vocals, flute, more of the strangely tuned guitars and accordion. Additional guest musicians included Wayne on percussion, Glenn on mellophone, and Michael' Seven' Harris on bass and bass synthesizer.
Relations At The Borders Between explores the different stages of life and death and the human connections that make it all meaningful. On the psychedelic side, the album explores the altered states of consciousness that we seek to find the meaning of life.
With Relations At The Borders Between, Beyond-O-Matic has recorded a timeless progressive rock classic of exquisite psychedelic music. Undoubtedly, one of the finest releases of the year.