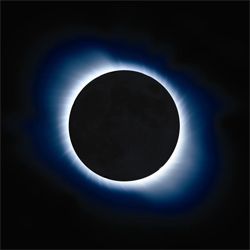 Perfect_Beings
Perfect_Beings (My Sonic Temple MST1401, 2014)
The highly anticipated self-titled debut album by Perfect_Beings reveals one of the most exciting progressive rock releases of the year. This new band from the Los Angeles area, spearheaded by Moth Vellum founder Johannes Luley presents a charming, modern mix of state of the art symphonic progressive rock with a handful of pop elements. Although some music critics have described this new group as Yes-inspired, the primary Yes influence is in the form of Johannes Luley's guitars that at times channel the musical spirit of Steve Howe.
The first two short cuts on the album, 'The Canyon Hill' and 'Helicopter' have an elegant pop-rock feel. As the album moves on, the focus gets more progressive. The band's vocalist Ryan Hurtgen has an impressive voice. A good vocalist is essential in progressive rock and Perfect_Beings have found a fabulous singer, who enhances the music with admirable solo vocals, engaging overdubs and occasional distorted vocals; and best of all, he doesn't sound like a Jon Anderson or Peter Gabriel clone.
On 'Bees And Wasps' we get to appreciate the full range of the band, with a dazzling display of guitars, bass, drums, keyboards and vocals.
'Walkabout' is one of the highlights of the album. It's also the longest track. The piece begins with a delightful folk-rock atmosphere that develops into full blown symphonic rock with various dynamic sensibilities and hypnotic undercurrents.
Johannes Luley exhibits his splendid guitar skill on 'Removal of the Identity Chip' with a series of outstanding guitar solos supported by the majestic organ played by Jesse Nason.
'Program Kid' has an introspective beginning that transforms into rapid-fire instrumentation.
The acoustic guitars intro reveals 'Remnants of Shields,' perhaps the most exquisite song on the album with beautifully sculpted vocals on a spacey layer of synths.
On 'Fiction' Johannes Luley demonstrates that he's one of the greatest performers in the current progressive rock scene with a series of epic lap steel guitar solos.
Vocals and guitars interweave very nicely on 'Primary Colors.' The album concludes with another lengthy suite titled 'One of Your Kind.' Again, the full band showcases its talent in this serpentine piece. Keyboardist confirms his dexterity with a remarkable synth solo.
The lineup on Perfect_Beings includes Ryan Hurtgen on lead vocals, guitars and piano; Johannes Luley on guitars, vocals, percussion; Dicki Fliszar on drums; Chris Tristram on bass; and Jesse NASON on keyboards.
Perfect_Beings is loosely based the album on the 2013 sci-fi book 'Tj and Tosc' by Suhail Rafidi with topics of transformation, self-identity, technology, and love in a post-apocalyptic world.
Perfect_Beings is an ambitious, beautiful progressive rock album. One of the most significant releases of the year.
Buy Perfect_Beings