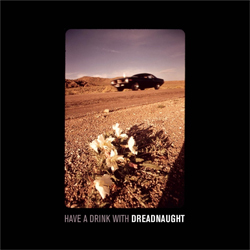 Dreadnaught
Have a Drink with Dreadnaught (Red Fez Records 713757705110, 2013)
This 5-track EP is a partial view of the forthcoming full-length album Hard Chargin' by cross-genre band Dreadnaught.
If you listen to the opening song 'Corrupticus 5' you would think that this is a country-rock band, but soon you'll notice that the musicians start taking unexpected turns, venturing into progressive rock, with exciting interplay between the guitar and bass.
'Surface Raid' brings more of the unforeseen with a dance rhythm that lays the foundation to vibrant instrumental progressive rock and fusion.
Next comes 'The Bear' a somewhat zany blues-jazz-experimental piece with a Frank Zappa vibe that develops into full Americana and rock.
The mysterious title 'Jpf' has a classic rock timeless feel. Great harmonies and songwriting, with fabulous proggy and country-rock guitar solos.
The last track 'Trophy Bride' twists and turns, mixing country, blues and Gentle Giant-style progressive rock.
This excellent band from Portsmouth, New Hampshire, includes Rick Habib on drums and vocals; Bob Lord on bass and vocals; and Justin Walton on guitar and vocals.
"It's been a while since our last official recordings (6 years to be precise) but in that time we've continued to perform, compose, and create without pause, in the words that the late great John Updike uttered about us, "the sound of terror," says bassist Bob Lord. "Utterly uncompromising multi-movement prog-rock opuses, gritty bar-band Americana, experimental electronic music, even music for orchestra… we've done just about everything a band can do, and stuck to our guns the whole way."
Dreadnaught has released an impressive appetizer with dazzling acoustic interplay, mixing various music styles with ease. Definitely a band to watch.