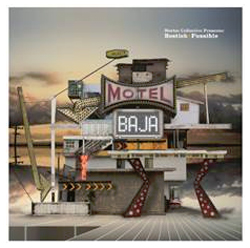 Electronic music artists Nortec Collective Presents Bostich + Fussible announced that 'Motel Baja,' the third and final installment of their much-admired "Border Trilogy," will be released on September 16th, to celebrate Mexican Independence Day. 'Motel Baja' includes collaborations with Tom Tom Club, Atom (Señor Coconut), Wolfgang Flur (Kraftwerk) and others.
'Motel Baja' is the follow-up to 'Tijuana Sound Machine' and 'Bulevar 2000,' the first two albums in the "Border Trilogy." "After this, Nortec is done," explains Fussible. "There will be no more Nortec. This is the last album."
This year, Nortec Collective is celebrating its 15th anniversary since first emerging from a burgeoning Tijuana electronic scene and inventing a new style of music they called Nortec – a fusion of norteño ("from the North") and techno.
Bostich (Ramón Amezcua) and Fussible (Pepe Mogt) are two of the original co-founders of Nortec Collective, and have continued to innovate with an exciting live show that has toured extensively across the globe, performing at major US festivals like Bonnaroo and Coachella, and around the world from Scandinavia to Brazil to China.
Nortec Collective Presents Bostich + Fussible will perform at the inaugural Supersonico Festival in Los Angeles on October 11th with Calle 13, Café Tacvba and more.