Sonja Kristina of legendary progressive rock band Curved Air, was honored at the Prog Magazine Awards ceremony held at the Globe Theatre in London.
"It is a great honor to receive The Guiding Light Award," said Sonja Kristina. "I didn't think very far ahead when I first started out but I feel very blessed now after so many years to be still creating and releasing new albums and performing with such superb musicians in Curved Air. I always did love the camaraderie of being on the road and the alchemy of performance."
Prog editor Jerry Ewing gave details: "The Guiding Light Award is for those artists who offer inspiration through their actions. As one of the leading ladies of a genre once thought of as very much a male domain, Sonja has been a pioneering spirit in the prog world, and an inspiration to the now many female artists in the genre who have followed on. I cannot think of a better suited recipient."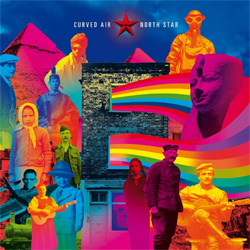 Curved Air is well known for its hits "Back Street Luv", "It Happened Today" and "Vivaldi". The current line-up features original drummer Florian Pilkington-Miksa, classic era guitarist Kirby Gregory together with Robert Norton (keyboards), Chris Harris (bass) and Paul Sax (violin). Curved Air recently released North Star, its first studio album to feature new material in nearly 40 years.
The band will go on tour this fall:
September
28th – Lydney Summer's End Festival
October
3rd – Wakefield Warehouse
11th – Eastney The Cellers
12th – Swansea The Garage
17th – Ilminster Square & Compass
18th – St Ives Guild Hall
19th – Gt Yarmouth 'Legends of Rock Festival'
24th – Fletching Trading Boundaries
31st – London The Tropic
November
8th – Poole Arts Centre
9th – Norwich The Open