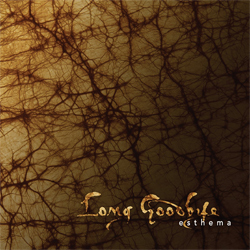 Esthema
Long Goodbye (Esthema, 2014)
Esthema is a Boston-based ensemble composed of virtuoso musicians that defy musical boundaries. Although they describe their music as world fusion, the instrumentalists venture into several genres, appealing to world music, fusion and progressive rock fans alike. The reason for this is that they effortlessly combine Middle Eastern and Balkan musical influences and instruments with the energy of a fiery jazz-rock band with guitar, bass and drums. Esthema adds cello and violin into the mix, creating a mesmerizing unique sound.
The album begins with a mini-suite divided into three parts. 'Three Sides To Every Story, Part I' establishes the tone for the album with a guitar and bowed instrument intro that leads into a heavier percussive Part 2 with oud and cello improvisations set to a rock beat that reminds me of the great Andalusian progressive rock of the 1970s.
'Fire and Shadow' has a clear Middle Eastern rock vibe with electric oud mixed with guitar, violin and cello backed by a vibrant jazz-rock beat.
'Reflections From The Past' is a laid back piece with a slow tempo rhythm section where the bass gets to develop introspective lines accompanied by frame drums and bowed instrument melodies.
'Without a Moment's Notice' builds up very nicely with acoustic guitars and bowed instruments that are gradually joined by oud, bass and drums developing into full flown climactic progressive symphonic rock.
'Reminiscense' sounds like a delightful acoustic contemporary world music ensemble, where the instrumentalists present outstanding musical interplay.
The album ends with 'Long Goodbye,' a composition where we find a chamber atmosphere with moments of calm and meditation, where the cello and violin soar while the frame drum and the bass slow down, creating a calm, hypnotic effect.
Esthema introduces a new lineup fir this recording, including Andy Milas on guitar; Onur Dilisen on violin; Naseem Alatrash on cello; Mac Ritchey on oud and bouzouki; Tom Martin on bass; and George Lernis on drums & percussion.
The band's earlier recordings include Apart From The Rest and The Hereness and Nowness of Things.