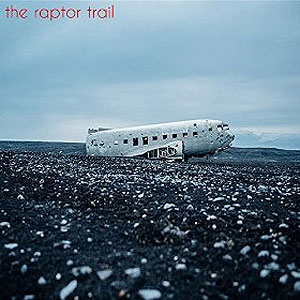 The Raptor Trail
The Raptor Trail (2015)
The Raptor Trail is the exciting new project of three veteran multi-instrumentalists Matthew Mayes, Gene Bass and John Meyer. The band crosses various rock music boundaries. You'll find good old classic rock, blues, hard rock, and progressive rock.
The Raptor Trail has developed well-crafted arrangements, vocals with ear-catching melodies and memorable guitars solos. The progressive rock element is visible primarily on track 2, 'Gravity Times Ten' where the band provides a masterful demonstration of creative drumming, bass lines and outstanding guitar work; track 6, 'Come & See' where the bass plays a leading role, accompanied by electronics effects and two of the best (distorted) guitar solos on the album; and the gorgeous timeless feel of 'Selma'.
Other notable (non-progressive) tracks include the fabulous solo on the opening piece, 'The Raptor Trail'; the great classic rock groove of 'Smaller than you', and the blues-rock powerhouse 'Amorous.'
The lineup on the album includes Matthew B. Mayes (cofounder of Jam rock band Jupiter Coyote) on lead vocals, background vocals, acoustic guitars, banjo, and "guijo"; John Meyer on acoustic and electric guitars, bass, "G-Strings", Effects and Background Vocals; and Gene Bass on drums and percussion.
The Raptor Trail features first class rock music by versatile multi-instrumentalists
who achieve great alchemy between them.
Buy The Raptor Trail download version
Buy The Raptor Trail CD