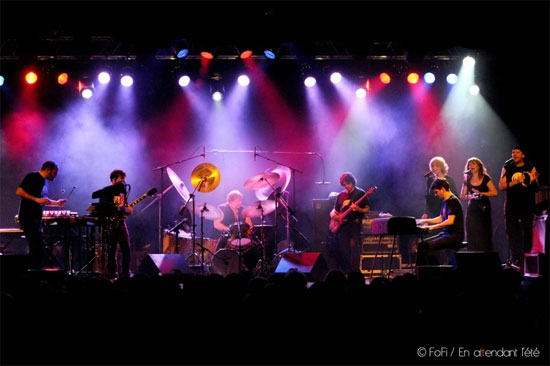 Magma, one of the seminal progressive rock bands of the 1970s has announced its 2016 North American Tour. Magma is known for its sensational mix of rock, jazz, odd time signatures, theatrical choir arrangements, heavy and distorted pulsing electric bass, epic pieces, downtempo grooves and much more. The legendary influential group led by drummer Christian Vander will be performing new and classic Magma material.
The current lineup includes Christian Vander on drums, vocals; Stella Vander on vocals and percussion; Isabelle Feuillebois on vocals and percussion; Hervé Aknin on vocals; Jérôme Martineau on Fender Rhodes; Benoit Alziary on vibraphone; Jim Grandcamp on guitar; and Philippe Bussonnet on bass.
Magma's most recent releases include Slag Tanz, Ëmëhntëhtt-Ré, Félicité Thösz, and the 12-CD live collection Kohnzert Zund.
March 15 – San Diego, CA at Brick By Brick – www.ticketfly.com/purchase/event/1050007
March 16 – Los Angeles, CA at The Regent – www.ticketfly.com/purchase/event/1051495
March 18 – San Francisco, CA at Great American Music Hall – www.eventbrite.com/e/magma-gamh-whelen-money-tickets-20525684876
March 19 – Portland, OR at Wonder Ballroom – http://bit.ly/MAGMAwon2016
March 20 – Seattle, WA at Crocodile – www.ticketfly.com/purchase/event/1049861
March 22 – Denver, CO at Gothic Theater – www.gothictheatre.com/events/detail/306226
March 23 – Cleveland, OH at Beachland Ballroom – http://www.ticketweb.com/t3/sale/SaleEventDetail?eventId=6435075&pl=beachland&dispatch=loadSelectionData
March 25 – Chicago, IL at Reggies – www.ticketfly.com/purchase/event/1050071
March 26 – Chicago, IL at Reggies – www.ticketfly.com/purchase/event/1050083
March 27 – Austin, TX at Mohawk – https://mohawk.queueapp.com/events/17011
March 29 – Atlanta, GA – TBA
March 30 – Philadelphia, PA at Underground Arts – www.ticketweb.com/t3/sale/SaleEventDetail?dispatch=loadSelectionData&eventId=6470355&pl=uarts
April 1 – New York City at Le Poisson Rouge – http://lpr.com/lpr_events/magma-45th-anniversary-tour-april-1st-2016/
April 2 – Toronto, ON at Opera House – www.ticketfly.com/purchase/event/1057787