Vocalist, composer and multi-instrumentalist Nad Sylvan is currently one of the finest singers in the international progressive rock scene. In addition to his recent work with former Genesis guitarist Steve Hackett, Nad recently released a superb solo album titled "Courting The Widow" that was one of the finest progressive rock albums of 2015.
Nad talks to Progressive Rock Central in this exclusive interview:

Can you give our readers a brief history on how you started your musical career?
I sought to myself to the piano when I was about 5. Started to compose maybe a year later. I joined various bands in my teen years and after a while drifted into progressive rock with stacks of keyboards and mikes around me. Apparently I never got out!
What do you consider as the essential elements of your music?
Melody, harmony and rhythm. Arrangements that supports the lyrical content.
Who can you cite as your main musical influences?
I know people think it's generally Genesis, but it's so much more than that. Everything that rocked in the 1970s plus lots of soul music.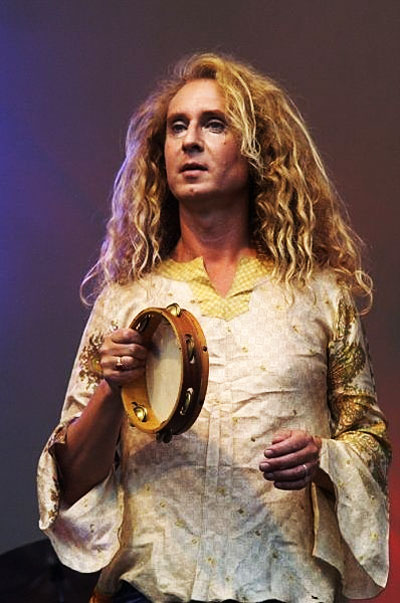 Tell us about your first recordings and your musical evolution.
I recorded a single when I was 19, a total Genesis rip off. But that's fine, I think I was excused being so young and with such high ideals. Two years later that band, which was called Avenue, broke up. I drifted into fusion, jazz rock and so on in the early 80s and formed my own band. We never played any gigs, but I learned a lot during that time.
In 1984 I joined a band that became "One By One", a funk rock band in the same kind of musical hybrid style as Prince, Scritti Politti and etc. We made it as far as being the supporting act to Lionel Ritchie in 1987. I went solo after that and recorded a couple of unsuccessful solo albums until I met Bonamici in 2003. We formed "Unifaun", recorded an album, which is now my musical platform. That's when I started to get some kind of recognition. In 2008 Roine Stolt contacted me, we made three albums and in 2012 I heard from Steve Hackett.
What's the concept behind your latest album, Courting the Widow?
Death and the sea.
Along with Italy, Sweden has produced some of the finest progressive rock groups in recent years. Why do you think Sweden generates so much talent?
It wasn't always like that. I think the Internet opened up so many possibilities for everybody, let alone for myself, and the Swedes were very quick to latch onto this new digital world.
There seems to be a dark theme in the lyrics of many Nordic progressive rock artists. Why do you think so many acts have this gloomy side? Would the music be different if it was composed in sunnier and warmer places like Tenerife or the Costa del Sol?
I think you just came up with the best answer yourself.
Although you are known as a vocalist, you also play various musical instruments and you do it quite well. Tell us about your musical training.
I taught myself everything I know. Singing is my key element, second comes piano and keyboards. The rest I do on my recordings such as guitars, takes an awful lot of time for me to get it right.
Your most recent solo album features a lot of beautiful mellotron-sounding work. What does the mellotron represent to you?
Fragile moods.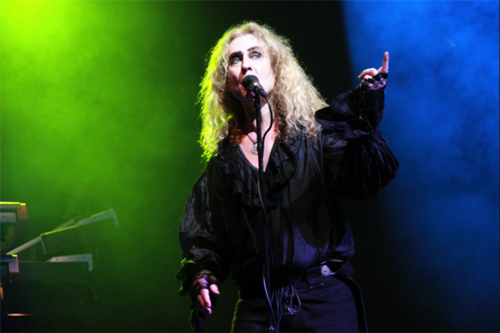 How did you connect with guitarist Roine Stolt?
He got in touch with me after he'd heard Unifaun back in 2008.
And how did you link up with Steve Hackett?
Same thing there four years later. But I was also recommended through Win Voelklein who promotes the Night of the Prog festival in Germany, where I have performed three times now.
How do audiences react to your versions of Peter Gabriel-era Genesis songs?
Nowadays they are alright with it. They have allowed me to grow into the role.
It wasn't easy at first.
On April 19, 2016 you'll be performing as part of the Steve Hackett band in Durham, North Carolina which is where we are based. What material will the band be presenting there?
The same show we did in the autumn. 50% Hackett solo stuff, 50% Genesis.
In addition to your solo work, you are currently involved in other projects like Agents of Mercy. What's the focus of Agents of Mercy?
I am currently not involved in anything but Hackett and my solo career. Agents of Mercy has not released anything since 2011 (The Black Forest), and we haven't played together since 2012.
If you could gather any musicians or musical groups to collaborate with, whom would that be?
Basically the people that play on my album "Courting The Widow". Especially Nick Beggs and Doane Perry. But also Jonas Reingold is a fabulous player and a good friend.
Do you have any upcoming projects to share with us?
I am working on a follow up album to "The Widow" right now. That will take me at least a year.
Discography:
The Life Of A Housewife (1997)
Sylvanite (2003)
Unifaun (2008)
The Fading Ghosts Of Twilight (2009), with Agents of Mercy
The Power Of Two (2010), with Agents of Mercy and Karmakanic
Dramarama (2010), with Agents of Mercy
The Black Forest (2011), with Agents of Mercy
Genesis Revisited II (2012), with Steve Hackett
Genesis Revisited: Live at Hammersmith (2013), with Steve Hackett
Genesis Revisited: Live at the Royal Albert Hall (2014), with Steve Hackett
Courting The Widow (2015)
Official website: www.nadsylvan.com