American keyboardist, composer, vocalist and producer Dave Kerzner released an excellent album titled Static in 2017. Buy Static. Dave Kerzner discusses his background and latest work with Progressive Rock Central.
What do you consider as the essential elements of your music?
DK: I like to write melodic music that takes you on a journey and moves you emotionally. My style is to combine nostalgic and vintage production and songwriting elements in new ways to express my personal lyrical and musical messages with themes people can relate to. I want to keep certain qualities of albums I like going in new ways and expand the available material out there for people to dig into as deeply or as casually as they want.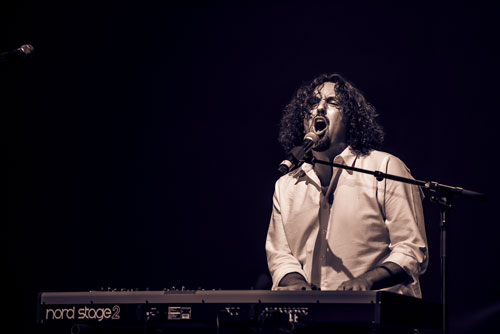 Who can you cite as your main musical influences?
DK: As a keyboardist, one of my main influences is Tony Banks of Genesis. Vocally I'd say Peter Gabriel and David Gilmour are up there. Lyrically perhaps Roger Waters in the 70s with Pink Floyd or Sting with The Police. I have many musical influences that range from Dvorak to Led Zeppelin to The Beatles to Yes to King Crimson and the list goes on. I'm very eclectic in how I mix the flavors of my influences in my music. Sometimes I'm so transparent about it I'm essentially tipping the hat to them quite overtly. But, I enjoy doing that because I feel my songs always still have their own flavors and unique qualities or messages to offer as well.
Tell us about your first recordings and your musical evolution.
DK: Well, my very first recordings were done with two cassette decks with one playing while I played some keyboard parts and recorded it onto the next one until it went back and forth sounding as noisy as you can imagine but still fascinating to me. That led to me getting a proper high quality 4 track studio set up. I played "producer" with my High School band mates and recorded songs with them in our garage band studios while other kids were vandalizing the neighborhood. I did study music in school and even one Summer at a band camp! That was fun but I've always been one to resist knowing too much theory otherwise I might rely too much on rules and techniques as opposed to exploring and discovering for myself by ear which is how I like to create music. I've been that way since I was 12 years old and the main thing that has changed over the years is honing the craft of songwriting and production. The more you do it the better you get at it and it took me quite a few years before I could write lyrics to the standard of lyrics I liked from my favorite artists. Kevin Gilbert who I used to play with in the 90s was a big influence and boost on my lyric writing standards.
How does your solo work differ from your Sound of Contact band efforts?
DK: In Sound of Contact, my role was keyboard player, songwriter and co-producer. A similar role to say Tony Banks in Genesis. For my solo work, I feel a bit more free as the lead singer, songwriter and sole lyricist to stretch out and do a wider range of styles from album to album. This is why Static differs from New World and why future solo albums may as well. But, now that Sound of Contact has fallen apart as of late, I'm planning to launch a new band project where I can continue that role in a keyboard-based space rock band context.
I have a lot more music to write in that style and I think releasing both my musical contributions from the abandoned SOC album and new music in that vein would be best done in a new project that I can help see through to the end instead of depending on others. So, in a way, it looks like it'll mostly be "solo work" for me moving forward in a sense and at the same time I like to collaborate within that so it's not really only just me "solo". An album may be released under my name or a band name but if I've learned anything in the music business over the years it's that every ship needs a captain. I'm happy to be the captain of the ship or I'm happy to be on a boat with a great captain I can trust. I don't know how else a band or project can work without one of those two things in place. Good captains are hard to come by so I'm constantly learning how to be the best one I can be.
What's the concept behind your latest album, Static?
DK: Static is a concept album about the chaos and clutter in our minds and in modern society. Each song deals with a different sub story or commentary about people's personalities and social situations we may find ourselves in. The subjects range from jealousy to narcissism to thrill seeking to righteousness and more. It's a very honest album about the state of things today and the underlying positive message is that we need to cope with it and find a way to be happy amidst the 'static interference' that abounds.
How did you connect with the musicians that participate on Static?
DK: Most of the musicians on the album are the people who perform with me live as the "Dave Kerzner Band". This family of talented multi-instrumentalists includes Fernando Perdomo, Derek Cintron, Randy McStine and Matt Dorsey of Sound of Contact as well as the amazing vocalists from Pink Floyd, Durga and Lorelei McBroom. In addition to this core DKB line up, I've called upon former band mate Nick D'Virgilio and one of my heroes Steve Hackett of Genesis as well as other special guests like Colin Edwin of Porcupine Tree. These are musicians I've worked with before and enjoy working together on new music.
Static is an indie production. How are you marketing and promoting the album?
DK: I usually start off the indie funding of my album with a Kickstarter campaign because it's an opportunity to get the budget to pay the musicians, engineers and studios to recording, mix, master and press up the initial CDs, bonus material and extra swag for the more hardcore fans to enjoy. Then I will sell the album on iTunes and the popular digital platforms with various distributors around the world carrying the CD. But, for Static, I teamed up with an amazing group of people in the industry such as the managers of one of my favorite bands, Yes, who set things up with Cherry Red Records and Billy James of Glass Onyon PR. I'm also doing select live performances at festivals such as Cruise To The Edge, Prog Dreams in the Netherlands, ProgStock and Progtoberfest in the US and more. In addition to that, I'm making music videos and I'm pretty active on social media.
Static features artwork by graphic designer Ed Unitsky. What attracted you to his artwork?
DK: I've always admired Ed's talents and we've been talking about working together for awhile. Since I designed the cover of my first solo album "New World" and had a big hand in designing the cover of SOC's "Dimensionaut", I needed someone I could be very hands on with in terms of requesting what I wanted in the artwork so it reflected the themes of the songs on the album. Ed was so accommodating to my particular needs and really worked with me to get what I was after. The end result is a true collaboration of both his style and ideas and my concepts of having people walk around a carnival city with TV set heads. He brought that vision to life for me and at the same time he made it his own. I think it makes a huge difference that he's a fan of the music and is fueled by his passion. He really wanted to do it and didn't stop until we got this result which is a fun album cover to look at especially in open gatefold. Lots of little hidden gems in there.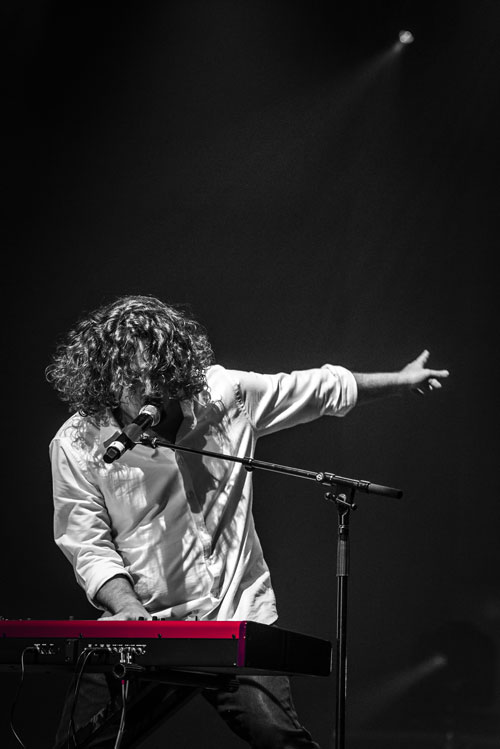 As a keyboardist, what's your favorite keyboard?
DK: The one that I find most practical and use the most is the Nord Stage. I helped design some of the sounds for the Nord Sample Library and that's how I ended up getting into using them. I also love the rare Nord Wave. But, at heart, I'm a vintage keyboard guy so I love the Yamaha CP70, Mellotron, Hammond B3, Wurlitzer EP, Minimoog, Arp ProSoloist, Arp 2600, Prophect 5… and the list goes on. Can't name just one! haha.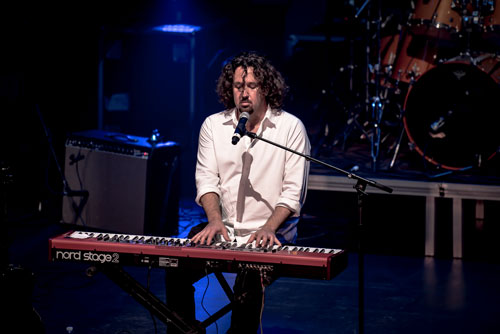 Aside from Sound of contact, you also participate in other projects. Tell us about Mantra Vega and Sonic Elements.
DK: Mantra Vega was a one off band experiment with former Mostly Autumn front woman Heather Findlay. I call it an experiment because it started off with me potentially producing her solo album and then, because I was writing most of the music and she was writing most of the lyrics, we decided to give it a band name. However, by the time we got to the end of making the album and she wanted to tour it just made more sense for her to play that music with her solo band there in the UK. I still work with various people from Mantra Vega though like Stuart Fletcher and Alex Cromarty.
With Sonic Elements, I have an outlet for doing these sort of "fantasy band/tribute albums" where, through my sound development company Sonic Reality, I've recorded drummers like Neil Peart of Rush and Nick Mason of Pink Floyd and have created sample libraries for musicians to be able to use their playing and sounds in their music. Sonic Elements is putting those libraries to use in music context and having some fun playing say Rush or Pink Floyd songs with the actual drummer on drums and special guests celebrating that music with a twist here and there.
I've gotten people like Rik Emmett of Triumph to sing a Rush song or Billy Sherwood of Yes to sing a Pink Floyd song or Alan Parsons to engineer parts of it and all sorts of different combinations of musicians, engineers and singers doing different "elements" in it. This is essentially a fun side project for me as a producer and while I haven't released too much yet from it I planned to release a lot of it this year so that's something fans of that music and the players involved can look forward to. With Sonic Elements I really go overboard on the special guests as it's the ideal platform to do that with.
You founded a sound production company called Sonic Reality. What kind of work do you do there?
DK: We record the sound of instruments and musicians, digitize them and make them available as "sample libraries" and "virtual instruments" in software for musicians to use in their own compositions and productions. Sonic Reality sounds have been part of keyboard instruments from Clavia to Roland to Yamaha to Alesis and many others for years. They've also been a big part of IK Multimedia's virtual instrument line SampleTank and many others.
If you could gather any musicians or musical groups to collaborate with, whom would that be?
DK: If we're talking about unfulfilled fantasies here, I'd love to work with Roger Hodgson of Supertramp or David Gilmour. I'd also love to produce albums for certain classic bands and help them make a record as great as some of their legacy albums. That would be fun. But, floating back down to Earth, I'd say if I could gather any musicians it would be the people I already work with. They're amazing.
Do you have any upcoming projects to share with us?
DK: Yes, I will soon be announcing my new project that will be the vehicle for my Sound of Contact songs live and in the studio, both the ones released and unreleased, as well as future keyboard-based space prog music. I'm also co-producing the McBroom Sisters album and a I have a few other projects in the works this year. I like to keep myself busy! A rolling stone gathers no moss.