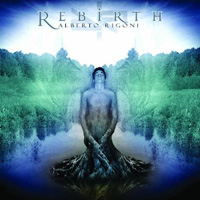 Alberto Rigoni
Rebirth (Nightmare Records, 2011)
Italian bassist Alberto Rigoni shows his masterful bass technique in a solo album titled Rebirth that incorporates a wide range of musical influences and genres.
The album opens with a fusion piece titled 'Free' with fine work on the bass and Federico Solazzo's keyboards emulating Return to Forever. Track 2, 'Rebirth' is a graceful solo bass piece, where Rigoni showcases his talent in constructing bass melodies.
The solo bass work continues on 'Story of a man' with exquisite overdubbed bass lines and interplay. Rigoni is joined here by fellow bassist, renowned American bass virtuoso Michael Manring. Track 4, 'The Net' gets a little more experimental seeking the world of electronic music.
'Emptiness' is a hard rock song, with vocals, of little interest. 'A New Soul' brings back more of the outstanding overdubbed bass melodies. Michael Manring returns to provide another session of ebullient dueling basses.
'With all my forces' is the other heavy rocker on the album.
'Ontogeny' features a full electric ensemble, playing masterful progressive rock and fusion with more outstanding keyboard and bass work.
The final track is 'White Shine,' a delectable bass and piano.
Musicians featured on Rebirth include celebrated musicians: drummers Gavin Harrison (Porcupine Tree) and John Macaluso (Ark, LaBrie, Malmsteen); bassists Michael Manring and Yves Carbonne; Swedish vocalist Jonas Erixon (Alicate), guitarists Tommy Ermolli (Twinspirits) and Simone Mularoni (DGM, Empyrios); keyboardists Federico Solazzo (Alexia), Andrea Pavanello (Centrica), Filippo Lui and Emanuele Casali (DGM, Astra).
In addition to his solo work, Alberto Rigoni plays bass for progressive metal band TwinSpirits and is founder of the electropop duo Lady & the Bass.
Rebirth is a luscious electric bass album with a colorful range of exquisitely crafted progressive rock, fusion and neoclassical sounds.