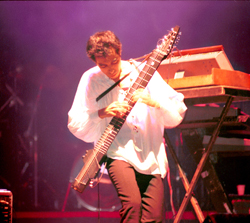 Renowned Argentine musician Guillermo Cides, who is one of the best Stick performers in the world, has released a new album after returning from his tours throughout Mexico and Spain. This recent concert was broadcast live on Facebook and Myspace. Meanwhile, he is preparing a new collaboration with Truey Mark's project featuring Jon Anderson (Yes).
The live performance celebrated Cides' 20 years of experience with the Stick. The concert was captured through a web camera located in a theater in Tarragona, Spain. Now this recording is released in CD format, signed by the musicians and sent directly to their fans.
Cides, who removed his CDs from the recording industry years ago, returns now with a live album in "a world without record companies, intermediaries and a real independent music" according to his official Facebook statement from where people can get a copy of the new album.
The album was recorded with drummer Alex Leys drummer and mastered by Tonica Studios in Buenos Aires. It is a limited edition and it is numbered and signed like "a simple object for collector," says Cides.
Meantime he is preparing a new collaboration with Australian Truey Mark and Jon Anderson, former Yes frontman. This project directed by Truey Mark will born in 2012 under the name "Hope".