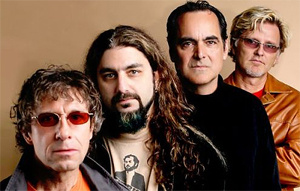 The music video of this week is Stranger In Your Soul by multinational progressive rock band Transatlantic. Stranger In Your Soul Pt 1 is extracted from the Transatlantic DVD "Live In Europe."
Transatlantic is the progressive rock supergroup formed by outstanding musicians from various countries who have performed in some of the finest progressive rock bands of the 1980s and 1990s, including Neal Morse (former Spock's Beard), Roine Stolt (The Flower Kings), and Pete Trewavas (Marillion). The band also includes Mike Portnoy of the hard rock/metal band Dream Theater.
Stranger In Your Soul Pt 1 was taken from the band's 2001 album titled Bridge Across Forever.